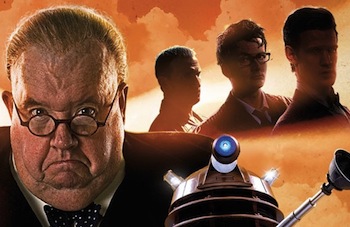 Set both before and after the events of 2010's 'Victory of the Daleks', this four-part adventure, The Churchill Years, sees Prime Minister Winston Churchill and his various allies (including Christmas companions Kazran Sardick and Lily Arwell) contending with alien forces in different moments of his life, whilst also crossing paths with the Ninth, Tenth and Eleventh Doctors. As he keeps "buggering on" in the past, present and future, he starts to question his own leadership, as well as his own mortality.
The idea of having the entire audio adventure be about Ian McNeice's Churchill was a riskier challenge than having River Song in her audio stories, yet in the hands of Big Finish, Churchill works incredibly well, more so than his 2010 TV episode. The framing of the stories by having Churchill, at the end of his life, writing secret memoirs about his encounters with the Doctor and narrating them was a bold device that works well in context with what happens within these four narratives. Plus, since Christopher Eccleston, David Tennant and Matt Smith were probably unavailable for recording, McNeice was given an even more Herculean task of having to be the voice of the three Doctors, which was awkward at first yet became more natural as it went on.
Each story does a great job of exploring the mind-set of Winston Churchill and his struggles during the Second World War and after, exploring the deep turmoil and courage much more than what we did in 'Victory of the Daleks'. The stories also do a great job of taking Churchill's relationship with the Doctor to an even deeper level than before, showing not just the friendship, but the occasional conflict as well. Plus, we see how these multiple adventures affect those around Churchill and the Doctor, particularly the three main supporting companions in Hetty Warner, Kazran Sardick and Lily Arwell. Despite having different writers, each story has a natural flow and pace to them that doesn't make them feel jarring from one another; both The Oncoming Storm and Hounded are probably the creepiest and most atmospheric stories, Living History feels like a solid natural successor to 'Victory of the Daleks', whilst The Chartwell Metamorphosis feels like the perfect lovechild of the Phillip Hinchcliffe era.
Having first impressed back in 2010, Ian McNeice still gives a credible performance as Churchill, maintaining the warmth, humour and ferocity the character needed. With each story and each passing of time, McNeice changes his performance to match the narrative's tone and atmosphere, whilst still having a consistency of the character. Emily Atack gives a fantastic turn as Hetty Warner, Churchill's new secretary, who proves herself more than once during the first two stories. Danny Horn adds more intrigue to the teenage Kazran Sardick, who we saw all too briefly in 2010's fantastic Christmas Special 'A Christmas Carol', and together with Churchill, they provide a perfect comedic double act. Holly Earl's Lilly Arwell was one of the very few things that stood out strongly in 2011's abysmal Xmas outing 'The Doctor, the Widow and the Wardrobe', and here we see a more mature, courageous and caring side to her, and Holly Earl plays this fantastically.
Overall, The Churchill Years was a brilliant surprise, taking advantage of Churchill's many character traits and uses that for him to play off against any of the fun supporting characters. The quality of the story writing was superb, the interconnections with the on-screen Who stories through Kazran and Lily were fan-pleasing, and the performances were incredibly solid, most particularly from Ian McNeice who is still the go to man for playing a credible Churchill. If there are many more of these kinds of adventures to come, then Churchill can KBO through Big Finish for as long as he wants.
THE CHURCHILL YEARS VOLUME 1 (DR WHO) / DIRECTOR: KEN BENTLEY / AUTHORS: PHIL MULRYNE, ALAN BARNES, JUSTIN RICHARDS, KEN BENTLEY / STARRING: IAN MCNEICE, DANNY HORN, HOLLY EARL, EMILY ATACK / RELEASE DATE: OUT NOW