Reviews | Written by Fred McNamara 19/09/2019
ALAY-OOP
AUTHOR & ARTIST: WILLIAM GROPPER | PUBLISHER: THE NEW YORK REVIEW OF BOOKS | FORMAT: HARDBACK | RELEASE DATE: OUT NOW
Certain works become impervious to in-depth critical examination when they slump into a lengthily out-of-print status that allows them to gain a particular aura around them, a legendary status. There's the joy for new readers then in discovering a work that time has deemed to become a 'great lost classic' as it were, when that work is brought back into the public conscious. Such a mind-set can be applied to cartoonist/painter William Gropper's Alay-Oop. A prototype of the graphic novel medium long before the two words were put together, Gropper's only graphic novel was originally released in 1930, and was greeted with an elusive response due to the Great Depression taking its stranglehold on America just as the book came out, securing its sense of mystique in the decades to come. Now revived thanks to New York Review Comics, we can now enjoy this warm, witty snapshot of the daily lives of performing artists framed against a working class backdrop.
Alay-Oop highlights Gropper's talents as a cartoonist via its wordless structure. Each drawing encompasses an entire page, which lends Alay-Oop a vintage, serialised flavour, as if this was a story originally published throughout any number of the many left-wing newspapers and magazines the radically-minded Gropper forged his artistic talents in. The comic focuses on a trio of working class folk in the circus world, two acrobatic performers and an operatic singer, who live a shared existence in the crowded slum-esque houses of the big city. The wordless story invokes the notion that these characters are perhaps meant to be enjoyed as blank slates, reflections of other working class performers living equally downtrodden lives. It's a testament to Gropper's visually-driven story-telling abilities that Alay-Oop gains a transcendent feel, that this could be just one of many other similar stories.
Gropper's art is finely tuned and exquisitely expressionistic thanks to its socialist leanings. A tamed manner of chaos radiates from page to page, as Gropper illustrates Alay-Oop with a tasteful, urban vigour. So much character leaps out of every page, and in such a spry fashion. Gropper's pencilling has the air of being bashed out in a frenzy, yet his detailing is at odds in how considered and preciseit is. They make up a hugely enjoyably visual whole that gives Alay-Oop a sense of nimble craftsmanship.
Alay-Oop's story boasts an elegant ease in its flow. Gropper grants the comic a more experimental vibe via a frantic, dense dream sequence that clashes with the otherwise whimsical nature of the comic. Elsewhere, Gropper's narrative gains an unexpected depth as the nameless trio find their lives pulled apart as they succumb to pressures of family life. Gropper communicates these turbulent lifestyles in a manner that elevates the surface-level aesthetic of Alay-Oop into something more tangible.
Alay-Oop is a comic that's justified in being impervious. The hyper stylised art is forged in Gropper's political background, while the overall comic is rooted in working class undertones that give it a depth and an edge. Even if it weren't for its many literary and sequential merits, it would be worth seeking out as a foreshadower of the graphic novel medium. A most welcome unearthing from the New York Review Comics' stable of graphic literature.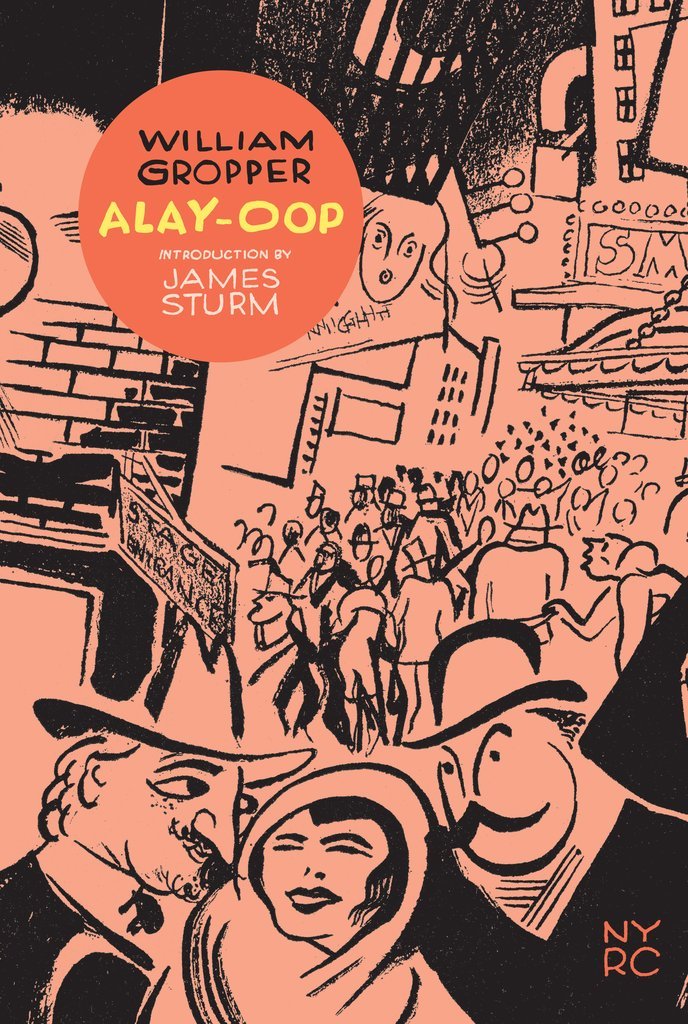 CLICK PIC FOR WHERE TO BUY