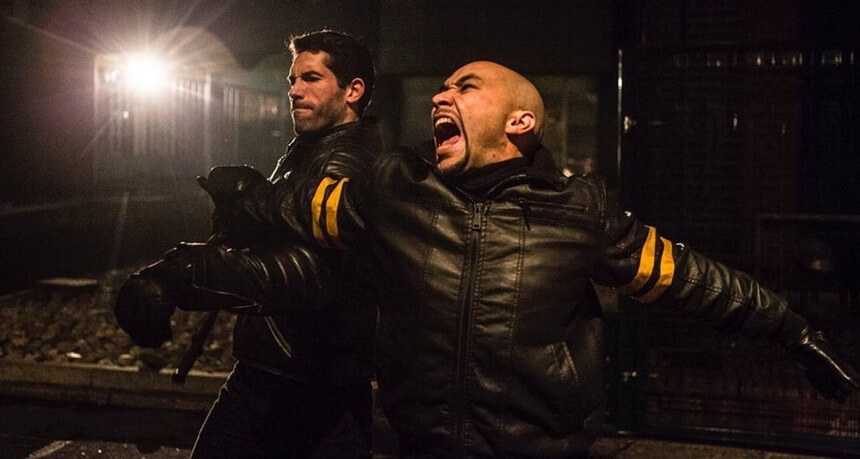 To those unfamiliar with the relatively unknown talent behind Accident Man, it would be very easy to unfairly dismiss it as a belated Guy Richie knock-off. Scott Adkins, something of a hidden B-movie gem, plays Mike Fallon, the titular accident man and star of the comic strip series of the same name by Pat Mills and Tony Skinner on which the film is based. He's probably best described as the same character Jason Statham has played in every film he's ever made, but with hair.
Fallon is part of a ring of expert assassins – each with a particular style and personality to match. There's Carnage Cliff (Ross O'Hennessy), who is, to put it bluntly, an axe-wielding maniac. There's Poison Pete (Stephen Donald), whose style you should be able to guess from the name. There's Jane the Ripper, a sword-wielding femme fatale modelled after Uma Thurman in Kill Bill. The characters are essentially a checklist sending up action movie archetypes. Fallon, himself, is called The Accident Man because of his skill for making murders look like particularly unlucky mishaps.
After the love of Fallon's life – his pregnant ex-girlfriend portrayed by Brooke Johnston – winds up dead in an apparent open and shut case involving a pair of rampant crack addicts, Fallon recognises the telltale signs of his craft and realises that the murder was committed by one of his peers. What follows is essentially a series of live-action video-game boss fights as he takes on the murderous cartel to which he belongs.
Accident Man is far from perfect. The third act drags considerably (not helped by an odd structural decision involving an overlong flashback sequence), the ending feels somewhat anti-climactic and it's impossible to deny that the film makes very heavy use of well-worn tropes that, perhaps, should have been assassinated years ago.
In spite of all that, there's a constant madcap energy and sense of fun to the proceedings. The irreverence and wit largely carry the film through its rough patches and, perhaps most importantly for a film like this, the fight scenes are fantastic. Building a film around fight-scenes can often lead to action fatigue but giving each adversary a completely unique style keeps things fresh and inventive here. One minute, you're watching traditional martial arts and the next you're watching Fallon take on two gunmen at once.
At the helm of the film is Jesse V. Johnson, a stunt coordinator who seems to be moonlighting as a director. That can often have mixed results, but Accident Man is confidently crafted with a good deal of panache. Johnson could definitely quit his day job, should he ever want to.
As well as the film itself, the home release contains two unremarkable behind-the-scenes featurettes that feel very much like promotional pieces, as well as a legitimately insightful commentary featuring Adkins and the film's co-writer Stu Small.
For all its flaws, Accident Man ultimately succeeds on the charms of its cast and by successfully landing jokes and punches in tandem.
Special Features: Audio commentary with Scott Adkins and Stu Small / Two behind-the-scenes featurettes
ACCIDENT MAN / CERT: 15 / DIRECTOR: JESSE V. JOHNSON / SCREENPLAY: SCOTT ADKINS, STU SMALL / STARRING: SCOTT ADKINS, RAY STEVENSON, ASHLEY GREENE, DAVID PAYMER, MICHAEL JAIE WHITE, RAY PARK, AMY JOHNSTON / RELEASE DATE: APRIL 16TH