News Book Gaming News | Written by Ed Fortune 22/03/2022
D&D's Journeys Through The Radiant Citadel Announced
The next D&D adventure anthology book will be called Journeys Through The Radiant Citadel, and will feature a total of thirteen short adventures for levels one through to fourteen.  The book will be out from June 21st.
The titular Radiant Citadel is a new setting for D&D, a fairly peaceful and functional place that functions as a trans-dimensional crossroads. Each adventure showcases a bit of this strange new place, fleshing out the multiple cultures and creatures that call the citadel their home.
Much like the recent Candle Keep Mysteries book, this anthology is also being used as a way to showcase some of the amazing and diverse talent in the industry today.  Each writer has been asked to draw inspiration from their connections to various real-world cultures and mythologies.
Inspiration for the book draws from the likes of the TV show Gravity Falls to the movies of Asghar Farhadi and all points in-between.  The adventures include everything from comedic mystery to navigating the politics of celestial forces.
This will be primarily an adventure book, but will also contain gazetteer-style  setting material for the Radiant Citadel itself as well as stats for monsters relevant to the adventures, as well as details on two more lands.  We'll also meet organisations such as the Shield Bearers, a fantasy rescue group who venture into dangerous areas in order to save lives. The book also features magical charms, special boons that not only give characters an edge but also serve as plot hooks.  Details as to how to connect this book to your existing campaign are also contained within.
The names for the adventures have been released, and they are called:
•Salted Legacy
•Written In Blood
•The Fiend of Hollow Mine
•Wages of Vice
•Sins of Our Elders
•Gold for Fools and Princes
•Trail of Destruction
•In the Mists of Manivarsha
•Between Tangled Roots
•Shadow of the Sun
•The Nightsea's Succor
•Buried Dynasty
•Orchids of the Invisible Mountain
Journeys through the Radiant Citadel is a collaboration between the D&D team and a talented collection of artists, storytellers, games designers, and other creatives. It includes contributions by Justice Ramin Arman, Dominique Dickey, Ajit A. George, Basheer Ghouse, Alastor Guzman, D. Fox Harrell, T.K. Johnson, Felice Tzehuei Kuan, Surena Marie, Mimi Mondal, Mario Ortegón, Miyuki Jane Pinckard, Pam Punzalan, Erin Roberts, Terry H. Romero,Stephanie Yoon, and many more.
Finally, the book will be available in two covers; the standard D&D logo'd design (which features an amazing picture of creature known as a Wyndling, which is inspired by real-world sugar gliders) and has been produced by the very talented Evyn Fong. The alt art cover, by Sija Hong will be exclusive to games stores and features a picture of the Radiant Citadel itself, floating in the Etheral plane surrounded by crystalline creatures, which are living manifestations of the cultures that inhabit the citadel.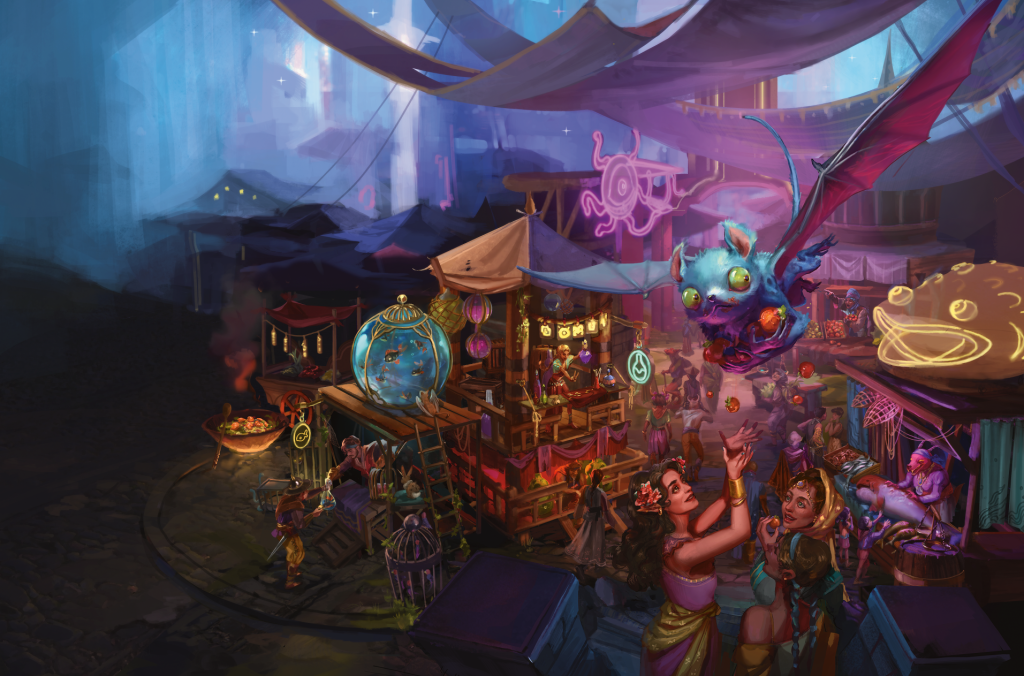 Traditional Cover Art by Evyn Fong
Alt Art Cover by Sija Hong