News Movies TV | Written by Andrew Pollard 20/02/2018
Plot Details and Premiere Date for SHARKNADO 6
With Sharknado: Global Swarming now in the books, Syfy has released the first information on the upcoming sixth – yes, sixth! – entry in the series.
Following some new EFM poster art revealing that Sharknado 6 will swim to the small screen on July 25th, 2018, there's also now news that Ian Ziering, Tara Reid and Cassie Scerbo will be returning once more. For a better look at said poster, click on the image below: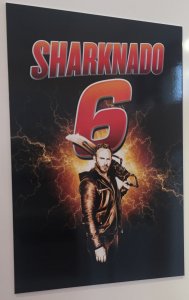 As for plot details, the early blurb reads:
All is lost, or is it? Fin unlocks the time-travelling power of the Sharknados in order to save the world and resurrect his family. In his quest, Fin fights Nazis, dinosaurs, knights, and even takes a ride on Noah's Ark. This time, it's not how to stop the Sharknados, it's when.
Yup, talk about jumping the shark. But then again, this is a movie franchise that gleefully jumped the shark before the first picture had even been screened.
Given how we've had such well thought-out subtitles as The Second One, Oh Hell No!, The 4th Awakens, and the aforementioned Global Swarming, expect this sixth Sharknado effort to get a likely awful addition to its full title before it premieres in July.