News Movies | Written by Andrew Pollard 16/01/2018
New Synopsis and Image for ANT-MAN AND THE WASP
While Paul Rudd's Scott Lang and Evangeline Lilly's Hope van Dyne will be next seen in May's Avengers: Infinity War, Marvel Studios has now revealed a new image of the duo from Ant-Man and the Wasp in addition to a new synopsis for the Ant-Man follow-up.
You can find said new image to your left, or click on the below version for a larger look: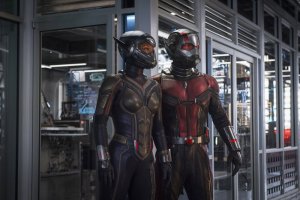 As for that new synopsis, that reads:
From the Marvel Cinematic Universe comes Ant-Man and the Wasp, a new chapter featuring heroes with the astonishing ability to shrink. In the aftermath of Captain America: Civil War, Scott Lang grapples with the consequences of his choices as both a superhero and a father. As he struggles to rebalance his life with his responsibilities as Ant-Man, he's confronted by Hope van Dyne and Dr Hank Pym with an urgent new mission. Scott must once again put on the suit and learn to fight alongside the Wasp as the team works together to uncover secrets from the past.
With Rudd and Lilly to be joined by the returning faces of Michael Douglas, Michael Pena, Bobby Cannavale, Judy Greer, Abby Ryder Fortson, T.I., and David Dastmalchian, the sequel will also feature new additions in the shape of Michelle Pfeiffer as Janet van Dyne, Laurence Fishburne as Dr Bill Foster, and mystery roles for Hannah John-Kamen, Walton Goggins, and Randall Park. Janet van Dyne, of course, is a character who was briefly glimpsed in 2015's Ant-Man, with her - then herself under the Wasp moniker - shown to have been lost in the Quantum Realm. As for Bill Foster, comic-book fans will know him as the shape-shifting hero Giant Man.
To be directed by Peyton Reed, Ant-Man and the Wasp is currently set for a July 6th, 2018 release.