News Gaming | Written by Andrew Pollard 11/06/2018
New STAR WARS Game to be Titled JEDI: FALLEN ORDER
Who doesn't love a good Star Wars video game, right? Well, unless you have to pay for loot boxes and whatnot, but we digress. The point being, as the headline suggests, next year's new 'galaxy far, far away' game has been given a title.
Fresh from the EA Play press conference, Respawn Entertainment has confirmed that their upcoming Star Wars game is to be titled Star Wars Jedi: Fallen Order.
The game will take place during "the dark times" that were originally referenced by Alec Guinness' Obi-Wan Kenobi in the original 1977 movie. In terms of timeline, the game will be set between Revenge of the Sith and Star Wars (or A New Hope, for you young 'uns). In the game, the Jedi Order will be being hunted down throughout the galaxy, and the tale will be based around a surviving Padawan.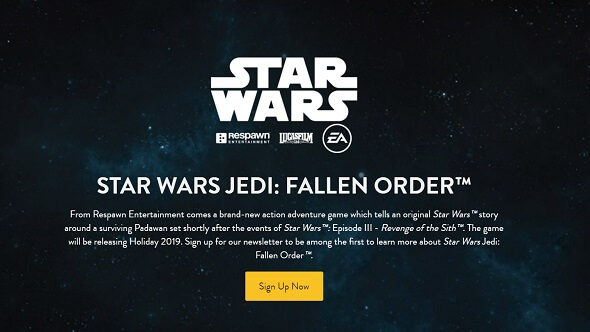 We'd previously heard how Jedi: Fallen Order would be a third-person action/adventure effort, with the game first being announced at last year's E3 event. Respawn has now revealed that the game won't actually arrive until late 2019.
Given how disappointing Star Wars Battlefront II was – a game which will be getting some Clone Wars era DLC later this year – many Star Wars fans will be hugely intrigued by Star Wars Jedi: Fallen Order.
As ever, expect more on this as it continues to develop.