News Movies | Written by Andrew Pollard 09/11/2017
New DEADPOOL 2 Poster Celebrates Thanksgiving
With US Thanksgiving only a matter of weeks away, 20th Century Fox has served up an absolutely splendid new poster for next year's hotly-anticipated Deadpool sequel.
As you can see, Ryan Reynolds' Merc with a Mouth is joined by a whole host of familiar faces - not to mention some nice new additions. This time out, Reynolds' Wade Wilson is joined by Josh Brolin as Cable, Zazie Beetz as Domino, Morena Baccarin as Vanessa, Leslie Uggams as Blind Al, Brianna Hildebrand as Negasonic Teenage Warhead, Stefan Kapicic as Colossus, T.J. Miller as Weasel, with roles for Hunt for the Wilderpeople's Julian Dennison and The Strain's Jack Kesy; Kesy playing the villain of the piece, believed to be the nefarious "Black" Tom Cassidy.
For a larger look at the full poster, be sure to click on the thumbnail below: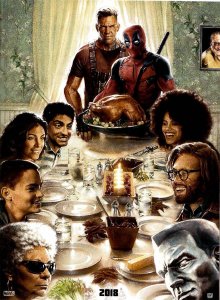 To be directed by John Wick's David Leitch, Deadpool 2 is currently set for a June 1st, 2018 release.