News Movies News | Written by Laura Potier 23/11/2021
JURASSIC WORLD: DOMINION Prologue Crashes Online
Remember when Dom Toretto said, "that asteroid is strong, but not as strong as family" and then prevented the extinction of dinosaurs?
Well, if you didn't catch it in the Jurassic World: Dominion prologue when it screened as an IMAX preview before F9: The Fast Saga earlier this year, good news. Universal Pictures has just released the short film online ahead of Dominion's June 2022 release.
The video takes place 650 million years ago, and shows off an impressive number of different dinosaur species rendered in all their VFX magic – seven of which have never been seen in a Jurassic movie before! Director Colin Trevorrow reveals in an interview with IGN that "the best part of my job is being able to choose which dinosaurs go in which movies" which this time includes an oviraptor, the giganotosaurus, and the newly-discovered moros intrepidus.
After the David Attenborough documentary-vibe sequence, we flash forward to present day at a drive-in theatre, where horny teenagers are rudely interrupted by a T-Rex's arrival, armed helicopters in tow.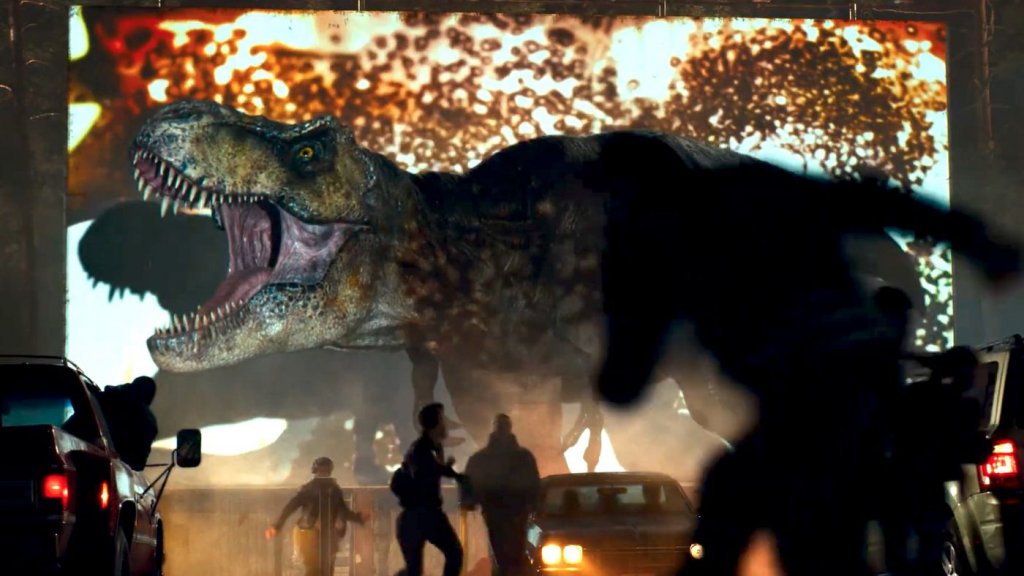 The opening sequence seizes on the opportunity to show the dinosaurs in their natural, prehistoric environment, co-existing peacefully (for the most part). Trevorrow explains that showing this side of the dinosaurs was important to one of Dominion's major themes: "A big part of this movie is making the connection between animals that live on the planet today and how we treat them, and how they coexist with us and dinosaurs. For us to really be able to see them in their natural habitat, just see them drinking water and moving in herds. The first time you watch it might almost seem a little quiet, it's not the kind of aggressive action that we show in our blockbuster movies... as a dinosaur nerd, I found that very exciting."
Oddly, the elaborate (and expensive-looking) sequence will not make up part of the final cut. Trevorrow returns to direct Jurassic World: Dominion, with Chris Pratt, Bryce Dallas Howard, Laura Dern, Sam Neill and Jeff Goldblum all returning to the franchise.
Watch the preview below: