News Movies News | Written by Martin Unsworth 05/07/2018
Indie Film METROPLEX Highlighted on Kickstarter
Dresden Pictures, the London-based production company, has taken to Kickstarter to help fund a proof-of-concept short for their next film Metroplex, and you can get involved.
The campaign has gotten off to a flying start - even being selected by Kickstarter to feature in their 'Project We Love' section. They have had previous Kickstarter success with their films Biopunk and The Fitzroy, and Metroplex is set to be an ambitious urban sci-fi fantasy heist film described as Heat meets The Lord of the Rings.
Directed by Liam Garvo, written by Andrew Harmer, and produced by Rebekah Renford, the official synopsis is:
Set in 2050, the world is co-inhabited by humans, trolls, elves, dwarves, and dragons. Official governments no longer exist, instead, laws are enforced by mega-corporations through private security forces. Large sprawling cities called METROPLEX'S are divided into autonomous districts, each self-governing and at odds with one another. 
The film centres around Avin Sull, a hardened career criminal that leads a team of mercenaries on a heist to steal the CODEX, a mysterious virtual book buried deep inside the Disconnect, a digital world representing all that is left of the shattered remains of the internet and fiercely controlled by virtual and real armed guards. Betrayed by Yamada Kitashiano, a lawyer to the Yoko-gumi Yukuza clan, who initially gave them the job, they must now all fight to stay alive at all costs.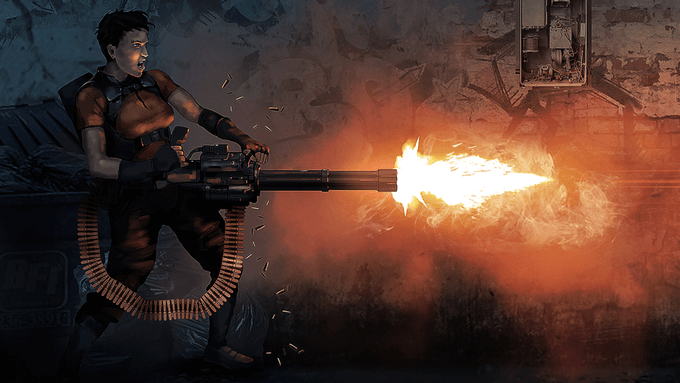 Concept art by Vincentius Matthew
The team are looking to raise £25,000 to produce a 10-minute proof of concept short film. This will showcase the world the film is set in and the ambitious nature of the project – as well as proving to would-be investors and distributors the huge potential audience for the project. In exchange for getting involved, there are some fantastic perks on offer that include posters, T-shirts and even a chance to be in a unique version of the film! Your photo (or that of a friend, should you wish) will replace an existing one in your very own HD download of the film. Not only that, but you can get a credit on IMDb and much more.
There's already a wealth of talent signed up for the project, including visual effects artists Territory Studio, who worked on the likes of Blade Runner 2049, Ready Player One, and Avengers: Infinity War. Practical effects will be handled by Dan Martin (A Field in England, ABCs of Death 2). Joseph Trapanese (Tron Legacy, Oblivion) will be providing the music. The atmospheric concept art for the main image is by Sam Silverman
Check out the teasers for Dresden Pictures other films below to see the very high standard they've already achieved.
Head over to Kickstarter to find out more and help independent artists and be part of something really exciting.