News Movies | Written by Andrew Pollard 12/01/2018
First Official Image of Tom Hardy from VENOM
It's not much, but we've finally been given our first official look at Tom Hardy as Eddie Brock in the hotly-anticipated Venom.
Looking very much just like Tom Hardy being Tom Hardy, click on the below image for a larger look at Hardy's Brock: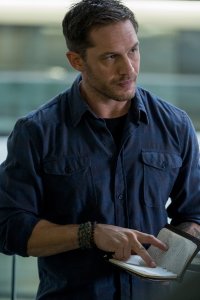 Hardy is joined in Venom by Michelle Williams, Jenny Slate, Riz Ahmed and Woody Harrelson amongst others, with the film to launch Sony Pictures' shared Spider-Verse of movies. In addition to Venom getting his time in the spotlight, this shared realm also has a Silver Sable and Black Cat team-up picture – Silver and Black – booked in, not to mention an outing for the vampiric Michael Morbius in development. Similarly, it's believed that Sony has plans for solo films for both Kraven the Hunter and Mysterio.
Right now, of course, this Spider-Verse doesn't actually have a Spider-Man, with Tom Holland's Web-head and the Marvel Cinematic Universe not currently set to coexist in the same world as Hardy's Venom and Co. There are rumours, mind, that the final film of Holland's six-picture Spidey deal will see his Wall-crawler make his way to Sony's Spider-Verse; a Spider-Verse which by that point will have been fleshed-out over several of the aforementioned movies.
To be directed by Zombieland's Ruben Fleischer, Venom – which will pull inspiration from the Venom: Lethal Protector and Planet of the Symbiotes comic book arcs – is set for an October 5th release.