News Movies | Written by Andrew Pollard 11/07/2018
'First Look' at Zachary Levi as SHAZAM!
Courtesy of EW, we've now got our first 'proper' official look at Zachary Levi as Shazam!'s titular hero.
Previously, we've seen a shot of Levi next to a Shazam! poster, not to mention several leaked on-set shots of the actor suited 'n' booted. Now though, this is the very shiny, swanky official look at one of DC Comics' longest-standing heroes – with Jack Dylan Grazer's Freddy Freeman also featured in the still.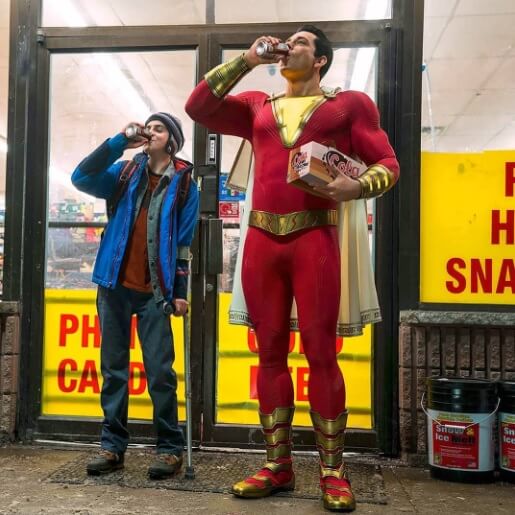 For those not familiar with Shazam lore, the more recent iterations of the hero's story feature The Wizard – at times referred to by the Shazam moniker himself, not to mention known as Marmaragan – giving young Billy Batson the mystical powers of Shazam. The Wizard is depicted as the last surviving member of an ancient council, and he has to find a new champion to battle the nefarious Black Adam. In his infinite wisdom, he'd bestow these all-powerful abilities upon Billy.
The official word on Shazam! reads:
We all have a superhero inside us, it just takes a bit of magic to bring it out. In Billy Batson's case, by shouting out one word—SHAZAM!—this streetwise 14-year-old foster kid can turn into the adult Super Hero Shazam, courtesy of an ancient wizard. Still a kid at heart—inside a ripped, godlike body—Shazam revels in this adult version of himself by doing what any teen would do with superpowers: have fun with them! Can he fly? Does he have X-ray vision? Can he shoot lightning out of his hands? Can he skip his social studies test? Shazam sets out to test the limits of his abilities with the joyful recklessness of a child. But he'll need to master these powers quickly in order to fight the deadly forces of evil controlled by Dr. Thaddeus Sivana.
As well as Zachary Levi on board as the titular hero, Shazam! also features Asher Angel as Billy Batson, Mark Strong as the 'big bad' of the picture, Doctor Sivana, Marta Milans and Cooper Andrews as Billy's foster parents, and then roles for Jack Dylan Grazer, Grace Fulton, Ian Chen and Jovan Armand as pals of Billy's. And only this morning, we heard that Djimon Hounsou has replaced Ron Cephas Jones in the role of The Wizard.
To be directed by David F. Sandberg, Shazam! is set for an April 5th, 2019 release.