News TV | Written by Andrew Pollard 16/12/2017
First Look at TITANS' Hawk and Dove
Following the brilliant first look at Brenton Thwaites as Robin, DC Entertainment has now released the first glimpse at Titans' Hawk and Dove duo.
Played by Alan Ritchson and Minka Kelly, this is a pairing who are already being considered for their own spin-off show down the line. In terms of powers, Hawk has the pretty standard 'super' levels of strength, speed and endurance, whereas Dove is a more magic-driven hero.
You can click on the below thumbnail for a full look at this heroic duo: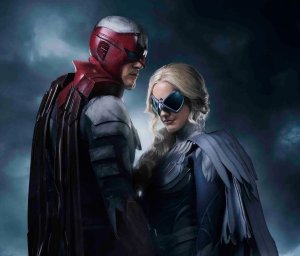 Also on board for Titans are Anna Diop as Starfire, Ryan Potter as Beast Boy, Teagan Croft as Raven and Lindsey Gort as Police Detective Amy Rohrbach.
The early word on this hotly-anticipated series reads:
In the action-packed series, Dick Grayson emerges from the shadows to become the leader of a fearless band of new heroes, including Starfire, Raven and many others. Fans can expect Titans to be a dramatic, live-action adventure series that will explore and celebrate one of the most popular comic book teams ever.
Titans will debut on Warner Brothers' swanky new on-demand streaming service at some point next year.