Features | Written by Andrew Pollard 07/11/2018
[ENDED] Win THE TIME TUNNEL on Blu-ray
With Koch Media and Revelation Films now giving a stunning new Blu-ray release to Irwin Allen's iconic The Time Tunnel, we've got a copy of this fantastic boxset to give away.
To be in with a chance of winning this brilliant prize, simply answer the below question:
The Time Tunnel's Lee Meriwether famously played which character in 1966's Batman: The Movie?
a) Bat-Mite
b) Catwoman
c) Robin
Email your answer, along with your address details, to comp@starburstmagazine.com labelled Time Tunnel before midnight on Sunday, November 18th.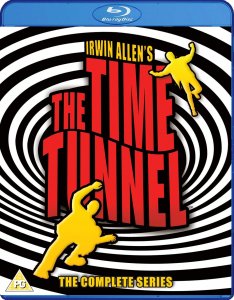 The official word on this new release of an old favourite reads:
This stunning new release of The Time Tunnel is produced from HD digital restoration masters created from the original negatives to ensure the best visual experience available. The seven-disc collector's Blu-ray edition comes packed with special features and a brand new 5.1 surround sound mix, alongside the original mono audio.
From the creative genius of Irwin Allen comes one of the most popular and original sci-fi shows of the 1960s, starring James Darren and Robert Colbert! "The control of time is potentially the most valuable treasure that man will ever find." Or so believe the scientists of Project Tic Toc.
Located beneath the Arizona desert, the ten-year project's focus is the feasibility of time travel. But when the government reconsiders the project, the scientists have only 24 hours to prove their untested 'Time Tunnel' will actually work. Determined to save the project, Dr. Tony Newman and Dr. Doug Phillips go through the tunnel – and quickly find themselves catapulted from one historical event to another, barely escaping with their lives as their colleagues back in Arizona race to figure out a way to bring them back home.
SPECIAL FEATURES
Original Unaired Pilot Episode (HD Version)
2002 Unaired TV Pilot
Time Travelers TV Movie
Cast Interviews
Irwin Allen's Behind-The-Scenes Home Movies – UK Edit (No Audio)
Promotional TV & Radio Spots
Visual Effects
Camera Test (No Audio)
Stills Galleries
New 5.1 surround sound mix and original mono audio
The Time Tunnel: The Complete Series is out now from Koch Media.
Terms & Conditions:
Koch Media and STARBURST do not accept any responsibility for late or lost entries due to the Internet or email problems. Proof of sending is not proof of receipt. Entrants must supply full details as required on the competition page, and comply with all rules to be eligible for the prizes. No responsibility is accepted for ineligible entries or entries made fraudulently. Unless otherwise stated, the Competition is not open to employees of: (a) the Company; and (b) any third party appointed by the Company to organise and/or manage the Competition; and (c) the Competition sponsor(s). This competition is a game promoted STARBURST. STARBURST's decision is final in every situation and no correspondence will be entered into. STARBURST reserves the right to cancel the competition at any stage, if deemed necessary in its opinion, and if circumstances arise outside of its control. Entrants must be UK residents and 18 or over. Entrants will be deemed to have accepted these rules and to agree to be bound by them when entering this competition. The winners will be drawn at random from all the correct entries, and only they will be contacted personally. Prize must be taken as stated and cannot be deferred. There will be no cash alternatives. STARBURST routinely adds the email addresses of competition entrants to the regular newsletter, in order to keep entrants informed of upcoming competition opportunities. Details of how to unsubscribe are contained within each newsletter. All information held by STARBURST will not be disclosed to any third parties.