Features | Written by Andrew Pollard 06/06/2018
[ENDED] Win THE MOUNTAIN OF THE CANNIBAL GOD on Blu-ray
To many, The Mountain of the Cannibal God is one of the most notorious of the famed video nasties. And now, to mark Shameless Films new Blu-ray release of this classic, we've got two copies of the release to give away.
All you need to do to be in with a chance of winning one of these Blu-rays is simply answer the below question:
Ursula Andress famously played Honey Ryder in which iconic movie franchise?
a) The Lord of the Rings
b) James Bond
c) Star Wars
Email your answer, along with your address details, to
comp@starburstmagazine.com
labelled
Cannibal God
before midnight on Sunday, June 17th.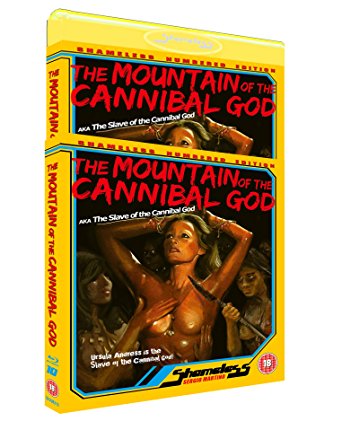 The official word on this new release of The Mountain of the Cannibal God reads:
Shameless invites you on the trip of a lifetime - journey to The Mountain of the Cannibal God for sun, wildlife and…gut munching natives! You might just never come home…
Ursula Andress (The 10th Victim) goes under attack from the Green Inferno as she travels to the jungles of New Guinea in search of her husband, a scientist who's vanished in the untamed wilderness. Soon the poisonous spiders and deadly snakes bare their teeth, as her exploration party journeys towards the sacred mountain of Ra Ra Me, where death awaits. Erupting in an insane climax of frenzied flesh-eating, Sergio Martino's (All the Colours of the Dark) deranged vision of horror will have you wincing until the credits roll. 
Banned in the UK as an original 'video nasty', Shameless now serves up this ferocious exploitation treat in a tasty 2K restored Blu-ray, to be devoured in all its blood-soaked glory. 
SPECIAL FEATURES
- UK Blu-ray debut
- Limited numbered edition 
- Documentary: Cannibal Nightmare - Return to The Mountain of the Cannibal God
- Sergio Martino on filming animal cruelty
- Theatrical trailer
- Italian credits
Shameless presents Mountain of the Cannibal God on Blu-ray and DVD – available now!