Features | Written by STARBURST 17/11/2020
[ENDED] WIN a MOTHRA/Ishirō Honda Blu-ray Bundle
We've teamed up with Eureka! Entertainment to bring one lucky reader a chance to win two great new releases: MOTHRA and ISHIRŌ HONDA DOUBLE FEATURE: THE H-MAN & BATTLE IN OUTER SPACE. Read on for more info!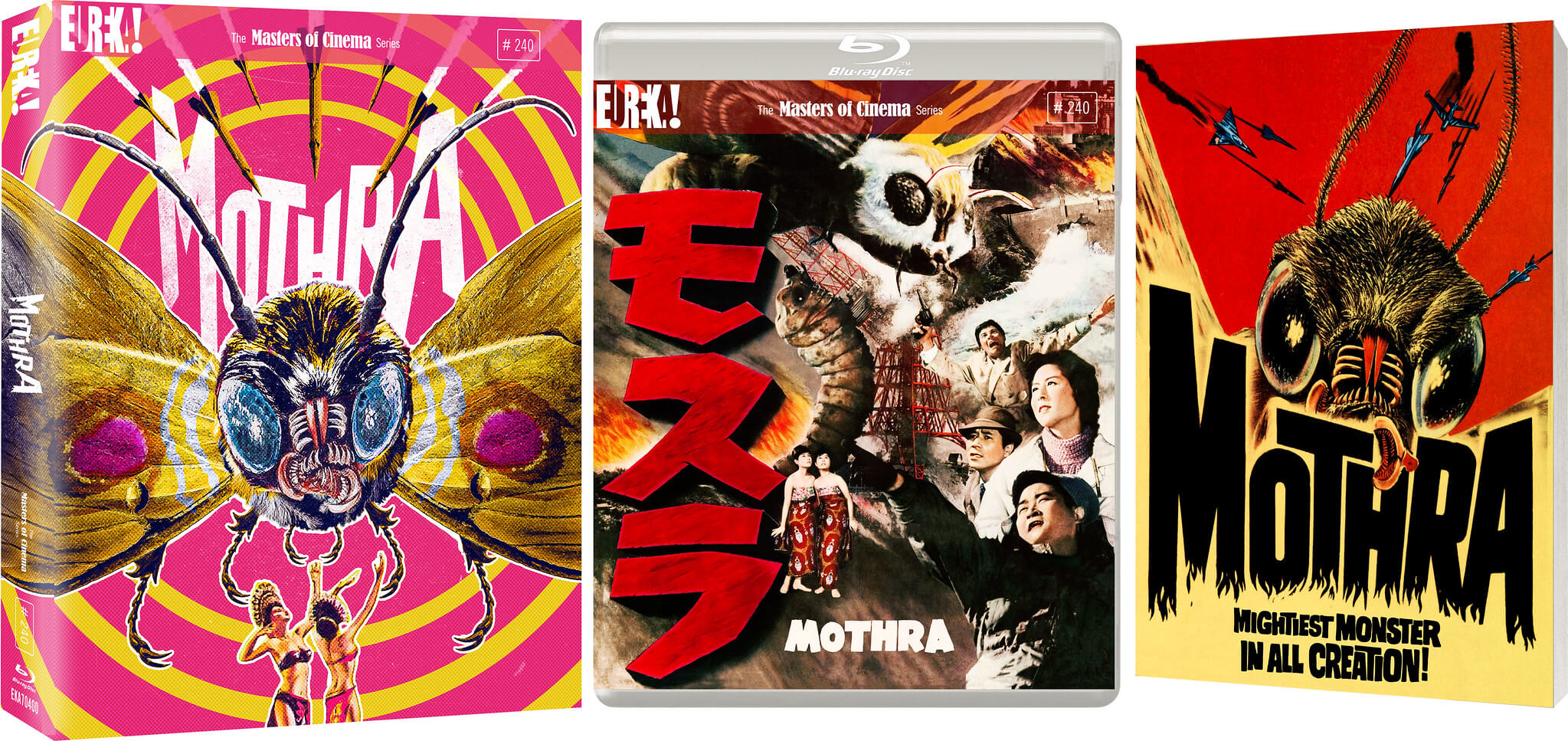 Mothra, Ishirō Honda's stunningly inventive monster adventure-fantasy, is available on home video for the first time in the UK. The Blu-ray is out now as part of The Masters of Cinema Series in a Limited Edition set of only 3000 copies, featuring a Hardbound Case, 60-page Perfect Bound Collector's Book & Reversible Poster.
One of the most iconic Japanese kaiju, Mothra has appeared in over a dozen feature films. Presented here is her debut, a gloriously vibrant piece of filmmaking that forever changed how kaiju eiga would be produced in Japan.
Following reports of human life on Infant Island, the supposedly deserted site of atomic bomb tests, an international expedition to the heavily-radiated island discovers a native tribe and tiny twin female fairies called "Shobijin" who guard a sacred egg. The overzealous expedition leader kidnaps the Shobijin to exhibit in a Tokyo stage show but soon they summon their protector, hatching the egg and releasing a giant caterpillar. When Mothra arrives in Japan and transforms into her final form, the nation and its people face their destruction.
Ishirō Honda Double Feature: The H-Man & Battle in Outer Space are two classics of Japanese sci-fi cinema, on Blu-ray for the first time on home video in the UK. Out now as part of The Masters of Cinema Series, featuring a Limited Edition O-Card Slipcase (First Print Run of 2000 copies only].
In Tokyo, a mysterious radioactive liquid is dissolving people into slimy, sentient, seemingly indestructible, blobs of destruction! Part-Japanese gangster noir, part-gooey body melting horror, The H-Man (Bijo to Ekitai-ningen – 'Beauty and the Liquid People') is one of the most unique sci-fi films of the 1950s.
A series of mysterious catastrophes sweep the globe, causing the world's scientists to conclude that beings from another planet are attacking Earth, and the world must unite to defend itself in a gigantic battle in outer space! With wonderful special effects sequences by Eiji Tsuburaya (Godzilla, Ultraman), and a rousing score by Akira Ifukube (Godzilla), Battle in Outer Space is a glorious sci-fi extravaganza.
To be in with a chance of winning, just answer this question:
What classic kaiju film did Ishirō Honda also direct?
A) Godzilla
B) Godzuki
C) God Only Knows
Email your answer labelled 'Mothra' to comp@starburstmagazine.com to arrive no later than 11.59pm on November 29th.
You can buy Mothra
here
  and Ishirō Honda Double Feature: The H-Man & Battle in Outer Space
here
.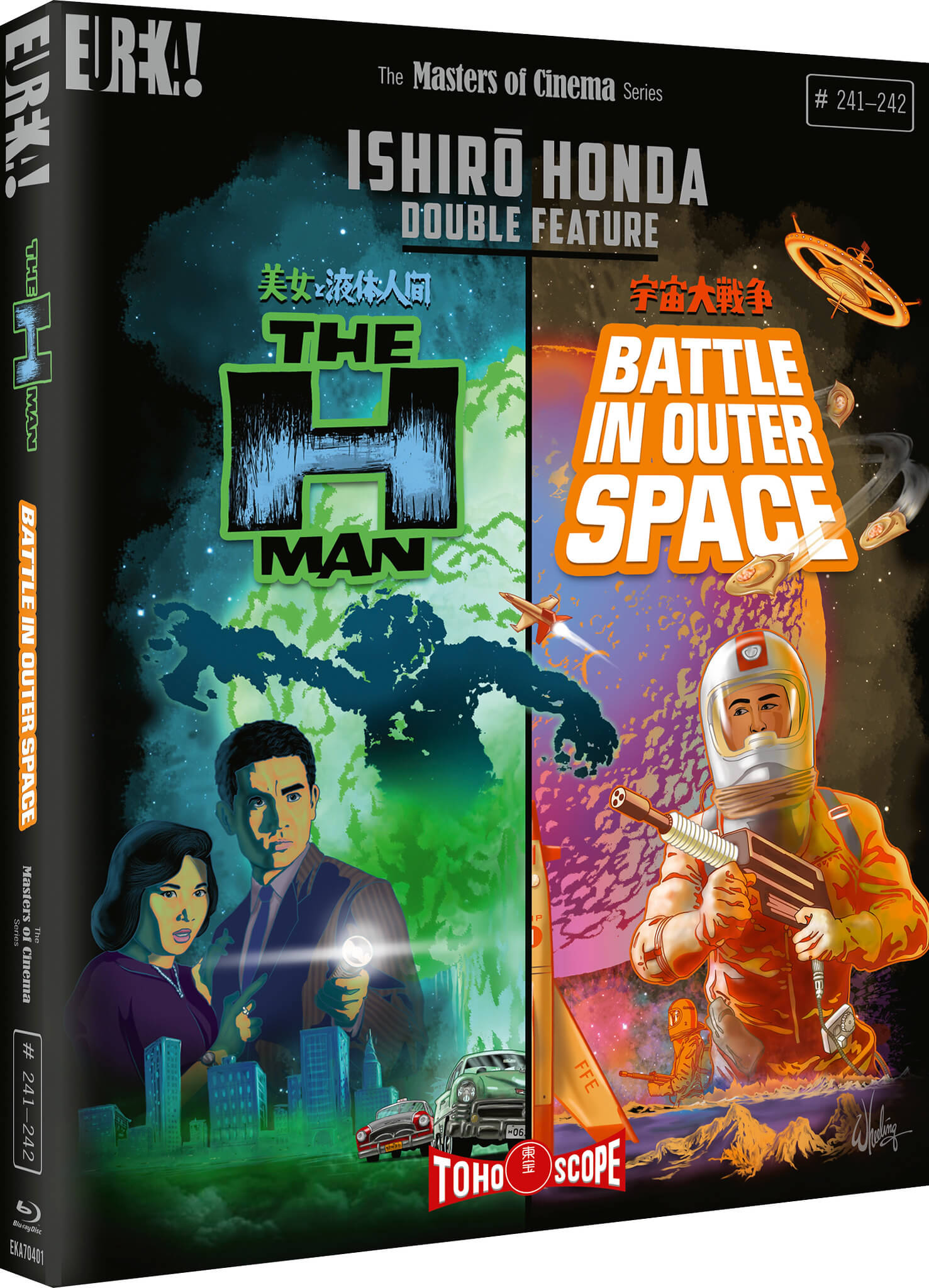 Terms & Conditions:
STARBURST does not accept any responsibility for late or lost entries due to the Internet or email problems. Proof of sending is not proof of receipt. Entrants must supply full details as required on the competition page, and comply with all rules to be eligible for the prizes. No responsibility is accepted for ineligible entries or entries made fraudulently. Unless otherwise stated, the Competition is not open to employees of: (a) the Company; and (b) any third party appointed by the Company to organise and/or manage the Competition; and (c) the Competition sponsor(s). This competition is a game promoted STARBURST. STARBURST's decision is final in every situation and no correspondence will be entered into. STARBURST reserves the right to cancel the competition at any stage, if deemed necessary in its opinion, and if circumstances arise outside of its control. Entrants must be UK residents and 18 or over. Entrants will be deemed to have accepted these rules and to agree to be bound by them when entering this competition. The winners will be drawn at random from all the correct entries, and only they will be contacted personally. Prize must be taken as stated and cannot be deferred. There will be no cash alternatives. STARBURST routinely adds the email addresses of competition entrants to the regular newsletter, in order to keep entrants informed of upcoming competition opportunities. Details of how to unsubscribe are contained within each newsletter. All information held by STARBURST will not be disclosed to any third parties