Features | Written by STARBURST 15/03/2019
[ENDED] Win LEPRECHAUN and LEPRECHAUN RETURNS on DVD
We have three sets of this to give away on DVD thanks to Lionsgate UK and DNA PR.
The original is a classic and the new Leprechaun Returns movie got a glowing review from us late last year. So here's the question you need to answer to be in with a chance at grabbing one of the three sets....
Which actress from the first LEPRECHAUN movie went on to superstardom being part of the 'Friends' cast?
a) Betty White
b) Jennifer Aniston
c) Ross from Friends
Email your answer, along with your address details, to comp@starburstmagazine.com labelled LEPRACHAUN before midnight on  April 5th
PRESS RELEASE: Horror's smallest terror is back to reclaim the treasure that's been lost for 25 years in LEPRECHAUN RETURNS. With Mark Holton reprising his role from the cult-classic LEPRECHAUN (1993), this deadly, wisecracking franchise is back in all its gory glory and now available in a new double DVD pack with the original movie LEPRECHAUN from 1st April.
When the sorority sisters of the Alpha Upsilon house decide to go green and use an old well as their water source they unwittingly awaken a pint-sized, green-clad monster. The Leprechaun wants a pot of gold buried near the sorority house, but first he must recover his powers with a killing spree—and only the girls of AU can stop him…
This brand new outing from the classic franchise will be available on DVD in a new double pack with the original movie LEPRECHAUN. Go back to where it all began… J.D. Beding and her daughter Tory (Jennifer Aniston) take a break at a summer house which is unfortunately located on the site of an evil leprechaun's stolen gold - and the leprechaun will stop at nothing to get it back! J.D., Tory and local boys Nathan, Alex and Ozzie team up to prevent the leprechaun's trail of magic and murder as he tries to drive them away from his treasure.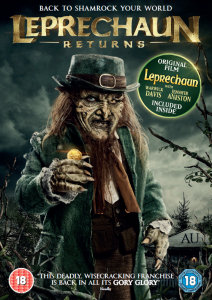 LEPRECHAUN RETURNS Disc Details:
Running Time: 89 mins approx
Certification: 18
Special Features: Going Green with Director Steven Kostanski / Behind the Scenes Feature / Stills Gallery
LEPRECHAUN Disc Details:
Runtime: 88 mins approx
Certification: 15
Terms & Conditions:
Lionsgate UK/STARBURST do not accept any responsibility for late or lost entries due to the Internet or email problems. Proof of sending is not proof of receipt. Entrants must supply full details as required on the competition page, and comply with all rules to be eligible for the prizes. No responsibility is accepted for ineligible entries or entries made fraudulently. Unless otherwise stated, the Competition is not open to employees of: (a) the Company; and (b) any third party appointed by the Company to organise and/or manage the Competition; and (c) the Competition sponsor(s). This competition is a game promoted STARBURST. STARBURST's decision is final in every situation and no correspondence will be entered into. STARBURST reserves the right to cancel the competition at any stage, if deemed necessary in its opinion, and if circumstances arise outside of its control. Entrants must be UK residents and 18 or over. Entrants will be deemed to have accepted these rules and to agree to be bound by them when entering this competition. The winners will be drawn at random from all the correct entries, and only they will be contacted personally. Prize must be taken as stated and cannot be deferred. There will be no cash alternatives. STARBURST routinely adds the email addresses of competition entrants to the regular newsletter, in order to keep entrants informed of upcoming competition opportunities. Details of how to unsubscribe are contained within each newsletter. All information held by STARBURST will not be disclosed to any third parties