Features | Written by Phil Perry 11/02/2019
[ENDED] Win Human Desire on Blu-ray
Looking for some fantastic film noir look no further than Eureka's issue of this Fritz Lang classic on shiny Blu-ray and we've got our hands on three copies of these  to give away just for you guys!
To be in with a chance of winning one of these fantastic prizes, simply answer the below question:
Which 1927 movie did Fritz Lang  direct that changed the face science fiction forever?
a) The Day the Earth Stood Still
b) This Island Earth
c) Metropolis
Email your answer, along with your address details, to comp@starburstmagazine.com labelled HUMAN DESIRE before midnight on FEBRUARY 25TH  .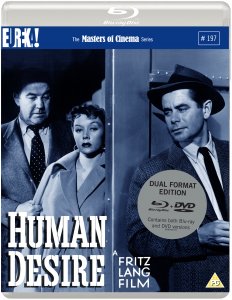 HUMAN DESIRE, a hard-edged and chilling film-noir from legendary filmmaker Fritz Lang, is OUT NOW on Dual Format and can be purchased here https://amzn.to/2R6tKPl
Here is the press release to get you going
A startlingly dark, late film noir masterwork by director Fritz Lang, Human Desire reunites Lang with his hero Glenn Fordand femme fatale Gloria Grahame from the previous year's The Big Heat and the screenwriter of Lang's 1952 noir Clash by Night, Alfred Hayes. Like those two classics, Human Desire finds Lang casting a pitiless eye on all of the human weaknesses that define film noir: deception, infidelity, passion, and murder.
Adapted from the same Émile Zola novel previously filmed by Jean Renoir in La Bête humaine (1938), Lang's gripping thriller has Ford as train engineer Jeff, just home from the Korean War. He's instantly attracted to passenger Vicki (Grahame), not yet realising that she's the abused wife of Jeff's alcoholic railroad yard superior Carl (Broderick Crawford) -- or that Vicki was just entangled in a jealousy-fuelled murder committed by Carl. As Jeff and Vicki embark on a steamy affair, she tells him about the crime, and Carl's blackmail hold on her. If only Carl could be taken out of the picture…
The only thing that's not pitch black in this noir are the ethical shades of grey inhabited by all its characters. Yet its placid small town setting also offers a unique perspective on the genre, with Lang uncovering sinister secrets on these quiet streets that could rival any big city immorality. The Masters of Cinema is proud to present one of this brilliant filmmaker's most underrated films for the first time ever on Blu-ray.
Terms & Conditions:
EUREKA and STARBURST do not accept any responsibility for late or lost entries due to the Internet or email problems. Proof of sending is not proof of receipt. Entrants must supply full details as required on the competition page, and comply with all rules to be eligible for the prizes. No responsibility is accepted for ineligible entries or entries made fraudulently. Unless otherwise stated, the Competition is not open to employees of: (a) the Company; and (b) any third party appointed by the Company to organise and/or manage the Competition; and (c) the Competition sponsor(s). This competition is a game promoted STARBURST. STARBURST's decision is final in every situation and no correspondence will be entered into. STARBURST reserves the right to cancel the competition at any stage, if deemed necessary in its opinion, and if circumstances arise outside of its control. Entrants must be UK residents and 18 or over. Entrants will be deemed to have accepted these rules and to agree to be bound by them when entering this competition. The winners will be drawn at random from all the correct entries, and only they will be contacted personally. Prize must be taken as stated and cannot be deferred. There will be no cash alternatives. STARBURST routinely adds the email addresses of competition entrants to the regular newsletter, in order to keep entrants informed of upcoming competition opportunities. Details of how to unsubscribe are contained within each newsletter. All information held by STARBURST will not be disclosed to any third parties