Features | Written by Andrew Pollard 12/02/2018
[ENDED] Win HOUSE on Blu-ray
With Eureka Entertainment having now released the stunning House on Blu-ray as part of their Masters of Cinema range, we've got three copies of this release to give away to some lucky readers.
A supernatural teen melodrama, House put director Nobuhiko Obayashi on the map in a major way and the 1977 picture has gone on to become a huge favourite of many a genre fan.
To be in with a chance of winning one of these Blu-ray prizes, simply answer the below question:
House was released in 1977, but which of these other movies was also famously released in that year?
a) Psycho
b) Star Wars
c) The Hobbit
Email your answer, along with your address details, to comp@starburstmagazine.com labelled House before midnight on Sunday, February 25th.
To give you an idea of what to expect from House, check out the trailer in the below player:
The official word on this new Blu-ray release reads:
Eureka Entertainment to release HOUSE, a self-aware, post-modern Japanese fairy tale from one of cinema's great surrealists, as part of the Masters of Cinema range on Blu-ray on 12 February 2018.
An unforgettable mixture of bubblegum teen melodrama and grisly phantasmagoria, Nobuhiko Obayashi's deranged fairy tale House is one of Japanese cinema's wildest supernatural ventures and a truly startling debut feature.
Upset by her widowed father's plans to remarry, Angel sets off with six of her schoolgirl friends in tow for a summer getaway at her aunt's isolated mansion. In this house of dormant secrets, long-held emotional traumas have terrifyingly physical embodiments and the girls must use their individual talents if any are to survive.
A rollercoaster ride without brakes, House is by turns hilarious, sinister, and unexpectedly lyrical, with ceaseless cinematic invention and a satirical, full-blooded approach to the horror genre. A gigantic smash on its original release in Japan, The Masters of Cinema Series is proud to present the film on Blu-ray for the first time in the UK.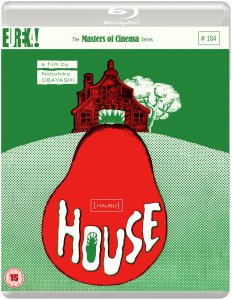 HOUSE, a self-aware, post-modern Japanese fairy tale from one of cinema's great surrealists, is released on Blu-ray as part of The Masters of Cinema Series on 12 February 2018 and available to order here.