Features | Written by Andrew Pollard 06/08/2018
[ENDED] Win a Dual Format Edition of BIRDMAN OF ALCATRAZ
John Frankenheimer's 1962 classic Birdman of Alcatraz is often viewed as one of the very greatest prison movies in cinema history. And now, with Eureka Entertainment having given the Burt Lancaster-headlined classic a Dual Format release, we've got three copies of this new release to give away.
To be in with a chance of winning one of these fantastic prizes, simply answer the below question:
Burt Lancaster was famously nominated for the Best Actor gong at the 1962 Oscars for his turn in Birdman of Alcatraz, losing out to Gregory Peck's performance in To Kill a Mockingbird. But which horror classic did Peck later star in?
a) Ghostbusters
b) The Conjuring
c) The Omen
Email your answer, along with your address details, to comp@starburstmagazine.com labelled Birdman of Alcatraz before midnight on Sunday, August 19th.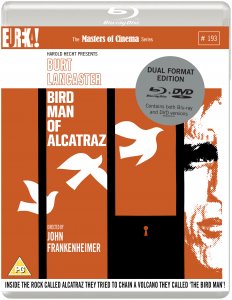 To give you an idea of what to expect from this truly stunning picture, be sure to check out the trailer below:
The official word on Eureka's highly anticipated Dual Format release of Birdman of Alcatraz reads:
Eureka Entertainment to release BIRDMAN OF ALCATRAZ, John Frankenheimer's moving and compelling biopic starring Burt Lancaster and Karl Malden, as part of The Masters of Cinema Series in a definitive Dual Format (Blu-ray & DVD) edition on 6 August 2018.
Often acknowledged as one of the best prison films ever made, Birdman of Alcatraz was director John Frankenheimer's first huge success and received rave reviews for its performances, cinematography (by the great Burnett Guffey; From Here to Eternity, Bonnie and Clyde) and Frankenheimer's directing.
Burt Lancaster stars as the notorious prisoner, Robert Stroud, sentenced to a life of solitary confinement for murdering a prison guard. When he finds an injured sparrow in the prison yard, Stroud nurses it back to health and discovers a new calling in life. Over the years he becomes a renowned ornithologist, and even a respected author, achieving a greater sense of purpose behind prison walls than many in the outside world will ever know.
With an all-star cast that includes Karl Malden (A Streetcar Named Desire), Thelma Ritter (Pickup on South Street), Telly Savalas (The Dirty Dozen) and Edmond O'Brien (The Barefoot Contessa), The Masters of Cinema Series is proud to present John Frankenheimer's Birdman of Alcatraz for the first time on Blu-ray in the UK.
DUAL FORMAT SPECIAL FEATURES
1080p presentation of the film on Blu-ray, with a progressive encode on the DVD. • LPCM mono soundtrack (Uncompressed on the Blu-ray) • Optional English subtitles for the deaf and hard-of-hearing • Audio commentary with film historian and editor Paul Seydor, moderated by Twilight Time's Julie Kirgo and Nick Redman • Illusion of Freedom: Richard H. Kline on John Frankenheimer's "Birdman of Alcatraz" (29 mins) – a new video piece on the film • An exclusive new video interview with film historian Sheldon Hall • Original theatrical trailer • A collector's booklet featuring new writing on the film by Travis Crawford, as well as a selection of archival imagery from the film's production
BIRDMAN OF ALCATRAZ, the inspirational and compelling biopic is OUT NOW on Dual Format and can be purchased here.