Features | Written by STARBURST 20/02/2020
[ENDED] Win DOCTOR WHO: THE PARADISE OF DEATH AND THE GHOSTS OF N-SPACE on Vinyl
We've teamed up with Demon Records to give away ONE copy of the newly released DOCTOR WHO: THE PARADISE OF DEATH AND THE GHOSTS OF N-SPACE LP! It looks absolutely brilliant!
To be in with a chance of winning, just answer the question below and email comp@starburstmagazine.com with the heading 'DOCTORWHO'. Entries must arrive before 11:59 pm on March 10th, 2019.
Who starred alongside the wonderful Elizabeth Sladen in an episode of the Sarah Jane Adventures entitled Secrets of The Stars as an evil Psychic medium?
A) Les Dennis
B) Russ Abbot
C) Timmy Mallet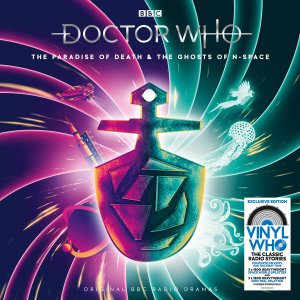 About this release:
Available exclusively to Amazon and limited to 500 copies, this exclusive edition is pressed on 3LP x 12" 180g Heavyweight Space World Splatter Vinyl and 3LP x 12" 180g Heavyweight Spectral Splatter Vinyl
"We shan't have any more trouble from that meddling Doctor!"
Demon Records presents a double bill of unique full-cast BBC radio adventures for Jon Pertwee as the Third Doctor, based on the enduringly popular BBC TV series.
The Paradise of Death reunites the Doctor, Sarah Jane Smith and the Brigadier for an adventure that takes them from Hampstead Heath to the far-flung planet of Parrakon, where they face dangers aplenty from the hostile Freeth and Tragan.
In The Ghosts of N-Space, which features Jon Pertwee's final performance as the Doctor, the Time Lord is in Sicily where he discovers trouble in the form of spectral monsters from another dimension.
Presented across 6 x 180g pieces of vinyl, these two fast-paced adventures were specially written for radio by former Doctor Who producer & writer Barry Letts. Co-starring Elisabeth Sladen and Nicholas Courtney, both also feature the incidental music and Doctor Who theme arrangement of Peter Howell of the BBC Radiophonic Workshop. Among the supporting cast for the stories are Maurice Denham, Sandra Dickinson, Harold Innocent, Peter Miles, Richard Pearce, Harry Towb and Stephen Thorne.
Accompanying the coloured vinyl LPs are full episode billings, cast and credits, and six illustrated sleeves that form a superb double-sided artwork montage.
Terms & Conditions:
Demon Records and STARBURST do not accept any responsibility for late or lost entries due to the Internet or email problems. Proof of sending is not proof of receipt. Entrants must supply full details as required on the competition page, and comply with all rules to be eligible for the prizes. No responsibility is accepted for ineligible entries or entries made fraudulently. Unless otherwise stated, the Competition is not open to employees of: (a) the Company; and (b) any third party appointed by the Company to organise and/or manage the Competition; and (c) the Competition sponsor(s). This competition is a game promoted STARBURST. STARBURST's decision is final in every situation and no correspondence will be entered into. STARBURST reserves the right to cancel the competition at any stage, if deemed necessary in its opinion, and if circumstances arise outside of its control. Entrants must be UK residents and 18 or over. Entrants will be deemed to have accepted these rules and to agree to be bound by them when entering this competition. The winners will be drawn at random from all the correct entries, and only they will be contacted personally. Prize must be taken as stated and cannot be deferred. There will be no cash alternatives. STARBURST routinely adds the email addresses of competition entrants to the regular newsletter, in order to keep entrants informed of upcoming competition opportunities. Details of how to unsubscribe are contained within each newsletter. All information held by STARBURST will not be disclosed to any third parties