Features | Written by STARBURST 21/02/2019
[ENDED] Win DOCTOR WHO : THE DALEKS' MASTERPLAN on Blue Vinyl
We've teamed up with the wonderful Demon Records to bring you this great chance to win one of these beauties on translucent blue vinyl. It really is a sight to behold!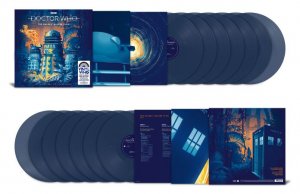 For this competition, we're going to do something a bit different and this will be chosen totally at random and is purely a bit of fun:
Who is your favourite classic era Doctor?
a) William Hartnell
b) Patrick Troughton
c) Jon Pertwee
d) Tom Baker
d) Peter Davison
e) Colin Baker
f) Sylvester McCoy
g )Paul McGann
Email your answer, along with your address details, to comp@starburstmagazine.com labelled DALEKS before midnight on  MARCH 5TH
From the press release:
In this classic 12 part 'lost' adventure, first shown on TV from October 1965 to January 1966, the Daleks threaten to destroy the fabric of time itself. In their quest to control the Solar System, they have taken possession of the devastating Time Destructor. Determined to stop them, the Doctor steals the core of the weapon before he and his friends are pursued across time and space by his ruthless, powerful nemeses.
From the eerie sonics of Ron Grainer & Delia Derbyshire's original theme tune and the familiar 'wheezing, groaning' of the TARDIS, to soundscapes illustrating the jungles of Kembel and alien spacecraft, the story is brought to life by the unique sounds produced by the BBC's Radiophonic Workshop .
Written by Terry Nation and Dennis Spooner, this is the longest single Doctor Who adventure ever made for television. Linking narration is provided by Peter Purves (Steven) and the cast includes Kevin Stoney as Mavic Chen, Nicholas Courtney as Bret Vyon, Jean Marsh as Sara Kingdom and Peter Butterworth as the Meddling Monk. The film recordings of all but three episodes of this story are lost from the BBC archives.
The prelude episode Mission to the Unknown is presented on its own single-sided disc with a unique Dalek (exclusive edition) or TARDIS (standard edition) etched reverse.
DOCTOR WHO: THE DALEKS' MASTER PLAN / NARRATOR: PETER PURVES / CAST: WILLIAM HARTNELL, PETER PURVES, ADRIENNA HILL, JEAN MARSH, NICHOLAS COURTNEY, KEVIN STONEY, PETER BUTTERWORTH / LABEL: DEMON RECORDS / RELEASE DATE: OUT NOW
Terms & Conditions:
Bis/STARBURST do not accept any responsibility for late or lost entries due to the Internet or email problems. Proof of sending is not proof of receipt. Entrants must supply full details as required on the competition page, and comply with all rules to be eligible for the prizes. No responsibility is accepted for ineligible entries or entries made fraudulently. Unless otherwise stated, the Competition is not open to employees of: (a) the Company; and (b) any third party appointed by the Company to organise and/or manage the Competition; and (c) the Competition sponsor(s). This competition is a game promoted STARBURST. STARBURST's decision is final in every situation and no correspondence will be entered into. STARBURST reserves the right to cancel the competition at any stage, if deemed necessary in its opinion, and if circumstances arise outside of its control. Entrants must be UK residents and 18 or over. Entrants will be deemed to have accepted these rules and to agree to be bound by them when entering this competition. The winners will be drawn at random from all the correct entries, and only they will be contacted personally. Prize must be taken as stated and cannot be deferred. There will be no cash alternatives. STARBURST routinely adds the email addresses of competition entrants to the regular newsletter, in order to keep entrants informed of upcoming competition opportunities. Details of how to unsubscribe are contained within each newsletter. All information held by STARBURST will not be disclosed to any third parties