Features | Written by Andrew Pollard 09/10/2018
[ENDED] Win Bryan Bertino's THE MONSTER on DVD
With Bryan Bertino's impressive The Monster now available on DVD and digital download, we've got two DVD copies of this gripping horror to give away.
To be in with a chance of winning yourself a copy of The Monster, simply answer the below question:
Which of these names starred in Bryan Bertino's The Strangers?
a) Liv Morgan
b) Liv Tyler
c) Tyler Bate
Email your answer, along with your address details, to comp@starburstmagazine.com labelled The Monster before midnight on Sunday, October 21st.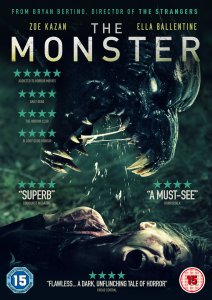 To give you an idea of what to expect from The Monster, be sure to check out the terror-tastic trailer:
The official word on The Monster reads:
From the director of horror smash-hit The Strangers comes The Monster, a terrifying new vision of claustrophobic terror.
Kathy (Zoe Kazan) and her 10-year-old daughter Lizzy (Ella Ballentine) are trapped and tormented in a pitch-black forest by a screeching creature. It is unlike anything they have heard before. Not human. Not animal. A monster.
With their relationship at breaking point, Kathy is on the edge while Lizzy is all out of faith in her mother but tries to stay brave and fearless. To survive the night, Kathy must summon her most primal instinct to protect herself and her daughter from what's lurking in the darkness.
The Monster is available now on DVD and digital download.