Features | Written by STARBURST 09/02/2019
[ENDED] Win BEFORE WE VANISH on Blu-ray
We have teamed up with the wonderful Arrow Video to bring you the chance to win a copy of this interesting future cult movie on Blu ray
To be in with a chance of winning one of two copies of Before we vanish on Blu-ray , simply answer the below question:
What movie did  Kiyoshi Kurosawa also direct?
a) Pulse
b) Death becomes her
c) Creep
Send your answer, along with your address details, to comp@starburstmagazine.com labelled BEFORE WE VANISH before midnight on Sunday,February 17th.
WRITER/DIRECTOR: Kiyoshi Kurosawa
CAST: Masami Nagasawa (Your Name, Godzilla: Final Wars), Ryûhei Matsuda (The Raid 2), Hiroki Hasegawa (Shin Godzilla), Kazuya Kojima (Guilty of Romance)
Synopsis:
Three aliens on a reconnaissance mission to Earth take over the bodies of human hosts to explore the world they're about to invade. On the way they steal individual concepts from the minds of anyone who crosses their path, from work, to free will, to love, leaving behind them a trail of soulless bodies.
The film follows Narumi, whose husband Shinji becomes one of the three hosts. As the invasion grows nearer, Narumi's attempts to save humanity from extinction become increasingly entwined with Shinji's decision on whether to save the humanity within himself.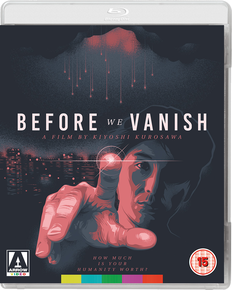 Special Features:
- FIRST PRESSING ONLY: Illustrated collector's booklet featuring new writing on the film by Neil Mitchell
- High Definition Blu-ray (1080p) presentation
- Original 7.1 DTS-HD Master Audio
- Optional English subtitles
- The Making Of Before We Vanish, an 53-minute featurette including on-set footage and interviews with cast and crew
- Inside The Story and Inside The Characters, two featurettes with cast and crew interviews
- Looking Back, members of the cast reunite to discuss memories of the production
- Red carpet interviews from the Cannes Film Festival premiere
- Cast and crew Q&As from four screenings including the Japanese premiere
- Trailer
- Reversible sleeve featuring original and newly commissioned artwork by Tommy Pocket
UK Release date On Blu-ray and Digital HD 11 February 2019. Also premiering on Arrow Video Channel on Amazon Prime Video UK  11th February 2019.