It's been over a year since Games Workshop's bespoke subscription service Warhammer Plus launched. So it's about the right time to ask the question, in a world filled with online subscription services, why pick this one?
First off, let's talk about what it isn't; it's not a streaming service that caters to a niche like SHUDDER or Drop-Out; nor is it a bespoke online gaming tool such as DnDBeyond or OneMoreMultiverse. It's not even a merch drop service (examples would be SuperLoot or GeekCrate).
But it does a little bit of all those things. It's best described as the ultimate lifestyle service for the Warhammer fan. Let's take a quick look at what you get for your £49.99 a year.
An annual subscription comes with an exclusive, subscriber only model. A physical thing that you can assemble, paint and put on your shelf. Last year signing up got you the choice between a Warhammer 40,000 or Age of Sigmar piece. The former was called Operative Umbral Six, a futuristic assassin lurking inside an eye-catching ruin. The fantasy piece was Bazdrogg Nekk-choppa, a massive Orc. Both are character pieces, fun to put together and intended to be painted with extra effort; these would form a centre piece in your cabinet or in an army.  You got one with the subscription, and could choose to buy the other for £26, but only if you're a subscriber.
This year, it's a choice between Azarakh The Annihilator, essentially a huge Chaos Space Marine in Terminator Armour looking like he's walked off the cover of a Black Library book, or Mibyllorr Darkfang, Chaos Sorcerer Lord, an Age of Sigmar Wizard who comes with an entourage of colourful minions. Again, these are both character pieces and you get one, and can buy the other for £24. These pieces seem to keep value if you want to resell them and are exclusive to the service. They're nice models and it's telling this is a feature; it underlines the point that this is for folk that  are really into Warhammer. These are models to show off to your friends (and the fact that they're exclusive to Warhammer Plus makes more likely to appeal to certain collectors.)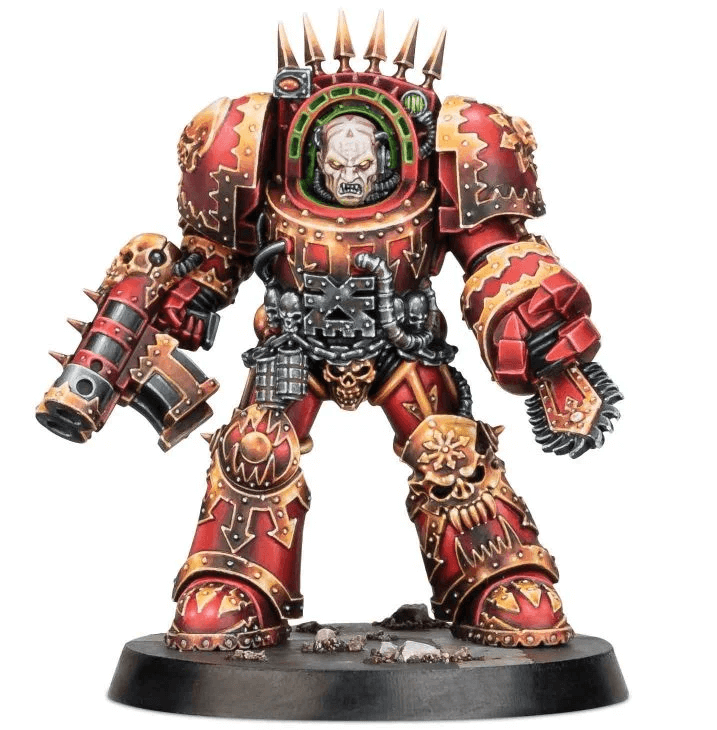 Next up is access to the Warhammer Vault; essentially a digital archive of back issues of White Dwarf, Games Workshop's monthly magazine. It also holds edited down versions of various setting and scenario books. For example the Warzone Fenris Campaign was a series of books that dealt with a huge 'end of days' battle between Chaos and the Imperium and featured the return of Magnus The Red, a Demon Primarch. The Gathering Storm was a similar campaign that pretty much rewrote the status quo of the Warhammer 40,000 storyline, so it's well worth a read even though it's not new. But if you missed these books,  good luck finding them second hand for a reasonable sum of money, especially as they're all written for an old version of the game.
The Vault contains gems like this, but they've cut out the old rules so it's just art, photos, short fiction and extensive world building. All the good stuff, basically. It's mostly Warhammer 40,000, with some Horus Heresy stuff added in for spice. We get some Age of Sigmar material, but it's a newer game so there's not as much. We also get End Times material from the old Warhammer Fantasy game. At time of writing, though the vault mostly contains material from this century; no sign of old issues of Owl and Weasel, Warlock Magazine or Warhammer Monthly. Yet. They're adding new stuff very regularly, making this a great digital resource for fans.
Subscribers get access to two apps; one for Warhammer 40,000 and the other is for Age of Sigmar. These are designed to let you create and design armies for play later. (You will need the models and a friend to play, the app doesn't provide these).  One of the fun parts of the hobby for many is figuring out optimal or interesting ways to play and as these are the official apps they're up to date. These do the job quite well but aren't that remarkable; it's the sort of service we expect and require, nothing more.  It's not integrated with The Vault, unlike similar products such as DnDBeyond so you're unlikely to fall down a rabbit hole of setting material and ideas whilst creating an army. This is perhaps for the best.
Finally we come to Warhammer TV, which is a bit of curate's egg but has some excellent shows. The Battle Report  series are stylishly produced actual-play sessions of various Warhammer games. It's fun to watch people have fun, and being Game Workshop the models and board look amazing. This feels like it should be the big draw; fun games played in a fun way but there's just not quite enough of them and they're all stand-alone.  In old issues of White Dwarf, we got a series of (written) battle reports called The Tale of Four Gamers that described a campaign played by four friends. It was warm and funny, and it'd be nice to see this sort of thing in a well produced, TV style format.
The other nice bit about these videos is that you also get a good feel for each game, especially the new ones.  There are also 'How To Play' videos which are very comprehensive and accessible.  We also get painting tutorials and a show called Loremaster, which takes on the daunting task of explaining all the Warhammer lore. Though they are shows like this on YouTube, the professional polish and clear voice is certainly a draw, and presenter Alex Doddy adds just the right amount of gravitas to this show.
Another stand-out talent is Louise Sugden, who hosts the Masterclass Paint Series and also appears in some of the other shows. The Masterclasses are fun to watch and really, really useful, even for old-school ham-fisted gamers. We also get a talk-show, called Deep Strike, which sadly doesn't have many episodes and focuses on the animated shows (we'll get to those in a moment). Given the amount of books, video-games and other spin-off media Games Workshop handle, you'd imagine they would have plenty of people to interview. Still, it's early days.
Warhammer TV also has animated shows; at time of writing, four exclusive series plus animated trailers and additional shorts. Warhammer TV is also the official home of Syama Pedersen's Astartes, a remarkable animated short movie which started out as a fan project, and captures the atmosphere of Warhammer 40,000 perfectly.
The exclusive shows all showcase different parts of the worlds of Warhammer. Hammer and Bolter is anthology series, presented in a stylised  2D, cel-style animation. These are shorts, about 15 minutes long that tell one story. We get fantasy and sci-fi shorts and they all have a twist. They're fun and the sort of thing you can show to non-fans with little issue.
Interrogator is a similar, cel-like show, stylishly black and white and feels very much like an animated 80's comic book. It's a grim-dark procedural drama which has good animation and excellent voice acting.
Exodite is full colour, CGI and very well acted. It's the tale of lone heroes operating in an incredibly busy warzone, and mostly focuses on a single Tau (alien) warrior who is trying to stop a bloody war. It's about 40 minutes long over three chapters, looks amazing, has a very atmospheric story and features a brilliant soundscape. All of the soundtracks are available on Warhammer Plus as part of the package.
Finally we get Richard Boylan's remarkable Angels of Death, a monochrome and blood red animated show which looks beautiful, is appropriately grim for the Warhammer 40,000 setting, is strongly acted and captures the artistic style of the franchise incredibly well. It's so remarkable we've reviewed it separately here.
Oh, and each year so far has come with a  £10 voucher to spend on the Warhammer website. You get free postage when you request that your subscriber model be delivered, so it's a straight tenner to spend at Games Workshop online, and let's be honest, if you've bought a subscription already you've already browsed their website.
We hope to see it develop further in its second year. Certainly, there's a lot of potential here and the content seems set to grow and grow. We're looking forward to seeing what it has become in a year's time.