Features | Written by Ed Fortune 27/03/2020
BLOODSHOT Origins: The History of Valiant Comics
With the movie BLOODSHOT out now to buy via Digital Download, many may be surprised that this action-filled Vin Diesel movie is based on the VALIANT comic character of the same name. Who are Valiant anyway? Let's take a quick look at where they come from and what to expect from what could be the start of the next cinematic universe…
It all started back in 1987, when Marvel Comics fired their editor-in-chief at the time, Jim Shooter. He had been in the role since 1978 and oversaw projects such as Frank Miller's Daredevil and Chris Claremont's run on X-Men, so it's fair to say he knew a thing or two about comics. Shooter was also responsible for Dazzler, a disco-based superhero who was the first step in a plan to begin a movie franchise. It didn't work. Projects such as this, combined with his draconian approach to editorial control, meant he parted ways with Marvel. In 1988, Shooter and investors former Voyager Communications and tried to buy Marvel. (Marvel's own financial woes are another story and a long one at that.) Shooter and chums failed. By 1989, the same team had launched Valiant Comics.
The plan was to do everything Marvel did, but better. Valiant's first title was Magnus, Robot Fighter, a revival of the Gold Key Comics 1963 series set in a world where mankind has become ruled by machines. Magnus was soon joined by Solar, another Gold Key hero. Whereas Magnus hadn't been altered much by a reboot, Solar's backstory had been radically changed. Rather than a man who got god-like powers from a nuclear accident, the new Solar had a convoluted plot that involved the old '60s storyline and time-travel. It was very well received, and Valiant was well on its way to comics stardom.
Of course, a comic book company can't live in the past for too long, that's what back issues are for. The first wave of 'fresh' characters bear all the hallmarks of '90s comic books. They're big, muscled, bold and oh-so full of angst. They're also very much targeted at a male adolescent audience and look very similar to Marvel and DC heroes of the time.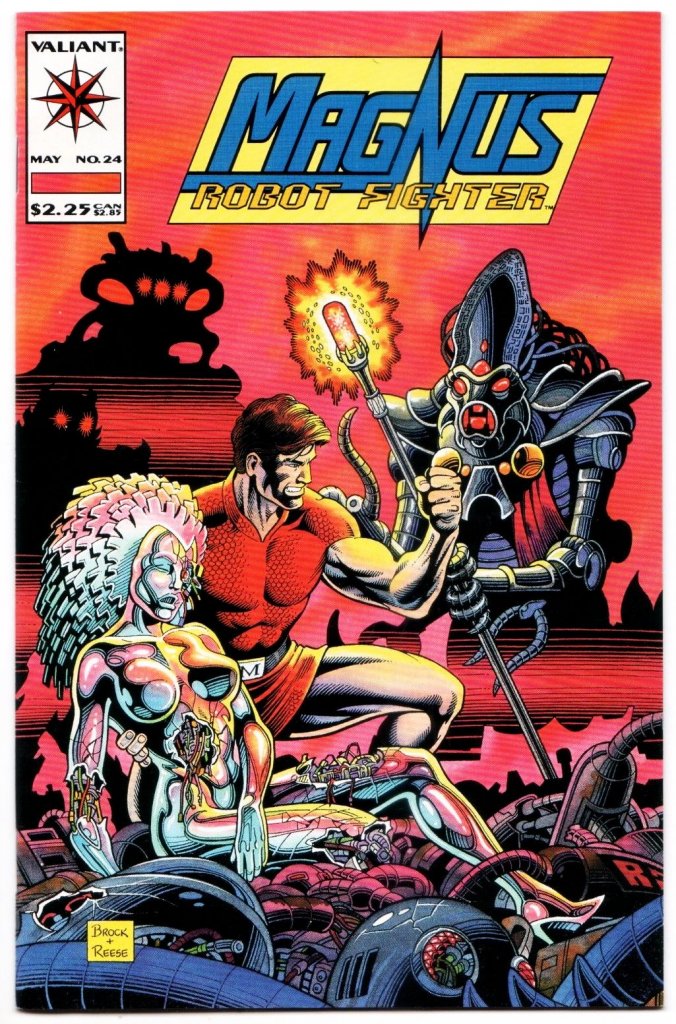 Still, they did have some fun twists. The first original hero was Rai, a Japanese guardian spirit from the 41st century. His name literally means 'Spirit'. Set in a super-advanced version of Japan, this series has always been a mix of the usual superhero crime-busting hijinks and a more high-concept 'techno-fetish' approach, mixing Samurai myth with vigilante action. In one version of the comics (since retconned), Rai was the futuristic version of Bloodshot. The next characters in the Valiant stable were The Harbingers. If you're thinking that sounds a little X-Men, you would be right. Teenagers with classic psionic-style powers such as telepathy and telekinesis, trying to survive in a world that's scared of them and their newly emerging abilities. Around this time, Shooter also brought us X-O Manowar. This is a tale of a Visigoth who is plucked from battling the Roman Empire by space aliens. He rebels against his alien keepers, bonding with a legendary suit of hi-tech armour and leading a revolt but ultimately failing. He returns to Earth which, thanks to time dilation, is now in its 21st century.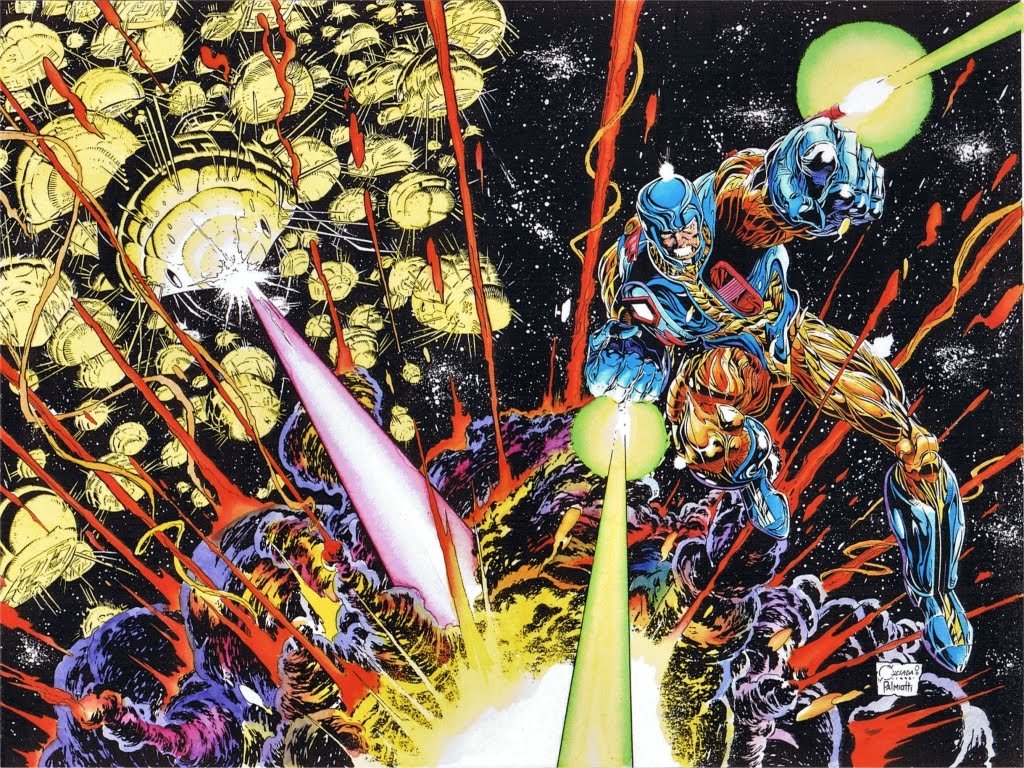 This isn't the only time Valiant would publish a man-out-of-time-style book. Eternal Warrior came out in 1992, following a brief cameo in Solar. It's the tale of Gilad, a super-strong, regenerating immortal who protects the Earth alongside his (similarly immortal) brothers. Because Gilad is so old and skilled at warfare, he gets around everywhere. For example, Bloodshot first appears in Eternal Warrior. Bloodshot's own origin story is frankly ridiculous, as well as an interesting blend of The Bionic Man, The Punisher, and Captain America. Our protagonist is Angelo Mortalli, a mafia hitman who has gone into witness protection. He is betrayed and has his mind wiped. Experimental nanites are used to turn him into an unstoppable killing machine. Blessed with enhanced strength, dexterity, healing and the ability to control machines, Angelo renames himself Bloodshot and goes on the rampage against those who stole his memory (as well as his former masters in the Mafia). Later we discover the nanites themselves are sentient and have a culture of their own, which is rather fun.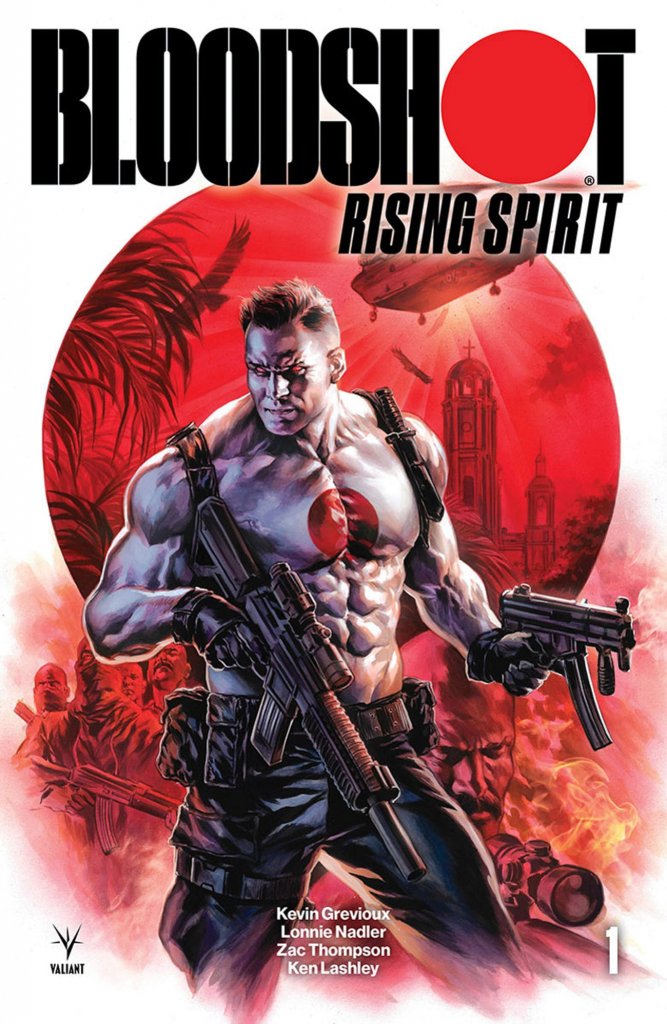 Another early Valiant character is Ninjak, who first appeared in Bloodshot. He's a mix of James Bond and a ninja. Yes really. Created by Mark Moretti and Joe Quesada, the book sold close to a million copies and catapulted Valiant to the top of the comic sales list. Similarly, we have Shadowman, the story of saxophone playing jazz musician Jack Boniface who fights crime thanks to the 'Darque Power'. So far, the 80 issues of this book have sold over five million copies. By 1992, Valiant was the hottest thing in comics. This was also the year that Shooter left due to 'creative differences'. He moved on to form Defiant Comics. As this was the early '90s, one of Valiant's big 'sells' was that these were new comics, which meant lots of first editions.  Many characters slated for their own series first appeared in books like Eternal Champion and X-O Manowar. An inevitable crossover series (called Unity), cemented all the heroes into one universe. The further exploit collectors, Valiant came up with the concept of Issue Zero, a comic book that explained each of the hero's origins.
By 1994, Voyager Communications had been purchased by Acclaim Entertainment, a company best known for its licensed video games. Acclaim's plan was simple: buy a comics company and use all the lovely intellectual property to make games out of. One such success was Shadowman, a Nintendo 64 action-adventure game that the critics hated but still has a cult following. Acclaim's stewardship would see X-O Manowar team up with Marvel's Iron Man is a side-scrolling platformer. 
Of course, the '90s also saw the comic speculators crash. Comics from the '60s and '70s sold well on the collectors market, especially those with first appearances of iconic characters. Under Shooter's command, Valiant had leant into this trend. Alas, first edition Valiant comics were pretty common and not as valuable as speculators hoped. This caused a decline in sales. Acclaim responded by going for more interesting, quirky content that captured the imagination of a lot of readers looking for something new. During this time, we got things such as Quantum and Woody, a quirky superhero buddy series. Two brothers (they're both adopted), team up with a goat to fight crime. Their powers require the pair to work together, and much humour comes from this. Described as 'White Men Can't Jump with superpowers', its blend of superhero action and buddy comedy has remained popular.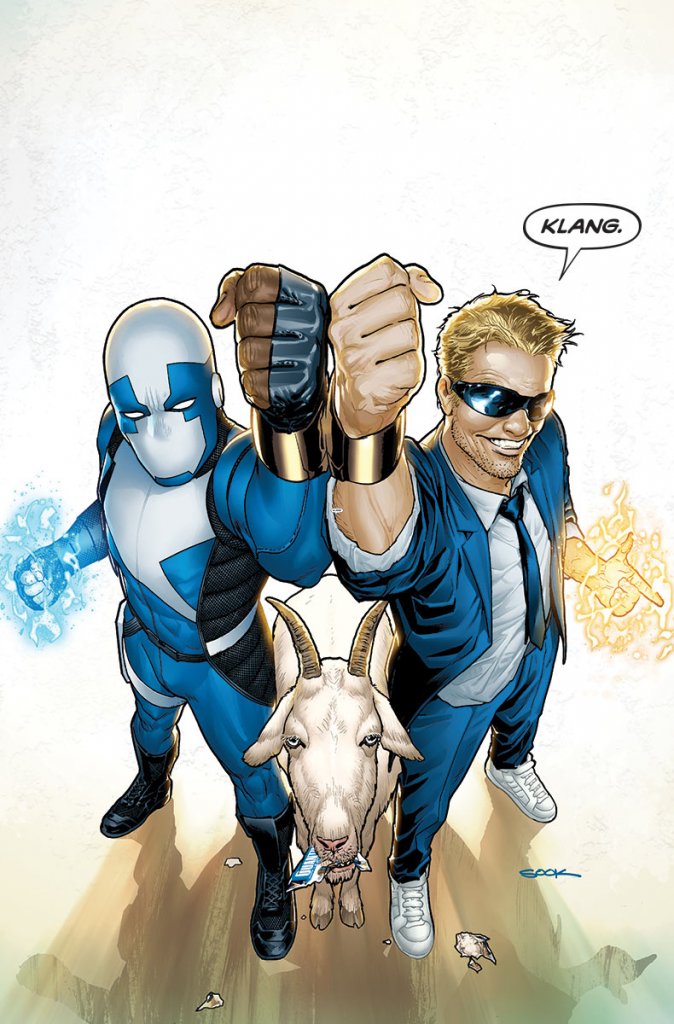 Acclaim also retooled another buddy series, Archer & Armstrong. Though it first came out in 1992, it came into its own under Acclaim's management. It's the story of a talented young man with very little common sense teaming up with an immortal drunk to take on a sinister cult of assassins. It's an interesting blend of Batman and Nuns on the Run. Acclaim boosted the slapstick up a fair margin and took away an element of brooding. Alas, by September 2004, Acclaim Entertainment had filed for bankruptcy. This was nothing to do with Valiant. The collapse of Acclaim is mostly attributed to the loss of the license for the World Wrestling Federation video games, as well as the loss of other sports-related licenses. Enter Dinesh Shamdasani and Jason Kothari. Childhood friends who had grown up in Hong Kong reading American comics. Who also happened to love Valiant (and have access to healthy investment funding). The two comics fans picked up the rights to Valiant and formed Valiant Entertainment. (Kothari would later go on to be a tech- entrepreneur of some renown). They rang a series of much-needed changes but also re-hired Jim Shooter to correct the course of Valiant's future. Shooter spent a year fixing Acclaim's tired storylines before going off to work on other projects.
Valiant at this point was better known for its art rather than story, so they got some fresh writing talent together and decided to deliver not only brilliant images but engaging story.  They'd also taken a tip from Marvel's Ultimate series and made sure that the newly relaunched books were written with movie rights in mind.
This new era came with a series of reboots. 2012's The Summer of Valiant event revived the Valiant Comics universe with five ongoing titles: X-O Manowar, Harbinger, Shadowman, Bloodshot, and Archer & Armstrong. Fans demanded the return of Quantum and Woody also. Valiant's brand at this point had coalesced into its own thing. It had the grand ideas of DC with the consistent worldbuilding normally found in Marvel but managed to attract a level of enthusiasm and talent that you only really find in Image Comics. This 'best bits of each' approach has helped cement Valiant as a firm favourite for fans of hero comics. This new era also saw the introduction of Ivar, Timewalker. The third immortal brother mentioned in Eternal Warrior, we finally meet Ivar, the mad-professor of the trio.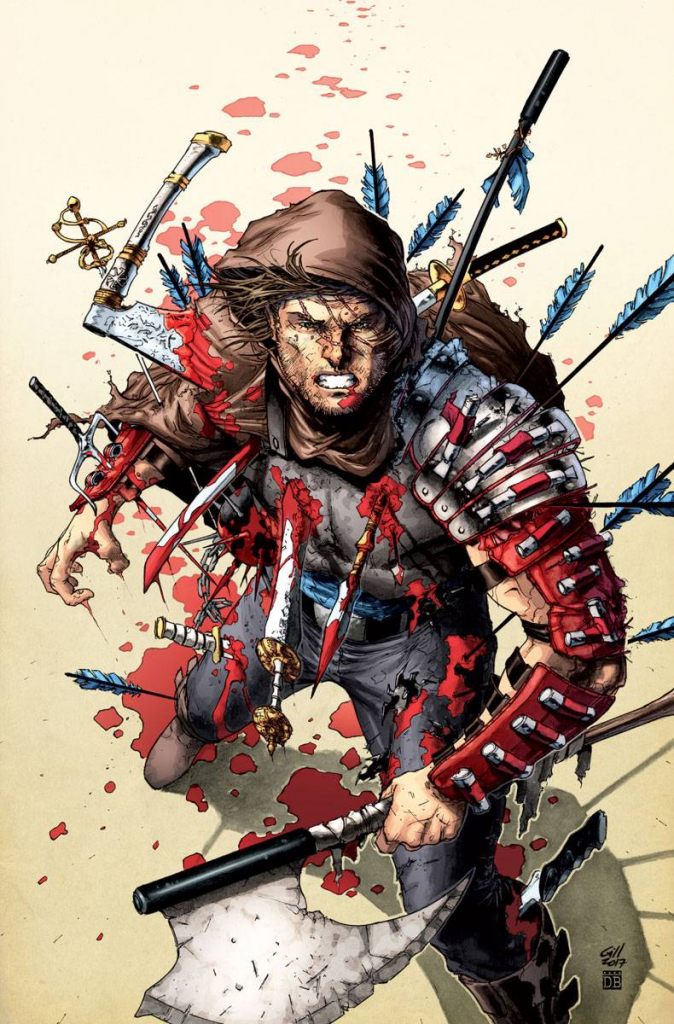 Though it's hard to argue that Valiant isn't anything more than a superhero comics producer, it's a perfect example of the business model. Valiant has kept their heads down while DC and Marvel slugged it out, regularly finding new talent and delivering the sort of stories fans are looking for. As the years have gone by, the clichés and tropes have fallen by the wayside, and the books' main heroes have become their own thing. Valiant has always carefully managed their roster of heroes, keeping it small with a consistent world and vision. Which, of course, makes it easier for new readers to get involved. It also makes it easier to pitch to moviemakers.
In January 2018, Chinese-owned DMG Entertainment took control of Valiant Entertainment. You will have seen DMG's logo on the front of features such as Looper and Iron Man 3. The company is said to have strong connections to China's state-owned China Film Group Corporation. DMG seems determined to pick up where Acclaim left off, by producing video games, comics, and movies all based on the Valiant Universe.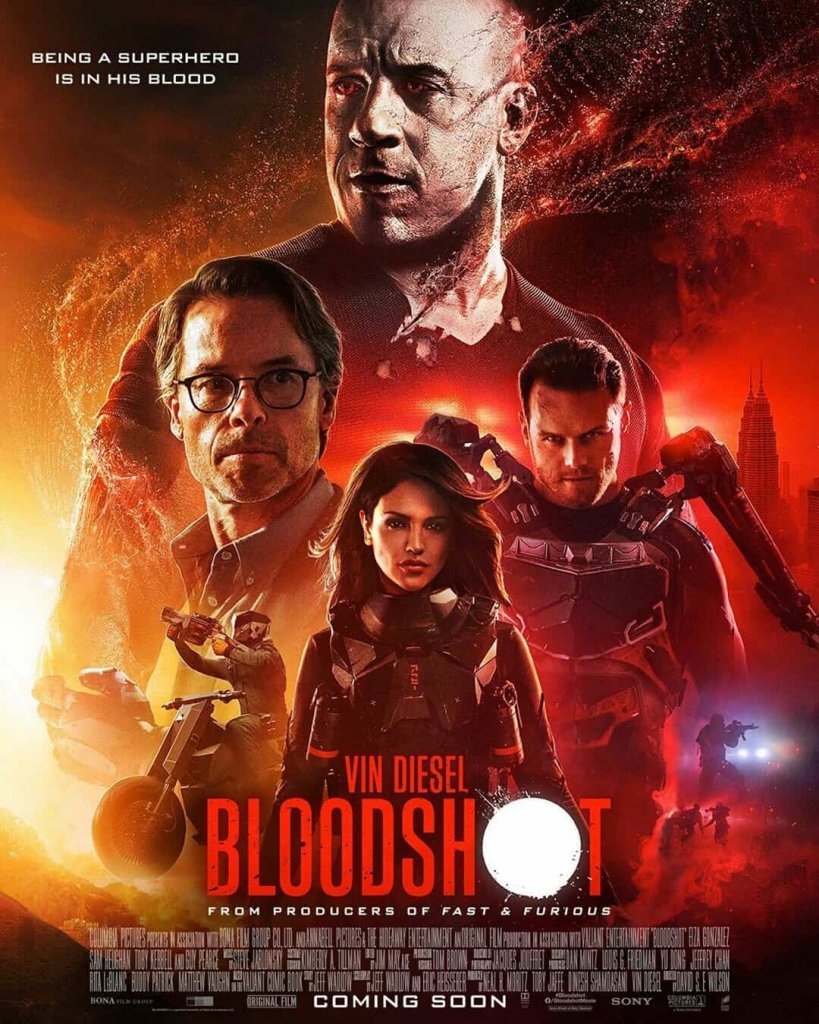 Of course, much of this hinges on if the new Bloodshot movie is any good. Vin Diesel is a strong draw after all, and the Valiant Universe is every bit as detailed as its rivals, being filled with ancient immortals, religious conspiracies, sinister outer-space corporations and the like. Marvel tried for years before Iron Man built them an empire, and DC has had more than one false start to its attempts to do the same. Will Vin Diesel and chums get it right first time? Is Bloodshot, perhaps one of the most clichéd and stereotypical heroes this side of Ninjak, a good place to start? Time will tell. 
BLOODSHOT is available to buy now in Digital HD and 4K.