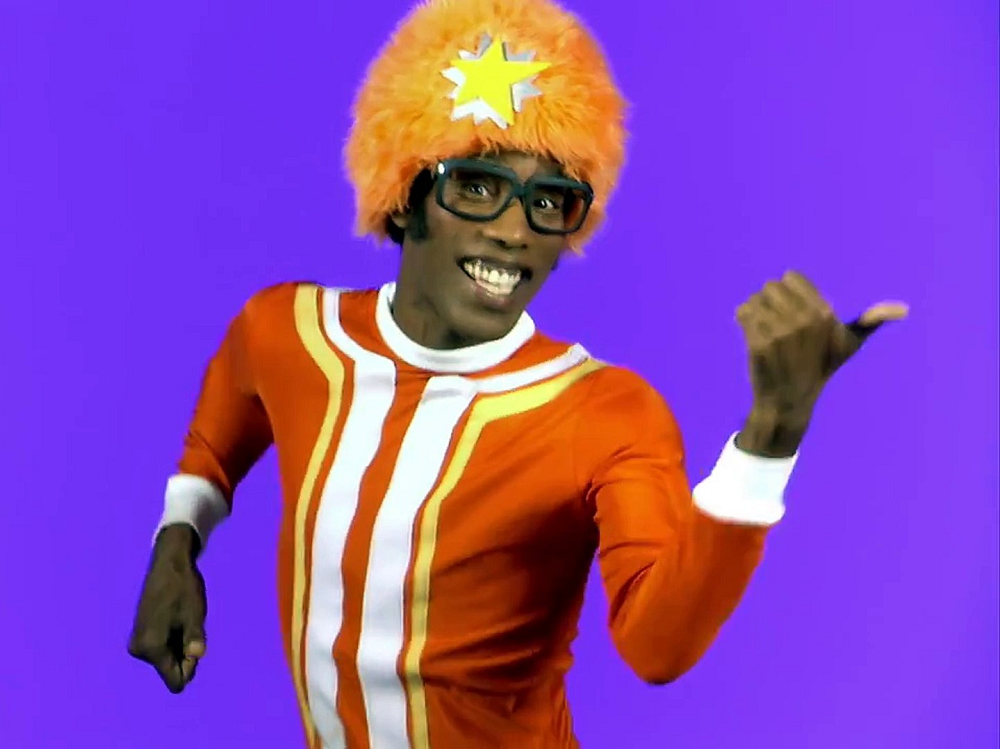 Ah, telephemera… those shows whose stay with us was tantalisingly brief, snatched away before their time, and sometimes with good cause. They hit the schedules alongside established shows, hoping for a long run, but it's not always to be, and for every Street Hawk there's two Manimals. But here at STARBURST we celebrate their existence and mourn their departure, drilling down into the new season's entertainment with equal opportunities square eyes… these are The Telephemera Years!
2006-07
If you wanted to be an American Idol or go Dancing with the Stars, the top of the TV ratings for the 2006-07 season made pretty good reading, with the top five slots filled by these newfangled variety showcases. Underneath, crime and medical dramas thrived, but there was slightly more quirky available from Lost and new arrivals Heroes and Ugly Betty.
That wasn't all as 2006 was FULL of new hits, whether it was The WB's One Tree Hill, Smallville, and Supernatural, serial killer fun on Showcase with Dexter, or 30 Rock and Friday Night Lights on NBC. That slightly made up for the losses of The OC, Gilmore Girls, The Sopranos, Stargate SG-1, and Masters of Horror, all of which were taking their final laps this year. Those, of course, are the shows that managed to secure an audience but there were some that didn't even make it series; this is the story of 2006's unsold pilots…
Legion of Super Heroes (Kids WB): In the season three episode of Justice League Unlimited, "Far from Home", Supergirl travels to the thirty-first century and meets the Legion of Super Heroes, an intergalactic peacekeeping force made up of teenage superheroes. It was thought that this was a backdoor pilot for a possible Legion series but when the future teens did get their own series just nine months later, Supergirl was nowhere to be seen. In her place was Superman, a result of Warner Bros wanting a vehicle for the Man of Steel to coincide with Superman Returns hitting the big screen.
Superman – or at least his youthful Superboy incarnation – was no stranger to the Legion, their first appearance having come in Adventure Comics #247, then starring young Clark Kent, in 1958. A trio of young heroes inspired by legends of Superboy a thousand years in our future, the group grew into something so massive and complicated that it has had to be rebooted several times for its own good, but the Legion featured in the animated series that debuted on September 23rd 2006 was a more straightforward affair.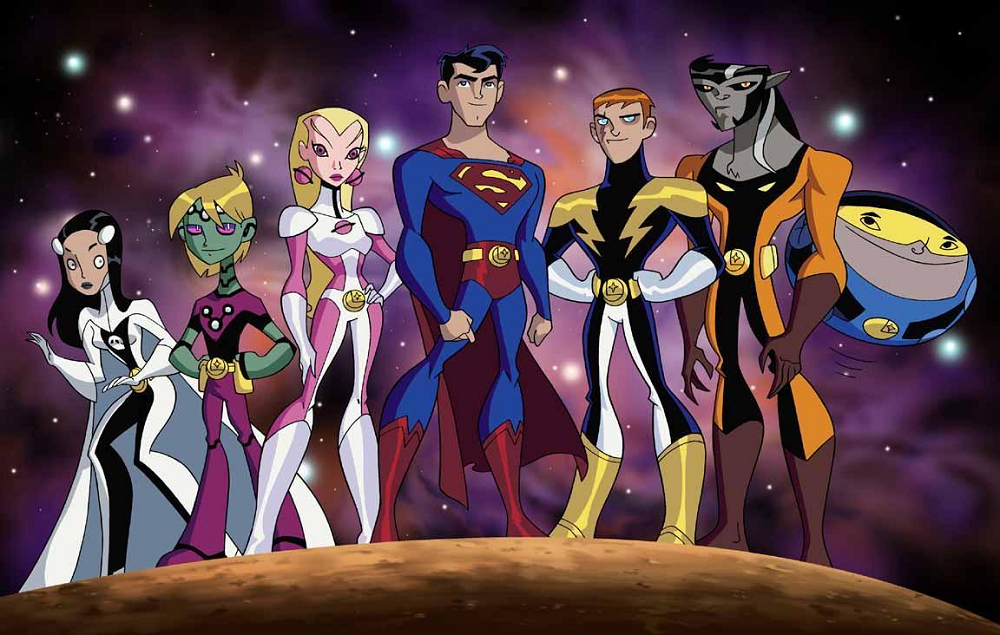 The show started with a young Clark Kent, aware of his abilities but unsure what to do with them. He travels to the future where he is inspired to take up the mantle of Superman, joining Legionnaires including electric-powered Lightning Lad, telepath Saturn Girl, and the smartest person in the universe, Brainiac 5 (who just happens to be a distant descendent of Superman's old enemy). During the first season, the Legion thwart the Fatal Five and the Sun Eater, and even find time to hold their customary – at least in the comic books – auditions for new members.
The thirteen-episode first season wrapped up in May 2007 and did well enough that Kids WB brought it back for another set of thirteen in September 2007, with Lightning Lord and the Dark Circle joining their list of nemeses. A third season was planned but the Kids WB slot was given over to 4Kids, which emphasised imported Japanese anime over homegrown cartoons, and so fans never got to see the culmination of Brainiac 5's battle with the evil Brainiac 6. The complete series was released on DVD in 2020 and is a worthy addition to your DC Animated Universe collection. In comic books, the Legion were rebooted for a sixth time in 2019 but currently have no series of their own. It won't be long, though, before someone else gets to do their vision of the thirty-first century!
The Replacements (Disney Channel): Created by children's book illustrator Dan Santat, The Replacements tells the story of Todd and Riley, two kids living in an orphanage who know nothing of their parents. Reading an old comic book, they come across an ad for the Fleemco 'phone, which – for just $1.98 – will allow them to replace anyone or anything in their lives. The children immediately dial up new parents – secret agent K and stuntmaster Dirk Daring – and then use the 'phone everytime they want to switch out something in their lives, usually with unseen consequences.
Santat and his team went into schools to survey young children to discover what they would want their parents to be if they could chose, with spies and daredevils the most popular answers, but was keen to ensure that – outside the switch of parents – each replacement would make things worse for the kids, in an effort to teach children to solve problems on their own.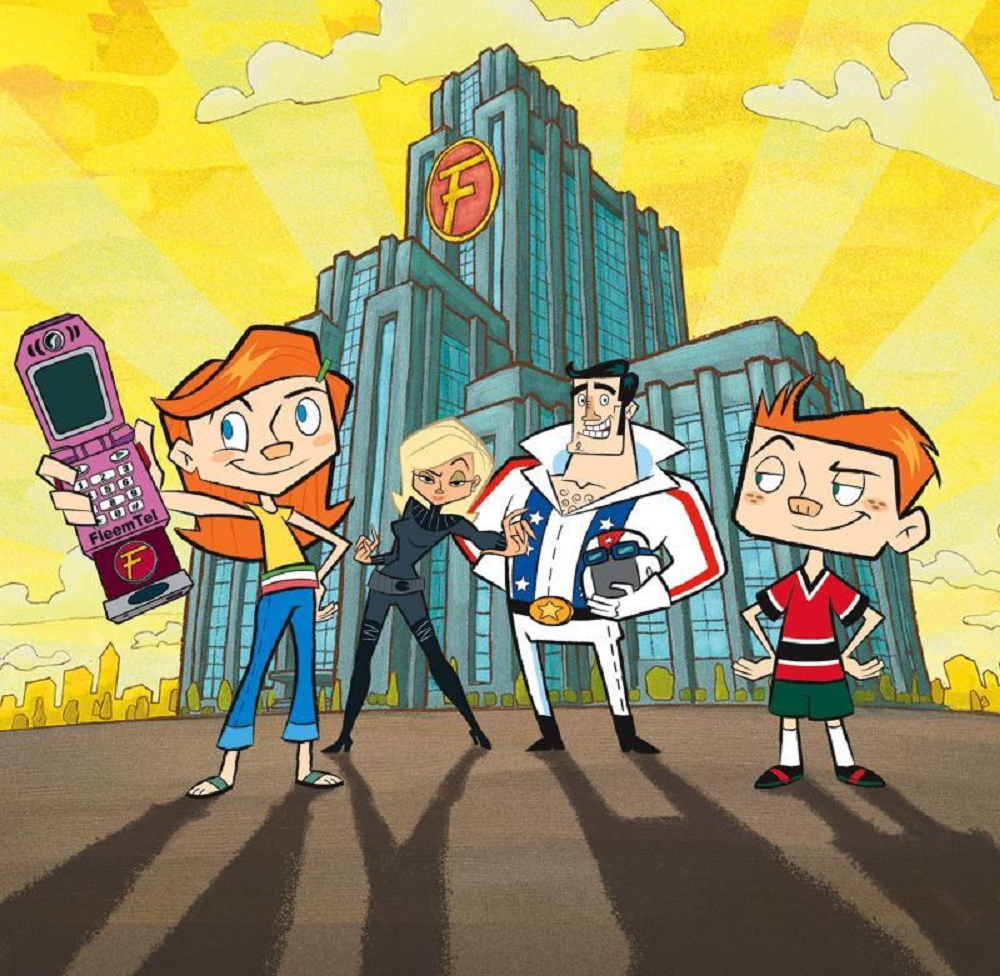 A Walt Disney production, farmed out to Toon City in the Phillipines, The Replacements had a stellar voice cast, including Nancy Cartwright and Grey DeLisle as Todd and Riley, backed up by Tara Strong, Jeff Bennett, and Rob Paulson. The likes of Michael York, Jim Cummings, Bruce Campbell, and Zac Efron all made guest appearances, helping – or hindering – the kids as they sought to replace their baseball coach, the mayor, and their babysitter, introducing replacements like a robot security guard, a professional wrestler, and an orangutan…
Each episode of The Replacements featured two stories and the first season of twenty-one episodes aired between July 2006 and October 2007 on The Disney Channel, returning in March 2008 for a second, thirty-one-episode season which mostly reverted to one story per episode, although Todd and Riley still had mostly separate storylines. There was no third season, and The Replacements has all but disappeared, although season one was put on Disney + when it launched.
El Tigre: The Adventures of Manny Rivera (Nick Jr): Mexican cartoonist Jorge Gutierrez graduated from the California Institute of the Arts – alma mater to the likes of Brad Bird, John Lasseter, and Genndy Tartakovsky – in 2000, finding work in character design for shows such as ChalkZone and ¡Mucha Lucha! In 2001, he began work on a webtoon for Sony, Jorge Gutierrez' El Macho, which drew on a variety of traditional Mexican influences, most chiefly the colourful lucha libre wrestling scene.
2001 was also the year he married Sandra Equihua and the two began work on what would eventually become El Tigre: The Adventures of Manny Rivera, creating an exaggerated version of their upbringing in Tijuana. Gutierrez's own father inspired the character of White Pantera, Manny's superhero dad trying to teach his son the tricks of his trade, with his army general grandfather providing the fuel for Puma Loco, Manny's supervillain grandad who yearns to lure his grandson over to the dark side.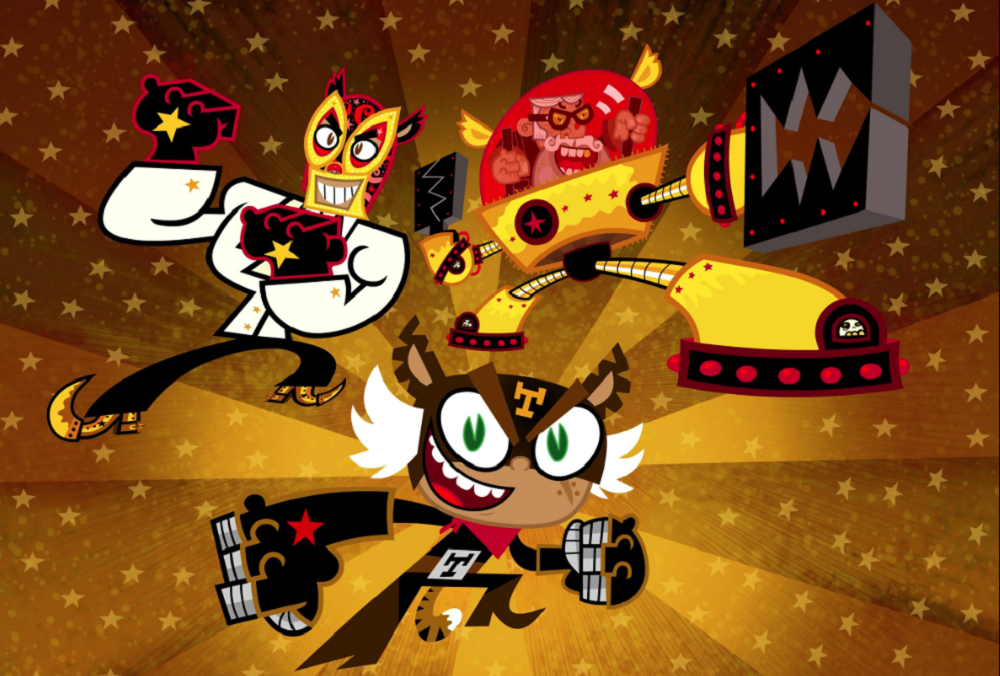 El Tigre debuted with a double episode on March 3rd 2007, with Poochini creator Dave Thomas directing or co-directing all but six of the fifty stories that ran over the next twenty-six episodes. The series was produced using the Adobe Flash animation which had become increasingly prevalent in the late 1990s during Gutierrez's tenure at CalArts. It won Best Animated Television Production for Children at the 35th Annie Awards in 2008, and went on to win five Daytime Emmy Awards, including Outstanding Individual Achievement in Animation for Gutierrez, Equihua, art director Gerald de Jesus, and storyboard artist Eddie Trigueros.
In January 2008, Nickelodeon allowed viewers to choose the ending of the episode "The Good, The Bad, and the Tigre," with Manny poised between choosing good or evil. Two endings were produced, one of which saw him turning evil and ruled the world forever. Luckily, viewers chose the right path and Manny continued his quest to learn from his father, at least until the series ended in September 2008. Gutierrez went on to produce outstanding Mexican afterlife movie The Book of Life, and award-winning Netflix fantasy Maya and the Three.
Yo Gabba Gabba! (Nickleodeon): On August 20th 2007, kids had their tiny minds blown by a new show debuting on Nickelodeon, a riot of colour and music which had to have been inspired by the imbibing of some very sugary sweets, at the very least. Titled Yo Gabba Gabba! and presented by an excitable man in an orange jumpsuit, the show aimed to teach life skills to its target audience of preschoolers in a fabulous way…
Yo Gabba Gabba! was created by Christian Jacobs and Scott Schultz, two cousins who had worked together on creative endeavours linked to Jacobs's hyperactive punk rock band The Aquabats since 1994. They each had four children and wanted to find a way to bring the excitement of the rock shows they produced to educational television, inspired by the shows of their youth such as Sesame Street, The Electric Company, and Pee Wee's Playhouse.
Borrowing money to produce a pilot, Yo Gabba Gabba! failed to make much of an impact until it was uploaded to the internet, where it caught the attention of Jared Hess, the director of Napoleon Dynamite. He recommended it to Nickelodeon's head of preschool entertainment, who ordered another pilot, eventually taking the show to series for a twenty-episode first season. Each show was presented by DJ Lance Rock (played by Lance Robertson, who had met Schultz when their bands played together) and a cast of colourful monsters (Muno, Foofa, Plex, Brobee, and Toodee), exploring the world through fun, music, and dance.
Key to the show's appeal beyond its preschool audience was the appearance of guest stars, drawn from the worlds of TV, film, and music, and including Jack Black, Weezer, The Flaming Lips, and dozens more. Appearing on Yo Gabba Gabba! became a cool badge of honour and the hipster toy company Kidrobot even made toys of the monsters. Fifty-three episodes were produced between 2007 and 2011, with another thirteen dribbling out over the next four years, but such is the warmth that Yo Gabba Gabba! is held within the hearts of TV producers and the next generation of parents that a new series is planned for Apple TV+.
Class of 3000 (Cartoon Network): It wasn't just Yo Gabba Gabba! that allowed musicians to flex their kid-friendly creative muscles during the 2006-07 season and Class of 3000 was the brainchild of André "3000" Benjamin of the rap group Outkast. Inspired by the duo's 2003 double-album Speakerboxx/The Love Below (and particularly the latter half of the set which was primarily produced by Benjamin), TV producer Thomas Lynch and Mike Lazzo of Cartoon Network approached Benjamin to see if they could produce a show based on the album.
Benjamin, however, was more interested in developing a new show, starring a thinly veiled version of himself as a mentor to kids in Atlanta, his home city. The result was Class of 3000, starring Benjamin as music teacher Sunny Bridges, imparting life lessons to students at the fictional Westley School of Performing Arts. Benjamin hoped to highlight the value of music education, which was being squeezed out of schools in the US, and was chiefly inspired by Dead Poets Society.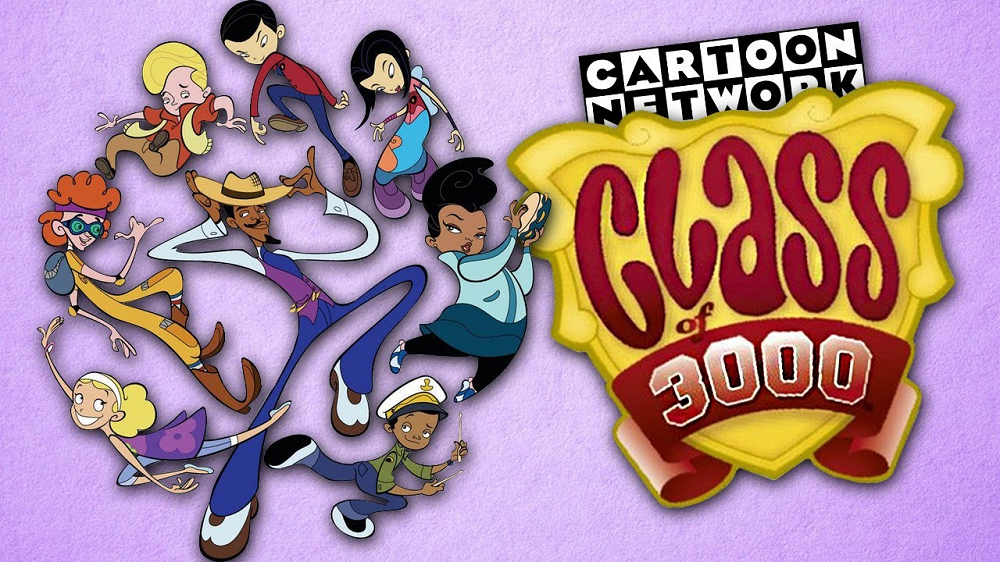 Each episode featured a new song from Benjamin related to that week's storyline as Bridges sought to help his kids overcome issues such as freedom for giant drum-playing apes, living toxic waste, and turning blue, all neatly wrapped up by the end of each episode. A first season of thirteen episodes was followed by a second of fifteen just six weeks later, earning rave reviews from critics who praised its theme of music as something more valuable than its monetary value.
Sadly, a number of factors – lower than hoped for ratings, a high budget, and deadline problems with Benjamin and the songs he wrote for each episode – resulted in Class of 3000's cancellation in  December 2007. It was possibly a victim of the 2007 Boston Mooninite panic, where promotional items for the Aqua Teen Hunger Force caused a series of bomb scares in the city, leading to the resignation of Cartoon Network chief Jim Samples, the man who had greenlit the show in the first place.
Next time on The Telephemera Years: We go waaaay back to 1967 when it was rare to find a hit show that wasn't a Western…
Check out our other Telephemera articles:
The Telephemera Years: 1966 (part 1, 2, 3, 4)
The Telephemera Years: 1968 (part 1, 2, 3, 4)
The Telephemera Years: 1969 (part 1, 2, 3, 4)
The Telephemera Years: 1971 (part 1, 2, 3, 4)
The Telephemera Years: 1973 (part 1, 2, 3, 4)
The Telephemera Years: 1975 (part 1, 2, 3, 4)
The Telephemera Years: 1977 (part 1, 2, 3, 4)
The Telephemera Years: 1978 (part 1, 2, 3, 4)
The Telephemera Years: 1980 (part 1, 2, 3, 4)
The Telephemera Years: 1982 (part 1, 2, 3, 4)
The Telephemera Years: 1984 (part 1, 2, 3, 4)
The Telephemera Years: 1986 (part 1, 2, 3, 4)
The Telephemera Years: 1987 (part 1, 2, 3, 4)
The Telephemera Years: 1989 (part 1, 2, 3, 4)
The Telephemera Years: 1990 (part 1, 2, 3, 4)
The Telephemera Years: 1992 (part 1, 2, 3, 4)
The Telephemera Years: 1995 (part 1, 2, 3, 4)
The Telephemera Years: 1997 (part 1, 2, 3, 4)
The Telephemera Years: 2000 (part 1, 2, 3, 4)
The Telephemera Years: 2003 (part 1, 2, 3, 4)
The Telephemera Years: 2005 (part 1, 2, 3, 4)
The Telephemera Years: 2006 (part 1, 2, 3)
The Telephemera Years: 2008 (part 1, 2, 3, 4)
Titans of Telephemera: Irwin Allen
Titans of Telephemera: Stephen J Cannell (part 1, 2, 3, 4)
Titans of Telephemera: DIC (part 1, 2)
Titans of Telephemera: Hanna-Barbera (part 1, 2, 3, 4, 5)

Titans of Telephemera: Kenneth Johnson
Titans of Telephemera: Sid & Marty Krofft
Titans of Telephemera: Glen A Larson (part 1, 2, 3, 4)
Titans of Telephemera: Quinn Martin (part 1, 2)
Titans of Telephemera: Ruby-Spears