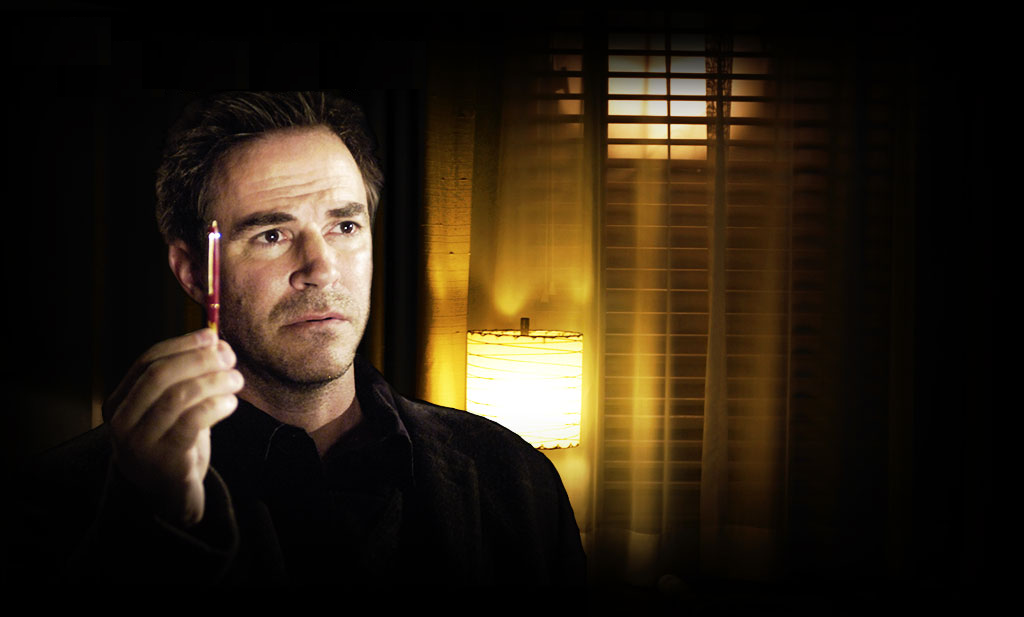 Ah, telephemera… those shows whose stay with us was tantalisingly brief, snatched away before their time, and sometimes with good cause. They hit the schedules alongside established shows, hoping for a long run, but it's not always to be, and for every Street Hawk there's two Manimals. But here at STARBURST we celebrate their existence and mourn their departure, drilling down into the new season's entertainment with equal opportunities square eyes… these are The Telephemera Years!
2006-07
If you wanted to be an American Idol or go Dancing with the Stars, the top of the TV ratings for the 2006-07 season made pretty good reading, with the top five slots filled by these newfangled variety showcases. Underneath, crime and medical dramas thrived, but there was slightly more quirky available from Lost and new arrivals Heroes and Ugly Betty.
That wasn't all as 2006 was FULL of new hits, whether it was The WB's One Tree Hill, Smallville, and Supernatural, serial killer fun on Showcase with Dexter, or 30 Rock and Friday Night Lights on NBC. That slightly made up for the losses of The OC, Gilmore Girls, The Sopranos, Stargate SG-1, and Masters of Horror, all of which were taking their final laps this year. Those, of course, are the shows that managed to secure an audience but there were plenty that didn't; this is the story of four missed opportunities…
Painkiller Jane (Sci-Fi): Joe Quesada and Jimmy Palmiotti created Painkiller Jane for their own Event Comics line in 1995, three years before they were hired to revamp some of Marvel Comics' edgier properties under the Marvel Knights banner. The work they did on Painkiller Jane was a perfect taste of what they would later bring to Daredevil and other titles, the story of an undercover cop killed in the line of duty but resurrected with superhuman abilities to become a vigilante.
The Painkiller Jane TV show that debuted on The Sci-Fi Channel in April 1997 began with Jane Vasko changed to Jane Vasco and skewed her origin to have her working as an undercover DEA agent, removing the mysterious man who seemingly gave her the superpowers in favour of her just discovering she has them. She also joins a shadowy government agency who provide her with the neural treatments she needs to overcome the pain of any injuries she receives – she can't be killed but she can be hurt.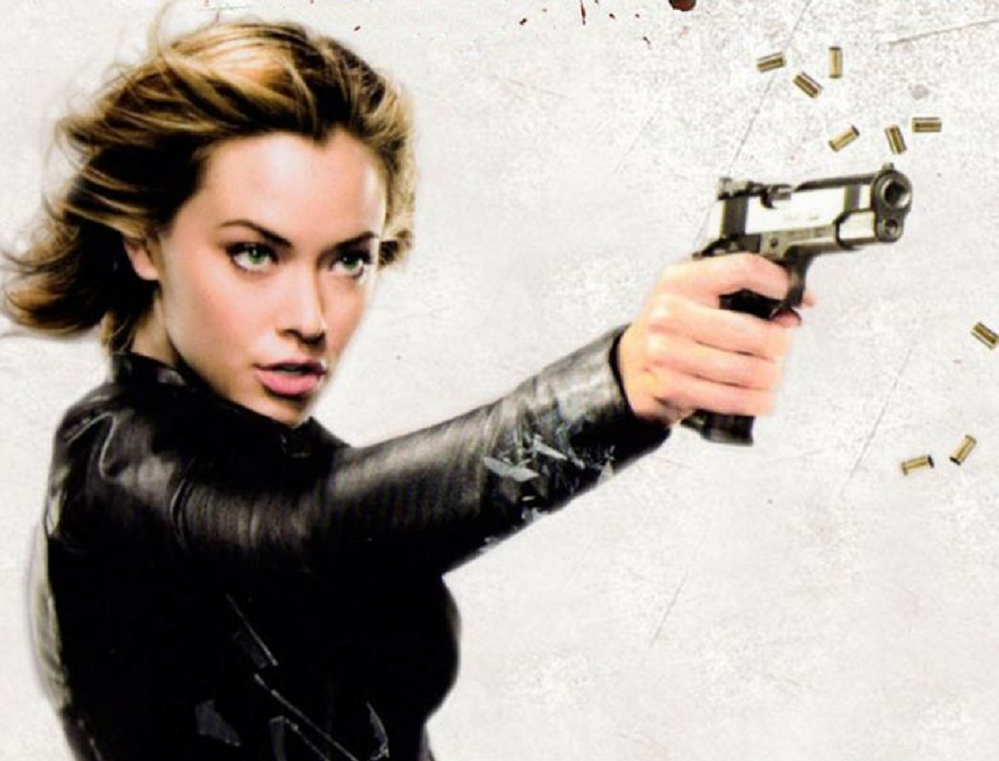 Kristanna Lokeren's Jane is nearer to the comic book than the one played by Emmanuelle Vaugier in the 2005 pilot movie, which changed the story completely but still got a good enough reception that the TV show was put into production. As part of the NICO team – which also includes Tropical Heat's Rob Stewart as Andre McBride and Noah Danby's Connor King – she deals with problems created by genetically enhanced people called Neuros.
Twenty-two episodes were shown as part of the show's first season, and it was reported that Quesada and Palmiotti were more than happy with the adaptation. Unfortunately, viewers were less satisfied, and ratings were not at the level that would lead to a second season. Quesada went on to become Marvel's Editor-in-Chief in 2000, later becoming an Executive Vice-President, but his contract allowed him to do outside work. In 2006, Quesada and Palmiotti released a new Painkiller Jane series through Dynamite Entertainment, with Palmiotti continuining to work on the character afterwards, last releasing a graphic novel – Trust the Universe – in 2019.
Traveler (ABC): Inheriting a timeslot recently vacated by Lost was never going to be an easy job, especially as this was a Lost at its third season heights, but that was the task handed to Traveler when it debuted on May 10th 2007 on Wednesday nights on ABC. Created by David DiGillo, a newcomer with just the Paul Walker Disney adventure flick Eight Below under his belt, Traveler told the story of two college students framed by their former roommate – Will Traveler – for a terrorist attack in New York.
Tru Calling's Matt Bomer and Logan Marshall-Green (recently of 24 and The OC) starred as the protagonists, on the run from the authorities as they try to piece together the life of the mysterious Traveler in the hopes of discovering his motives and clearing their names. Steven Culp's FBI agent is the man task with bringing them to justice, sending agents Borges and Marlow (Anthony Ruivivar and Viola Davis) to hunt them down, although Marlow at least believes they are innocent.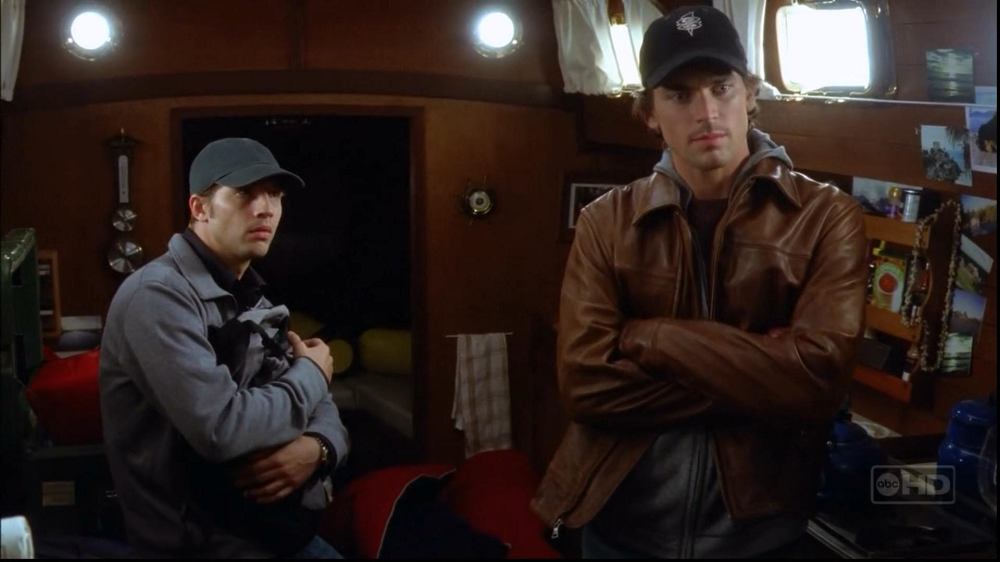 While all this is going on, Traveler (X2 and X-Men: The Last Stand's Aaron Stanford) – secretly an undercover agent for the Department of Homeland Security – is searching for answers of his own. Eventually, a conspiracy that may reach all the way to the White House is uncovered but by that point there were too few viewers to care, with ratings falling from 8.61 million to 3.55 million over the course of the series.
The final episode rebounded, adding more viewers, but by then the decision had been made to pull the show after just ten episodes. The story ended on a cliffhanger, as episode ten would have been a season finale anyway, with the three friends reuniting to find the evidence they need to expose the conspiracy, only for it – and the man they believed was actually responsible – to be blown up by a car bomb. You want answers? Back to Lost, then…
Studio 60 on the Sunset Strip (NBC): Part of a Monday night line-up on NBC that also included Deal or No Deal and the debuting Heroes, Studio 60 on the Sunset Strip was a look behind the scenes of a fictional live sketch comedy show, similar to NBC's own Saturday Night Live. It was a premise with plenty of promise and might have succeeded had it not been for 30 Rock, NBC's Wednesday night look behind the scenes of a fictional live sketch comedy show, similar to NBC's own Saturday Night Live.
The key difference between the shows was that 30 Rock was a sitcom, created from its inception to be a vehicle for former SNL head writer Tina Fey, and Studio 60 was a drama. A drama about a comedy needn't be humourless, however, and a strong cast with a comedic background including Matthew Perry, Amanda Peet, Sarah Paulsen, and Nate Corddry ensured the jokes hit their beats when they came.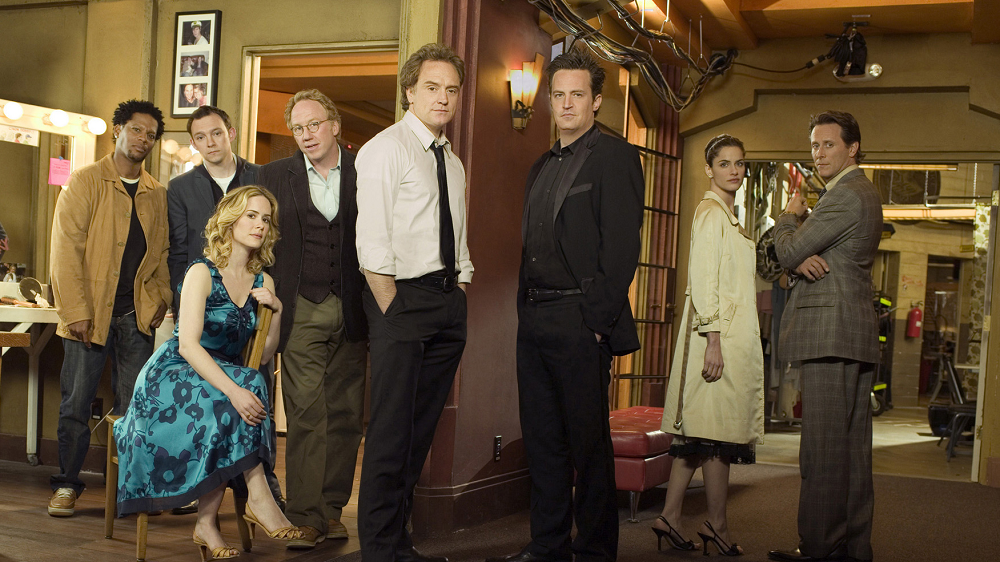 The show was created by Aaron Sorkin and he brought in his former West Wing star Bradley Whitford as Danny Tripp, the producer of the fictional show, playing on a past friendship between Tripp and Perry's Matt Albie. Its prospects looked solid after NBC won a bidding war with CBS for the show and it was highly anticipated by both the media and the public ahead of its September 18th debut.
Critics to rate Studio 60 highly throughout its run but viewers disagreed; ratings feel from a high of 13.4 million for the first episode to a low of 6.1 million for episode sixteen, although they generally hovered around the 7 million mark. The show went on hiatus after that record low and when it returned it was shifted to Thursdays in the hope that Scrubs might provide a bump as its lead-in. In reality, the decision to cancel the show had already been made, a further fall in ratings seeming to justify the decision. In 2011, Aaron Sorkin appeared on an episode of 30 Rock's fifth season as a producer looking for work, telling Fey's Liz Lemon to shut up when she mentions Studio 60, the only one of his shows never to get a second season.
The Lost Room (Sci-Fi): At twenty past one (and forty-four seconds) on the afternoon of May 4th 1961, room ten at the Sunshine Motel outside Gallup, New Mexico, slid out of existence. The motel fell into a state of disrepair but no-one ever remembered it having a room ten, except that – in the years after what became known as The Event – people began to access the room from all over the world, as long as you could find the key.
This was the premise of The Lost Room, a 2006 mini-series on The Sci-Fi Channel created by Laura Harkcom, Christopher Leone, and Paul Workman. Leone and Workman first developed the idea while at Carnegie-Mellon University in Pittsburgh and when Leone later worked with Harkcom (also a graduate of that school, although they were not contemporaries) on the short film K7, he realised a project they were developing could be melded with his earlier concept, giving birth to The Lost Room.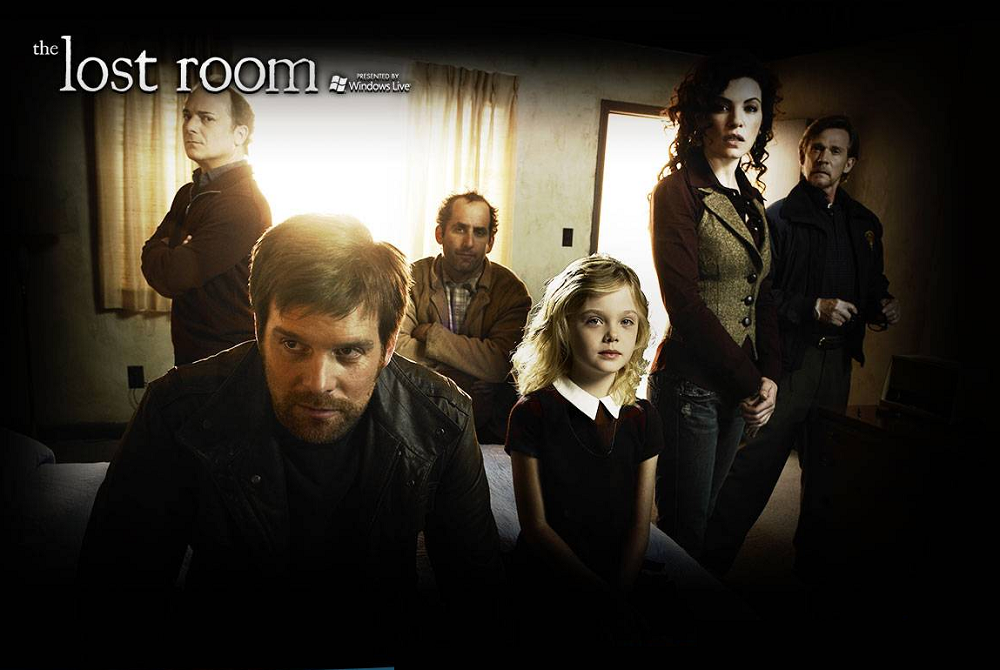 Six Feet Under's Peter Krause was put in place as Joe Miller, a detective who stumbles into room ten while investigating a murder, only for his daughter to disappear while in inside. Joe must now discover the secrets of the room, the Event, the mysterious Occupant, and the one-hundred objects contained within. These objects are the kind of things an ordinary hotel room might have but all with the potential to change the world when employed by three cabals that have emerged in the intervening years – the Collectors, the Legion, and the Order of Reunification.
Over three ninety-minute episodes, The Lost Room unfolds its story, completing the narrative of Joe Miller but leaving things open for further stories set within its world. Unfortunately, that's all we got as critics were mixed on the show, and a promised comic book continuation in 2010 from Red 5 Comics never materialised. Harkcom and Leone returned with Parallels in 2015 – originally a TV show pilot named The Building – and properties including Locke & Key, Warehouse 13, and the 2019 videogame Control all mine similar territory, but so far the key to room ten remains lost…
Next time on The Telephemera Years: more failed shows from 2006 as we open The Dresden Files and more!
Check out our other Telephemera articles:
The Telephemera Years: 1966 (part 1, 2, 3, 4)
The Telephemera Years: 1968 (part 1, 2, 3, 4)
The Telephemera Years: 1969 (part 1, 2, 3, 4)
The Telephemera Years: 1971 (part 1, 2, 3, 4)
The Telephemera Years: 1973 (part 1, 2, 3, 4)
The Telephemera Years: 1975 (part 1, 2, 3, 4)
The Telephemera Years: 1977 (part 1, 2, 3, 4)
The Telephemera Years: 1978 (part 1, 2, 3, 4)
The Telephemera Years: 1980 (part 1, 2, 3, 4)
The Telephemera Years: 1982 (part 1, 2, 3, 4)
The Telephemera Years: 1984 (part 1, 2, 3, 4)
The Telephemera Years: 1986 (part 1, 2, 3, 4)
The Telephemera Years: 1987 (part 1, 2, 3, 4)
The Telephemera Years: 1989 (part 1, 2, 3, 4)
The Telephemera Years: 1990 (part 1, 2, 3, 4)
The Telephemera Years: 1992 (part 1, 2, 3, 4)
The Telephemera Years: 1995 (part 1, 2, 3, 4)
The Telephemera Years: 1997 (part 1, 2, 3, 4)
The Telephemera Years: 2000 (part 1, 2, 3, 4)
The Telephemera Years: 2003 (part 1, 2, 3, 4)
The Telephemera Years: 2005 (part 1, 2, 3, 4)
The Telephemera Years: 2008 (part 1, 2, 3, 4)
Titans of Telephemera: Irwin Allen
Titans of Telephemera: Stephen J Cannell (part 1, 2, 3, 4)
Titans of Telephemera: DIC (part 1, 2)
Titans of Telephemera: Hanna-Barbera (part 1, 2, 3, 4, 5)

Titans of Telephemera: Kenneth Johnson
Titans of Telephemera: Sid & Marty Krofft
Titans of Telephemera: Glen A Larson (part 1, 2, 3, 4)
Titans of Telephemera: Quinn Martin (part 1, 2)