Ah, telephemera… those shows whose stay with us was tantalisingly brief, snatched away before their time, and sometimes with good cause. They hit the schedules alongside established shows, hoping for a long run, but it's not always to be, and for every Street Hawk there's two Manimals. But here at STARBURST we celebrate their existence and mourn their departure, drilling down into the new season's entertainment with equal opportunities square eyes… these are The Telephemera Years!
2000-01
Although it had failed to find an adequate replacement for Seinfeld since that show was laid to rest in 1998, NBC's Must-See Thursdays still dominated the non-factual portion of US TV audiences in the 2000-01 season, as both ER and Friends entered their seventh seasons with nice Dr Greene being diagnosed with terminal cancer, and Monica and Chandler getting married. Everybody still loved Raymond over on CBS, which otherwise had to rely on the power of Survivor to gain a decent ratings share.
The world prepared to say goodbye to Walker, Texas Ranger, Diagnosis: Murder, Xena: Warrior Princess, and Star Trek: Voyager, but genre fans could still comfort themselves with weekly doses of Buffy, Angel, Touched by an Angel, Futurama, The X-Files, and Roswell, and there was the promise of Dark Angel, Sabrina the Teenage Witch, Andromeda, and Sheena all making their debuts. That's what the grown-ups were watching, anyway, but what about younger viewers? This is the story of five new kids' shows for the 2000 Fall TV season…
Los Luchadores (Fox): It's easy to think of Saban Entertainment as just those guys behind Power Rangers but the company was formed in 1980 and enjoyed a string of animated hits before they ever got their hands on Japan's Super Sentai series. Power Rangers wasn't their only foray into live-action, either, with the likes of Big Bad Beetleborgs, Ninja Turtles: The Next Mutation, The Mystic Knights of Tir-nan-nog, and even Sweet Valley High all a result of Haim Saban's entrepreneurial spirit.
In February 2001, Saban debuted Los Luchadores, a live-action show following the adventures of Lobo Fuerte, a veteran, masked Mexican wrestler. Lobo – played by Argentine actor Massimo Morone – leads the rest of Los Luchadores into action against The Whelp (a sentient chihuahua inside a powerful robot suit) and his evil forces that threaten Union City, while also having to deal with the incompetence of the city's Mayor Potts.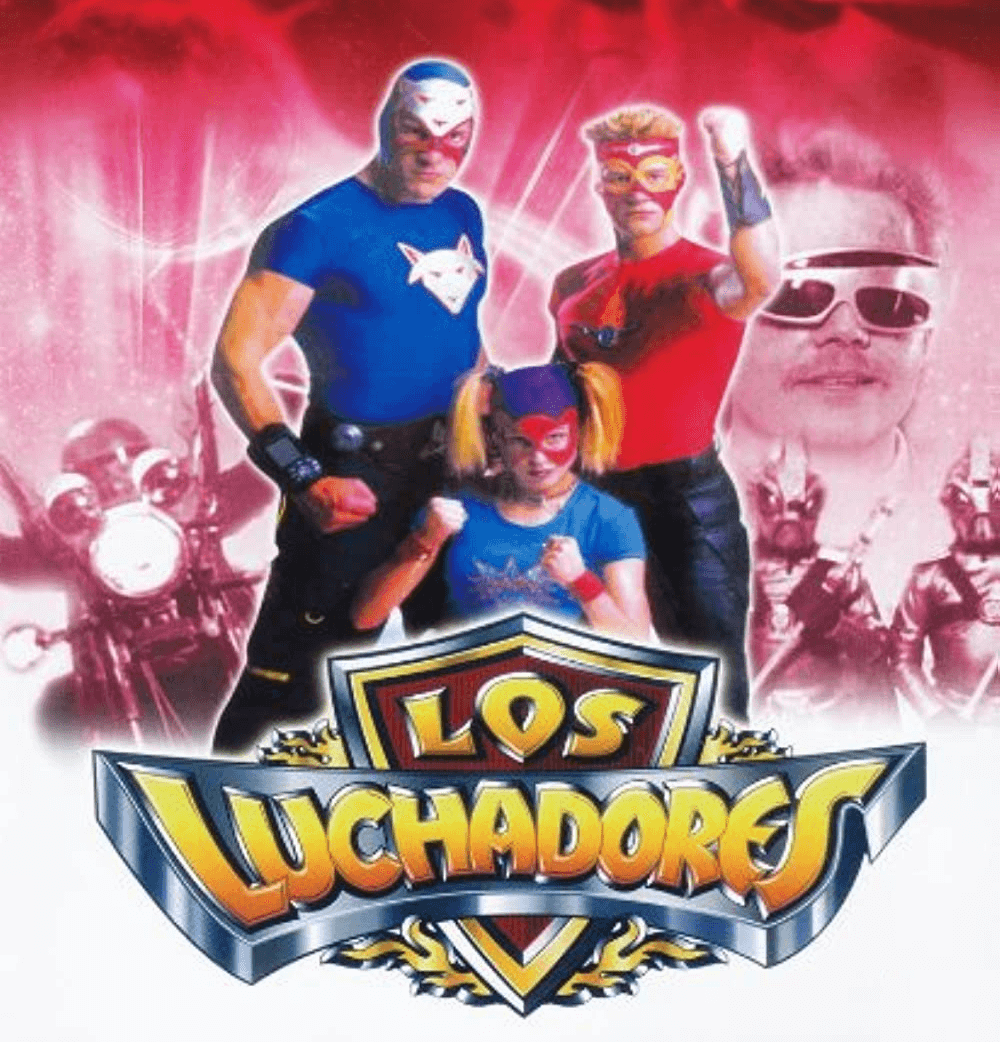 While The Whelp is the series' main antagonist, the show follows the familiar Saban formula of having Lobo face a rotating cast of underbosses and minions, with fight scenes choreographed to resemble those of Saban's other hit shows. Over the course of sixteen episodes, Lobo – and his allies Turbine and Maria Valentine – deal with aliens, necromancers, spiderwomen, evil pirates, and mischievous dwarves, always managing to restore order to the very put-upon citizens of their city.
Los Luchadores was the brainchild of Shawn Williamson, a Canadian producer who had broken into the business producing specials for Shari Lewis and Lambchop, developed for TV by Brad Markowitz, who had written for Dark Skies and The Outer Limits, but it fell between two stools – too childish for superhero fans and not enough Power Rangers for Saban's usual audience – and didn't return for a second season. It received a DVD release in Italy, of all places, but is otherwise unavailable on home video; YouTube, as always, is your friend.
Lloyd in Space (ABC): Joe Ansolabehere and Paul Germain were old friends from UCLA who had reunited when Germain sold Rugrats to Nickelodeon and brought his old friend in as a staff writer. In 1997, they used their elementary school experiences to develop Recess, a massive hit for Disney that ran for sixty-five episodes over six seasons and even spawned a theatrically released movie (and three directo to video sequels).
In early 2001, they came back with Lloyd in Space, the story of the titular, green-skinned alien who lives on a space station with his mother – Commander Norah Li Nebulon – and little sister Francine, who has telekinetic and telepathic powers. As the show begins, Lloyd has turned thirteen and is facing the trials and tribulations of being an unpopular nerd at a high school which, despite being set in the far future and in space, is exactly like you'd imagine, except that the girl he crushes has six arms.
Lloyd and his best friends – human Eddie, Blobullon Kurt, and Douglas the Cerebellian – find themselves in all manner of situations, with some light peril and lots of the awkwardness you'd expect of a coming-of-age show. The problem was that ABC scheduled Lloyd in Space like a regular Saturday morning cartoon, with an hour of Recess as a lead-in and a cartoon about a nine-year-old boy immediately afterwards. Still, it did well enough that a second season was ordered, this time moved it around the schedules to prevent it gaining a following.
ABC's efforts to kill this lovely little show were in vain, however, and Lloyd in Space was given a third and fourth season – for an overall total of thirty-nine episodes – on in first run on the subscription Toon Disney channel. By the end of the series, Lloyd still hadn't managed to get the girl (although she did secretly admit to liking him, too) but we'd all learned some valuable lessons, and isn't that the point of these shows, anyway? Not currently available on Disney+, you can catch up with Lloyd's adventures on a popular free video site.
The Zeta Project (Kids WB): no YT
When Bob Goodman developed a spin-off from an episode of Batman Beyond he'd written, he envisaged The Zeta Project having a dark tone reminiscent of classic episodes of Batman: The Animated Series. Goodman had also written for DC animated universe shows such as Superman: The Animated Series and The New Batman Adventures, and "Zeta" was his fifth story for the future-set Batman expansion.
The title character of "Zeta" was an assassin robot who had developed a conscience and the first episode of The Zeta Project finds him on the run from his National Security Agency bosses, who are eager to reprogram him. In saving the life of a fifteen-year-old runaway called Ro, Zeta acquires a sidekick and – more importantly – a friend, and the show would show him learning what it means to become human, with touches of Frankenstein and especially Blade Runner (given the future setting).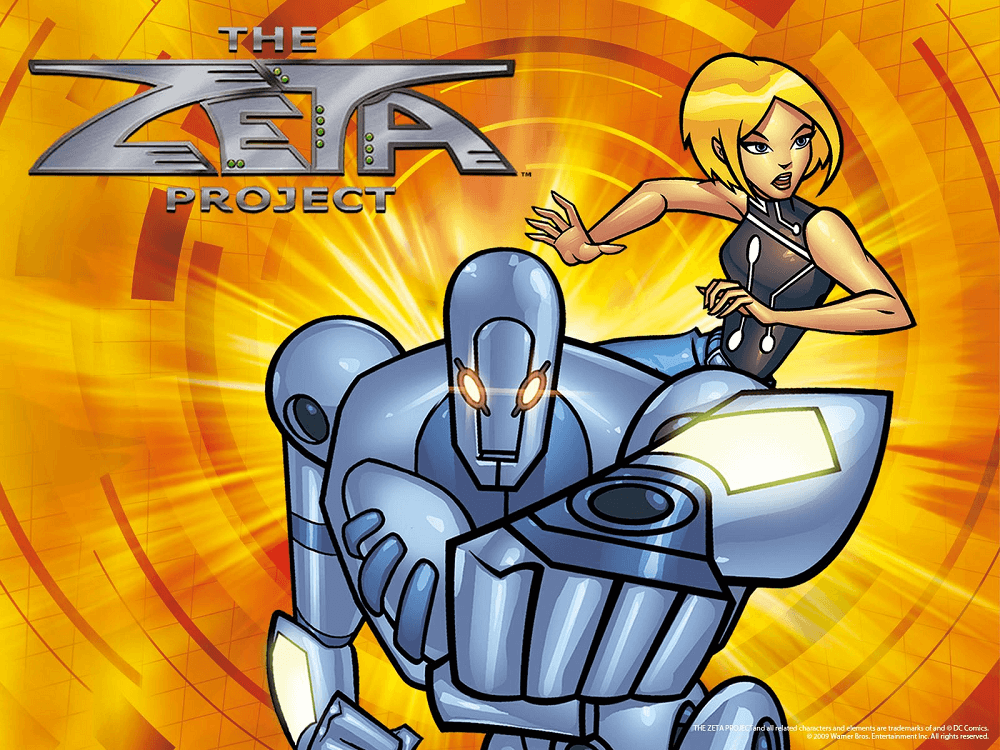 Unfortunately for Goodman, his bosses at Kids WB just saw a cool-looking robot and a teenage girl and wanted a lighter tone, forcing the creator to sacrifice much of his original vision, although the finished result was still too dark for the network's liking, and they failed to push it beyond the minimum required. Regardless, The Zeta Project found an audience (helped by an appearance from Batman himself to establish the show as being firmly in the same universe) and did well enough that it was renewed for a second season, although that was as far as things got and there was no definitive conclusion to Zeta's story.
Goodman did use the Z-8 robots (of which Zeta was just one, unusually sentient example) in episodes of Justice League Unlimited that he wrote in 2004 and latterly moved into live-action, producing and writing for Elementary and 9-1-1. The Zeta Project is not available as part of the suite of DC animated shows on HBO Max and there isn't very much in the way of full episodes on video sharing sites. However, the full series is available as a manufacture-on-demand disc from Warner Archive and comes much recommended.
Time Squad (Cartoon Network): Otto Osworth, Buck Tuddrussel, and Larry 3000 (a robot) are from the far future of 100,000,000 AD, where they make their living as Time Cops, charged with going back in time to ensure that history stays on the correct path. Presaging Loki by twenty-odd years, this assumes that there is a correct path, but such concerns take a back seat in Time Cops to the bungling adventures of our cack-handed trio.
Created by Dave Wasson (a graduate of the production line at CalArts that also produced Tim Burton, Brad Bird, and John Lasseter), Time Squad was the first original Cartoon Network series to be produced at the network's studios in Burbank, debuting on June 8th 2001. Pamela Adlon (Bobby in King of the Hill), Rob Paulsen (you name it!), and Mark Hammill made up the voice cast for the principal characters, with guest stars from across the animation industry, including – of course – Frank Welker.
The thirteen episodes – with two stories per show – took the threesome to Troy, Rome, Boston Harbour, and more, visiting the likes of Da Vinci (to stop him becoming a beatnik), Beethoven (he's started a professional wrestling league), and Kublai Khan (a comic book collector). Always at the beck and call of their superior – who happens to be Buck's ex-wife – they somehow manage to not mess things up enough to set history straight.
A second series of thirteen episodes continued the time-fixing adventures of the Time Cops but that was all she wrote, and Dave Wasson moved on to become an in-demand character designer and director,  returning to his own creations in 2015 with Star vs the Forces of Evil for Disney. Time Cops was released on DVD but it's long out of print; there are some bits and pieces on YouTube but a full overview of just how important Otto, Buck, and Larry were to keeping our timeline safe is not available at this… time.
Kong: The Animated Series (Fox): Eyeing the success of Godzilla: The Animated Series, which had been spun out of the Dean Devlin and Roland Emmerich movie into two seasons of action on Fox Kids, the German company BKN International partnered with French animators Ellipse to produce this copycat show, featuring the giant ape from Merian C Cooper's 1933 novel.
Sold initially to the French M6 network, BKN also managed to convince Fox Kids – which had just cancelled Godzilla – to carry their show, with a twenty-episode first season order. The premise of the show had Kong die from his injuries after falling from the Empire State Building, as in the original film, but a scientist Dr Lorna Jenkins managed to take DNA samples which she later used to recreate a clone of the beast. Many years later, she invites her grandson Jason to visit her on Kong Island but the invitation is unknowingly intercepted by an evil scientist bent on using Kong Island's secrets for his own nefarious schemes…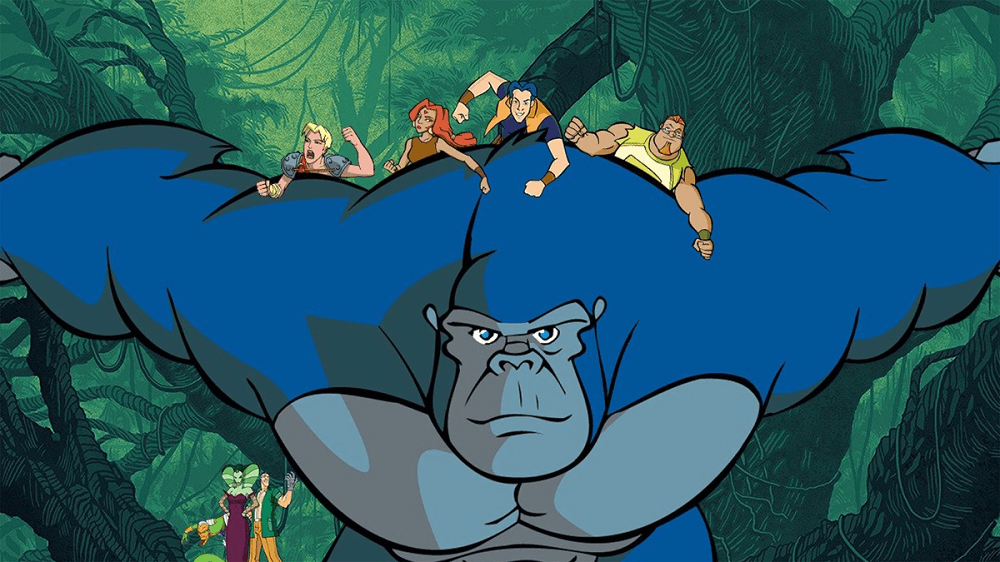 As well as engineering a clone of a giant ape, Dr Jenkins has also invented the Cyber Link, a device which allows Kong and Jason to switch bodies, and they use this to not only stop the evil scientist but also fight off the forces of the demon Chiros! Yes, this is a busy show, full of densely-plotted intrigue and small amounts of peril, and Ellipse (best known for Doug and Babar) did a good job, even if the animation reeks of its early-2000s origins.
A second season continued Kong's adventures, allowing Jason to switch minds with other large animals, too, and unlike most series of its kind, there was a definite conclusion, although a 2005 movie which took Kong to Atlantis was produced to cash in on the release of Peter Jackson's King Kong remake. A 2006 sequel to that film followed but the limited success of the Jackson film meant that Kong returned to his island home once again.
Next time: It's back to Titans of Telephemera as we begin a four-week kids' TV special with the magic of Sid and Marty Krofft!
Check out our other Telephemera articles:
The Telephemera Years: 1966 (part 1, 2, 3, 4)
The Telephemera Years: 1968 (part 1, 2, 3, 4)
The Telephemera Years: 1969 (part 1, 2, 3, 4)
The Telephemera Years: 1971 (part 1, 2, 3, 4)
The Telephemera Years: 1973 (part 1, 2, 3, 4)
The Telephemera Years: 1975 (part 1, 2, 3, 4)
The Telephemera Years: 1977 (part 1, 2, 3, 4)
The Telephemera Years: 1980 (part 1, 2, 3, 4)
The Telephemera Years: 1982 (part 1, 2, 3, 4)
The Telephemera Years: 1984 (part 1, 2, 3, 4)
The Telephemera Years: 1986 (part 1, 2, 3, 4)
The Telephemera Years: 1987 (part 1, 2, 3, 4)
The Telephemera Years: 1990 (part 1, 2, 3, 4)
The Telephemera Years: 1992 (part 1, 2, 3, 4)
The Telephemera Years: 1995 (part 1, 2, 3, 4)
The Telephemera Years: 1997 (part 1, 2, 3, 4)
The Telephemera Years: 2000 (part 1, 2, 3, 4)
The Telephemera Years: 2003 (part 1, 2, 3, 4)
The Telephemera Years: 2005 (part 1, 2, 3, 4)
The Telephemera Years: 2008 (part 1, 2, 3, 4)
Titans of Telephemera: Irwin Allen
Titans of Telephemera: Stephen J Cannell (part 1, 2, 3, 4)
Titans of Telephemera: Hanna-Barbera (part 1, 2, 3, 4, 5)

Titans of Telephemera: Kenneth Johnson
Titans of Telephemera: Glen A Larson (part 1, 2, 3, 4)