Ah, telephemera… those shows whose stay with us was tantalisingly brief, snatched away before their time, and sometimes with good cause. They hit the schedules alongside established shows, hoping for a long run, but it's not always to be, and for every Street Hawk there's two Manimals. But here at STARBURST we celebrate their existence and mourn their departure, drilling down into the new season's entertainment with equal opportunities square eyes… these are The Telephemera Years!
1969-70
Although the Age of Aquarius had proved to be a false dawn, with Vietnam still raging and the Summer of Love a distant memory, America was still trying to laugh away its worries, with half the top ten shows aimed at tickling the viewers' funny bones. Top of the roost was Rowan & Martin's Laugh-In on NBC, who otherwise only had Bonanza and Walt Disney's Wonderful World of Color among the top rating shows that year. Bonanza wasn't the only high-flying Western, either, and CBS's Gunsmoke pushed Rowan and Martin all the way. The Tiffany Network dominated the ratings, enjoying another five places in the top ten, and seeing Hawaii Five-O sneak into the top twenty.
Marcus Welby, MD was the hit new show, joining The Brady Bunch on ABC's new Fall line-up, while NBC debuted Night Gallery and The Bill Cosby Show in prime time. For genre fans, Land of the Giants was finishing its two-season run on ABC, who also offered spooky fun with Bewitched and The Ghost & Mrs Muir. Get Smart moved to CBS from NBC, who only had I Dream of Jeannie on offer in a very thin year for sci-fi and fantasy fans. But what of those shows that made their bow in 1969 and didn't hang around? This is the story of four more failed shows…
My World and Welcome to It (NBC): James Thurber is one of America's best-regarded cartoonists, his humorous single-panel submissions to The New Yorker forming a blueprint for that magazine's often puzzling gag content. My World and Welcome to It was inspired by Thurber's cartoons, and also by the life of the cartoonist himself, who had died in 1961, leaving a huge legacy behind, not least the short story The Secret Life of Walter Mitty.
After building a career out of small parts on TV and film, William Windom played John Monroe, a cartoonist for the fictional Manhattanite magazine who is prone to spells of daydreaming, lending an air of the fantastic to the show (and also allowing some of Thurber's more fanciful cartoons and short stories to serve as fuel).
Married to the sensible Ellen (Broadway star Joan Hotchkiss), with a curious pre-teen daughter, Monroe's life and stories are depicted in a mixture of live-action and animated styles. Monroe was a Thurber creation, first appearing in the short story Mr Monroe Holds the Fort and featuring in a 1959 TV production of Thurber's Cristabel (The Secret Life of John Monroe). My World and Welcome to It was also the title of a 1942 collection of Thurber's writing, which didn't contain any Monroe family stories but did feature Walter Mitty.
Despite positive reviews, the show faired poorly opposite CBS's ratings juggernaut Gunsmoke, not even making the top sixty for the year, and a first season of twenty-seven episodes was to be all she wrote for the Monroe family. Three years later, Jack Lemmon starred in a feature film adaptation of Thurber's work, The War Between Men and Women, which also included animated segments, and the writer was cited as an inspiration by Wes Anderson for his 2021 film The French Dispatch.
Nanny and the Professor (ABC): On the surface, Nanny and the Professor, which ran for three seasons from January 1970 to December 1971 but has been all-but forgotten since, is your average sitcom. Its premise – a widowed college professor takes on a British nanny to look after his three young children – was not new and has since been repeated countless times with tweaks applied as necessary. What makes Nanny and the Professor worth writing about, apart from the presence of John Mills's other daughter Juliet as the Nanny, is that her Phoebe Figalilly is apparently in possession of supernatural powers and may just be hundreds of years old.
Yes, this is a contemporary Mary Poppins, except with less overt fantasy and increasing amounts of "will they/won't they" as the show progressed. 77 Sunset Strip's Richard Long starred opposite Mills as mathematics professor Harold Everett, with David Doremus, Trent Lehman, and Kim Richards as his offspring, and the show was created by Disney scripter AJ Carothers for Miller-Boyett Productions.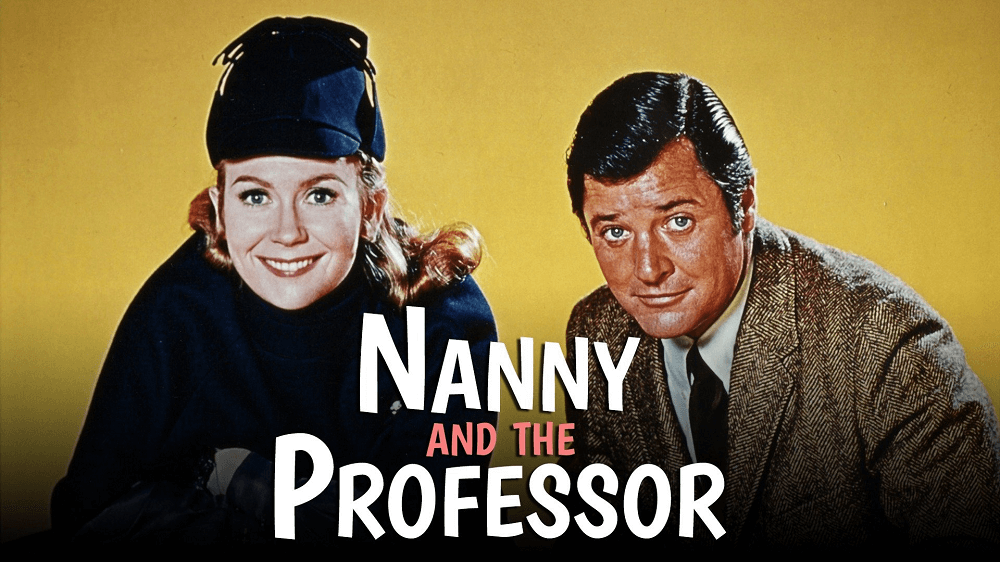 The first season of fifteen episodes – a January replacement for The Flying Nun – placed fifty-fifth in the ratings for the year (one above a new show called The Brady Bunch), which was enough for ABC to greenlight a second, full season of twenty-four episodes. The show was moved to Friday nights to build a strong youth demographic with The Brady Bunch and the debuting The Partridge Family, and the result was again positive enough for a third season to debut in September 1971.
However, ABC once again moved the show, this time to Monday nights, and the resulting 12.3 million viewers left it below the threshold for cancellation and it was given the axe after just fifteen episodes had aired. The show is not available on home video but does occasionally pop up in syndication, and of course you can see some examples of its gentle paranormal humour on YouTube.
Bracken's World (NBC): Replacing Star Trek was never going to be an easy task and filling its Friday night slot fell to Bracken's World, a perfect example of Hollywood's propensity to eat itself. Named for the head of its fictional Century Studios, John Bracken, Bracken's World focused on the fortunes of a group of young starlets, guided by the unseen Bracken (voiced in season one by Warren Stevens).
The glue that held the show together was Bracken's put-upon assistant, played by three-time Oscar nominated veteran Eleanor Parker, who would act as her boss's agent in the world created by Seven Brides for Seven Brothers screenwriter Dorothy Kingsley, populated by unreliable and chaotic young actors getting themselves into all manner of trouble.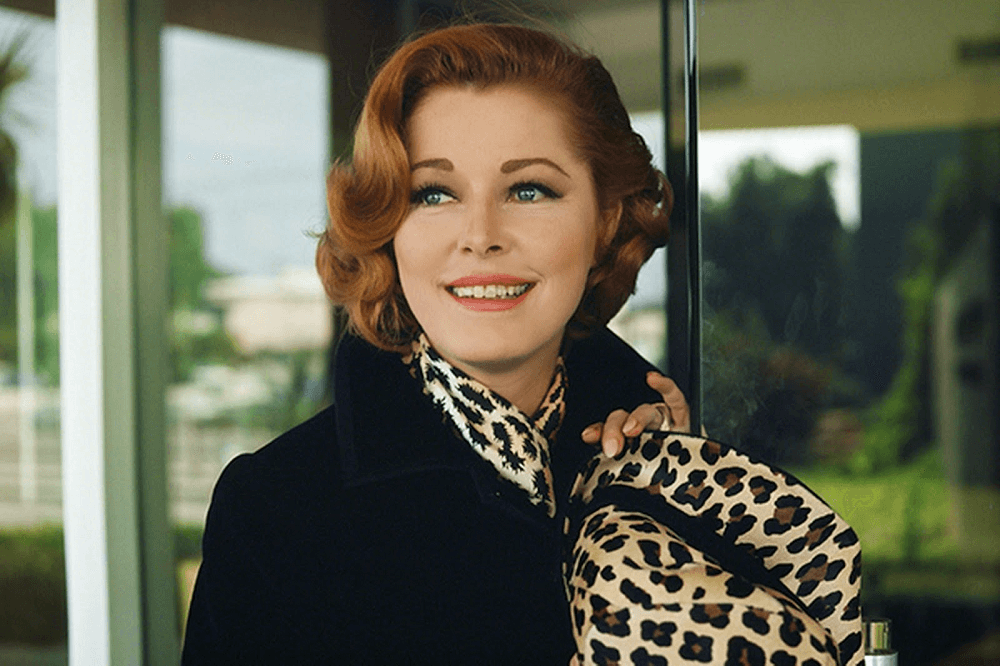 The first season of twenty-six episodes did well enough in the ratings for a second season to be ordered, although Parker had opted out after episode sixteen, claiming her role was too limited. In her stead, the second season saw Leslie Nielsen cast as a visible John Bracken, doing his own dirty work, upping the drama and allowing for plenty of guest star appearances from the likes of Sally Field, Darren McGavin, Ricardo Montalban, and Edward G Robinson.
All those stars couldn't sustain interest in the show, however, and Bracken's World was cancelled just fifteen episodes into its final season, with Linda Harrison (who played Paulette Douglas, although she is best known as the mute Nova in Planet of the Apes) citing a lack of continuing, soap opera-style storylines as the prime suspect for the axe.
Paris 7000 (ABC): A mid-season replacement on Wednesday nights for It Takes a Thief, which had been moved to Mondays to see out its run, Paris 7000 was also a replacement for The Survivors, a ratings disaster for which ABC had nevertheless guaranteed a full season's work to George Hamilton. Hamilton was hurriedly cast as Jack Brennan, a troubleshooter for the US State Department whose weekly task was to help out US citizens in trouble in the French capital.
Created by It Takes a Thief's Gene L Coon and Bewitched scripter Richard Michaels, the concept was simple enough and allowed for Hamilton to be placed in all manner of situations for his Bogart-in-Casablanca-style hero to fight and scheme his way out of. The premise also allowed for plenty of guest stars, with a parade of TV veterans queuing up to be the victims (or source) of the troubles brought to Brennan's door.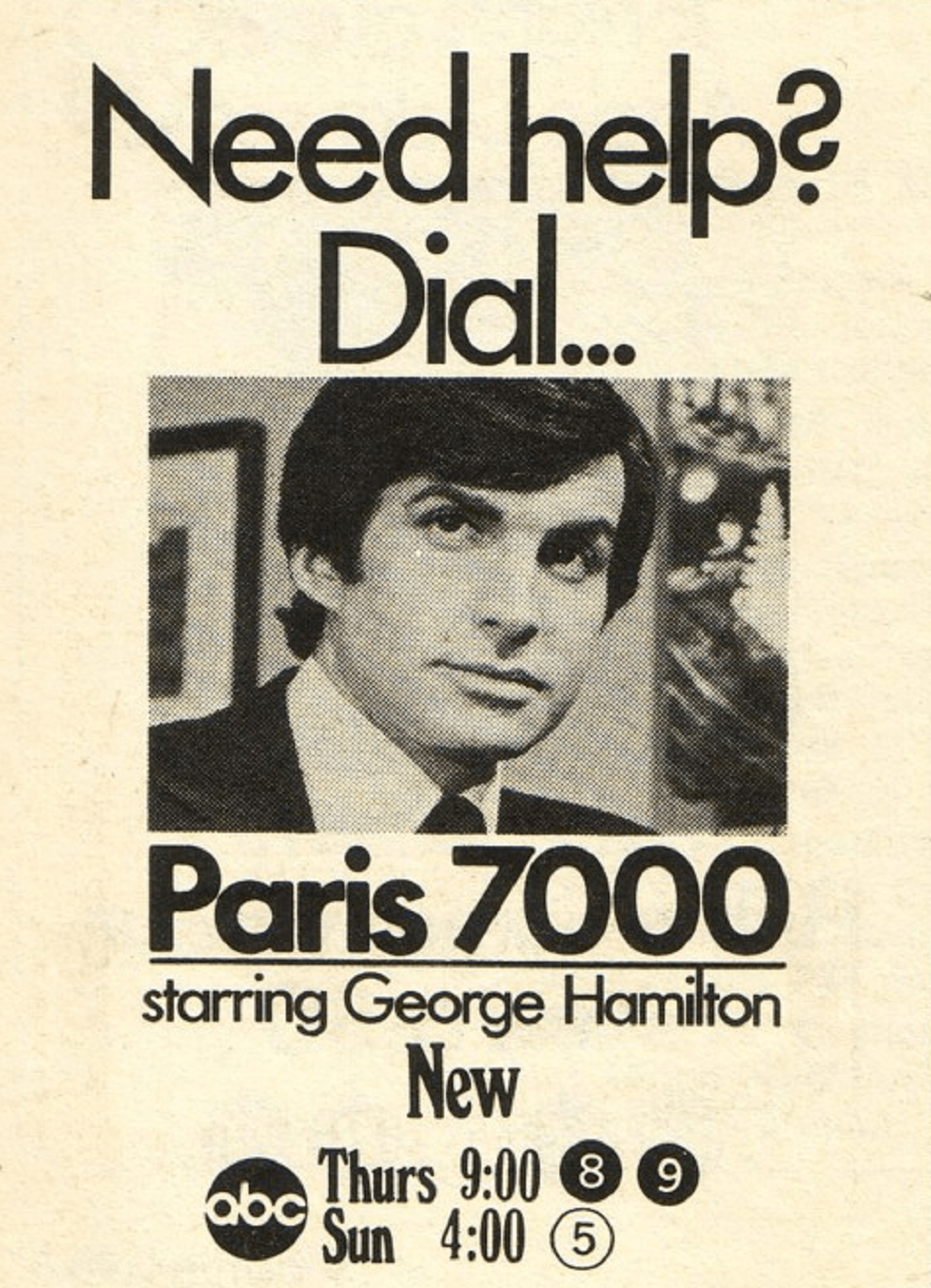 Of particular note was Barbara Anderson, whose turn as Brennan's troubled lady friend Lee in episode three was successful enough that she was brought back for episode ten as a lookalike character, sparking a mystery that Brennan just had to solve. Unfortunately, that episode satisfied the terms of Hamilton's contract and would be the last, with Paris 7000 allowed to slip quietly away, having failed to attract viewers in any considerable amount.
Hamilton moved into production afterwards, casting himself to play Evel Knievel in the John Milius-scripted 1971 movie, but the movie was a flop, and he spent the next trading off his early fame and trying to get the world's best suntan. There are a few clips of Paris 7000 available on YouTube but nothing in the way of a full episode; the show's title sequence is there, though, and reveals that Paris 7000 was Brennan's phone number. Why not give it a call next time you're en difficulté..?
Next time on The Telephemera Years: 1969's unsold pilots with yet another proto-Lost!
Check out our other Telephemera articles:
The Telephemera Years: 1966 (part 1, 2, 3, 4)
The Telephemera Years: 1968 (part 1, 2, 3, 4)
The Telephemera Years: 1969 (part 1, 2, 3, 4)
The Telephemera Years: 1971 (part 1, 2, 3, 4)
The Telephemera Years: 1973 (part 1, 2, 3, 4)
The Telephemera Years: 1975 (part 1, 2, 3, 4)
The Telephemera Years: 1977 (part 1, 2, 3, 4)
The Telephemera Years: 1980 (part 1, 2, 3, 4)
The Telephemera Years: 1982 (part 1, 2, 3, 4)
The Telephemera Years: 1984 (part 1, 2, 3, 4)
The Telephemera Years: 1986 (part 1, 2, 3, 4)
The Telephemera Years: 1987 (part 1, 2, 3, 4)
The Telephemera Years: 1990 (part 1, 2, 3, 4)
The Telephemera Years: 1992 (part 1, 2, 3, 4)
The Telephemera Years: 1995 (part 1, 2, 3, 4)
The Telephemera Years: 1997 (part 1, 2, 3, 4)
The Telephemera Years: 2000 (part 1, 2, 3, 4)
The Telephemera Years: 2003 (part 1, 2, 3, 4)
The Telephemera Years: 2005 (part 1, 2, 3, 4)
The Telephemera Years: 2008 (part 1, 2, 3, 4)
Titans of Telephemera: Irwin Allen
Titans of Telephemera: Stephen J Cannell (part 1, 2, 3, 4)
Titans of Telephemera: Hanna-Barbera (part 1, 2, 3, 4, 5)

Titans of Telephemera: Kenneth Johnson
Titans of Telephemera: Glen A Larson (part 1, 2, 3, 4)