Features | Written by Jacob Walker 28/06/2022
THE ESSENTIAL 6: NICOLAS CAGE MOVIES
Nicolas Cage - the master of memes, great films, bad films, and just plain weird ones. As the pioneer of 'Nouveau Shamanic' finally plays a tongue-in-cheek version of himself, in THE UNBEARABLE WEIGHT OF MASSIVE TALENT, it's time to explore six essential Cage films that never fail to shock, entertain, or surprise you…
LEAVING LAS VEGAS (1995)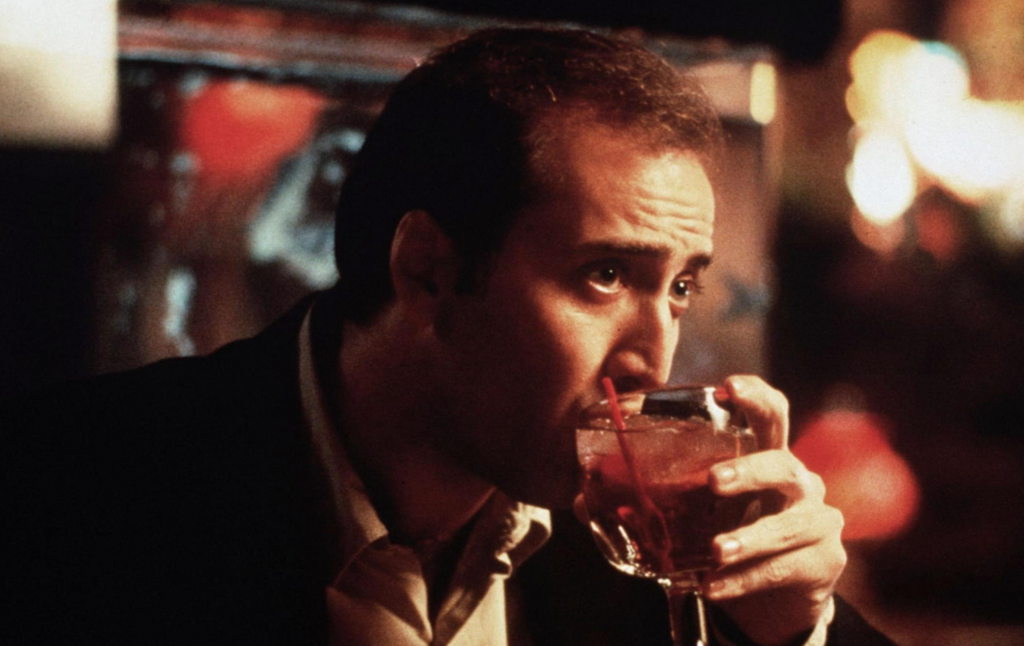 Cage's sobering (no pun intended) performance as alcoholic screenwriter Ben Sanderson earned him his only Oscar (a travesty indeed). It was truly deserved as he imbues Ben with all the comedy, tragedy, and sympathy that any protagonist needs. After losing his job, friends, and family, he takes his large severance cheque to Las Vegas, determined to drink himself to death. He meets prostitute Sera (Elisabeth Shue), and they form a fragile bond. The film's subject matter is incredibly depressing, but Cage manages to keep us invested, first of all by performing a classic 'freak out' at a casino, after they refuse to serve him alcohol, and secondly, by his vulnerability and relationship with Sera. Showing us all a little humanity and love in the darkest of experiences, the man can act, and don't you forget it!
THE ROCK (1996)
Michael Bay's debut and best film by far (he still liked using tripods back in the '90s) is a tour de force. Not only is its plot delightfully ridiculous, as Ed Harris' Brigadier General, Francis X. Hummel, takes hostages on Alcatraz Island with poisonous gas-infused rockets, it's also obsessed with military bravado – "the men are falling apart", "these men are marines!", Hummel bellows back to his second in command. It's also filled with cracking action set-pieces. Cage's equally silly, Special Agent Stanley Goodspeed, is tasked with disarming the rockets, due to his chemical knowledge, accompanied by Sean Connery's John Patrick Mason, who spent time at the prison, convicted of spying for MI6, before being locked away permanently. Cage is perfect as the erratic and out-of-his-depth FBI agent, uttering lines such as, "how in the name of Zeus' butthole did you get out your cell?". He drives a yellow Ferrari, scuba dives, and even takes part in a mine cart chase. This is the first and finest entry into his '90s action triptych. Fun personified.
CON AIR (1997)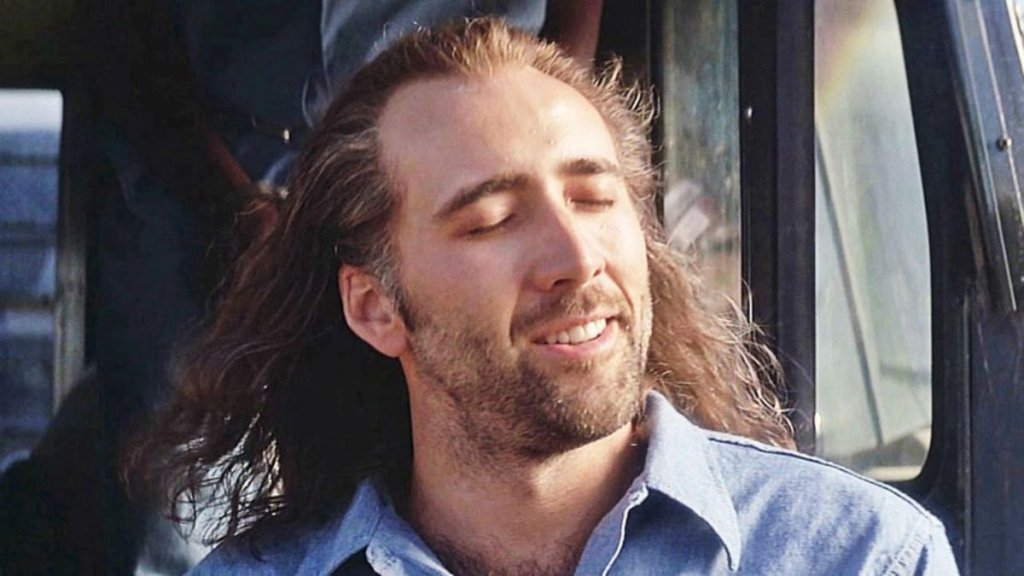 The testosterone levels are at maximum capacity in Simon West's thrill ride. This time Cage is green beret Cameron Poe, imprisoned for killing a man in self-defence, upon release he is hitching a ride on a prison plane, filled with a collection of ludicrous criminals. They take control of the plane, led by Cyrus 'The Virus' Grissom (John Malkovich). Malkovich is having the time of his life, chewing the scenery, delivering prose with the ability of a Shakespearean actor. The film revels in introducing the various villains, from Ving Rhames's Diamond Dog to child murderer and wannabe Hannibal Lector, Garland Greene (Steve Buscemi). The man on the ground is 'educated' US Marshall Vince Larkin (John Cusack), it must have been so much fun to write this script! The enduring image of the film is Cage in a white vest, long hair, and southern drawl, kicking ass, being unaffected by a bullet to the arm, and politely asking a fellow inmate to, "put the bunny back in the box".
FACE/OFF (1997)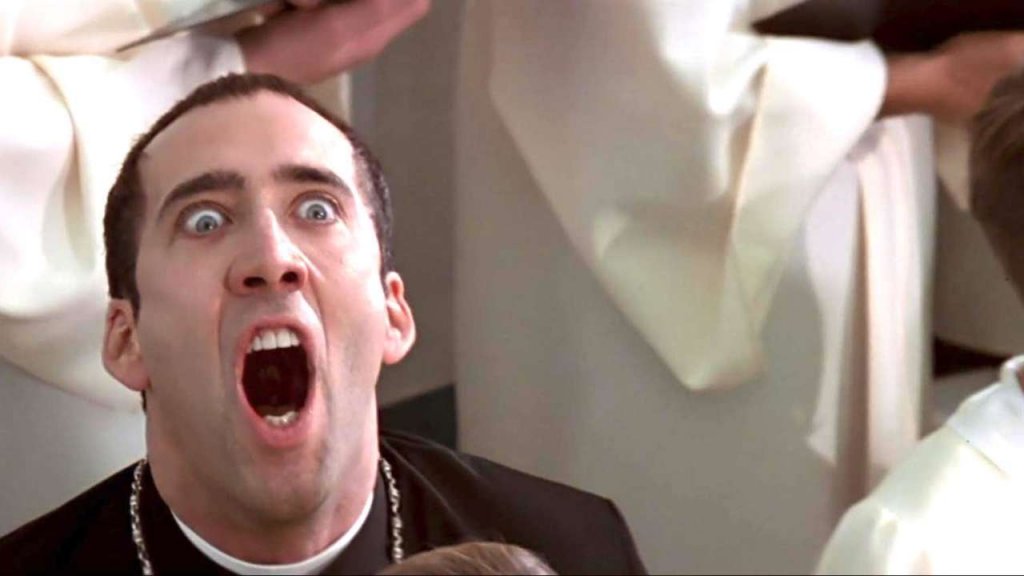 Nic is having the time of his life once again as Castor Troy, a horny terrorist who dressed as a priest, dances in front of a choir before grabbing the lead singer's arse, revelling in ecstasy as she sings "hallelujah!" - what an opening! John Travolta's uptight FBI agent, Sean Archer is on his trail, haunted by Castor killing his son by mistake. After Castor is arrested after a shootout involving two golden guns (did we mention this is directed by John Woo?) it turns out he planted a bomb, which only he can disarm. Naturally, the only solution is for Archer to undergo an experimental procedure, in which they swap faces, so he can get the information from Troy's brother. Castor wakes up and becomes Sean, so Cage is Travolta and Travolta is Cage. As confusing as it could be, it all seems to work, spurred on by Cage's depiction of a character having a mental breakdown within another body, and Woo's high-intensity directing. We get shootouts, boat chases and doves, of course. No one but Nicolas Cage could or would, have played such a part.
NEXT (2007)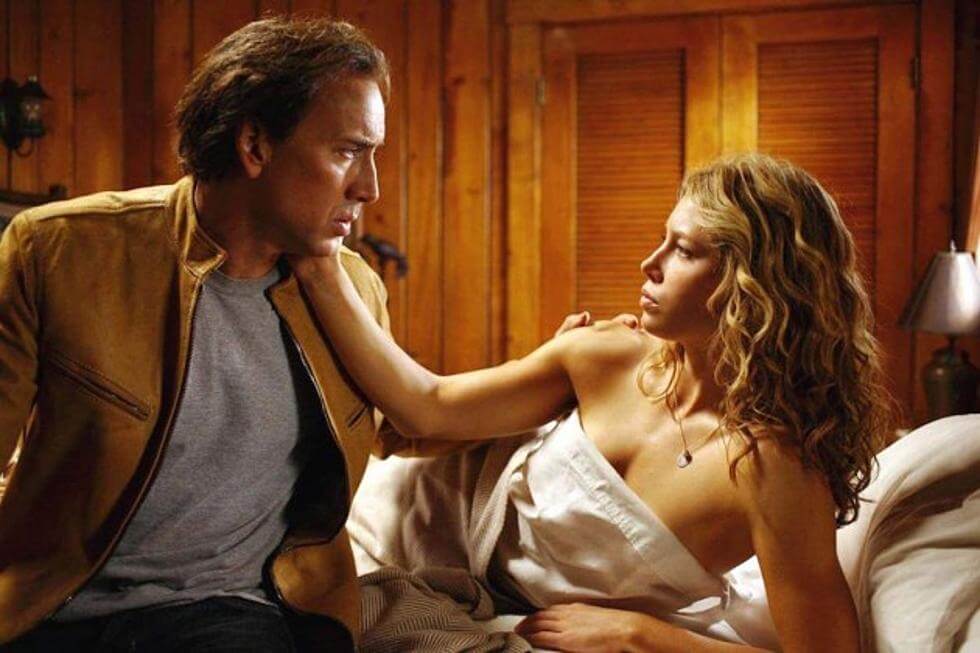 Bear with us on this one, Next is an absolute blast, with a great concept and a cheesy little twist to boot. Very loosely based on the Phillip K. Dick short story; The Golden Man, Nic plays Cris Johnson, a Las Vegas magician with the ability to see 2 minutes into the future. He has only once seen further than that, when he spots Jessica Biel's Liz Cooper in a diner months before it actually happens. Before he knows it, the FBI is trying to track him down, through Julian Moore's dogged agent. Turns out some cheeky terrorists have stolen a nuclear device and she wants Cris to help them locate it. The first half of the film is a riot, with Cage (sporting a ridiculous black mop on his head) evading casino security and proving incredibly difficult for the Bureau to catch. We even get a smart scene where he tries to talk to Liz, trying out multiple techniques before hitting the jackpot. Despite not dedicating enough time for the second half, to be fully satisfying, the film does set up an intriguing ending, with many interesting ideas left unfulfilled, such as, why does Liz make him see further into the future? Next was begging for a sequel but sadly was not a hit, despite being far too much fun, for its brief moment in time.
PIG (2021)
After years in the wilderness, Cage proved he was back in the game, with this tale of a man and his pig. What many thought was just 'Taken but with a Pig' actually turned about to be a much more sombre affair, more concerned with grief and loss. Cage's mountain man, Robin Feld, sells truffles to expensive restaurants within Portland's trendy food scene, courtesy of his pet pig. When the pig is kidnapped, he must venture into the city to retrieve him. It turns out that Robin was a Michelin-starred chef and left the game for isolation after the death of his wife. Instead of beating people up, he uses his knowledge and cooking skills to bamboozle his opponents, in the style of Ratatouille or even the anime Cooking Master Boy, for those in the know. Cage shows great restraint and suggests deep pain, that is bubbling under the surface. Who knew a film called Pig could pull at the heartstrings so much!
THE UNBEARABLE WEIGHT OF MASSIVE TALENT is available to rent digitally, and will hit DVD/Blu-ray on July 11th.