Features | Written by Andrew Pollard 10/04/2018
[ENDED] TERRIFIER 12″ OST Giveaway from Marilyn Manson's Guitarist!
To celebrate the release of TERRIFIER - out now on Digital HD and DVD - we are giving away the DVD and the official soundtrack, composed & performed by Marilyn Manson's guitarist Paul Wiley, on limited edition 12" vinyl!
To be in with a chance of winning this fantastic prize, simply answer the below question:
What is the name of Stephen King's legendary tale centred around Pennywise?
IT
Them
They
Email your answer, along with your address details, to
comp@starburstmagazine.com
labelled
Terrifier
before midnight on Sunday, April 22nd.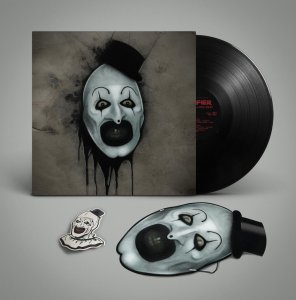 A hair-raising homage to the grindhouse slashers, Terrifier is a thrilling, gory horror that introduces a new murderous icon in the form of Art the Clown. Set to haunt nightmares for many years to come, Art is an unstoppable force who will slay anyone who gets in his way - and he doesn't go easy on the grue.
"A thrilling, brutal, gory 80's throwback" ★★★★ Arrow in the Head
"Dares to go where few films would even consider" ★★★★ Bloody Disgusting
Order the DVD on Amazon: po.st/TerrifierAmazon
Order the 12" vinyl on Forever Midnight: https://bit.ly/2JzXv3m