Ah, telephemera… those shows whose stay with us was tantalisingly brief, snatched away before their time, and sometimes with good cause. They hit the schedules alongside established shows, hoping for a long run, but it's not always to be, and for every Street Hawk there's two Manimals. But here at STARBURST we celebrate their existence and mourn their departure, drilling down into the new season's entertainment with equal opportunities square eyes… these are The Telephemera Years!
1995-96
The schedules were packed in 1995, with returns for all the hit sitcoms, teen shows, and crime dramas that had thrilled America during the previous year. Ellen, Grace Under Fire, Cybill, and Roseanne all provided strong female role models of varying types, while Mad About You, ER, and Friends were making Thursdays on NBC a must-see affair. For genre fans, Lois & Clark, The X-Files, Sliders, seaQuest 2032, and Star Trek: Voyager all returned, and there was genre-adjacent stuff to be found in Picket Fences and Walker Texas Ranger, both found on CBS in 1995.
As for new shows, the Earthbound aliens of 3rd Rock from the Sun were taking their first steps on Terra Firma. Nash Bridges was doing whatever it was Nash Bridges did, and The Drew Carey Show's "Cleveland Rocks!" theme song was stuck in everyone's head. But what about those shows aimed at younger (and older, stoned) viewers? These is the story of 1995 in kids TV…
Santo Bugito (ABC): Developed by Klasky-Csupo – the production studio responsible for Rugrats, Duckman, and Aaahh!!! Real Monsters – and created by studio founder Arlene Klasky, Santo Bugito was set in the titular border town between Mexico and Texas, a community populated entirely by anthropomorphic insects.
Rather than be the stuff of nightmares, the show revolved around the everyday goings on of the townspeople, an America writ small with ant restaurateur Carmen de la Antchez as its main protagonist. With a voice cast that included Charles Adler and Cheech Marin (and guest spots from Jim Belushi, Arye Gross, and others), Santo Bugito explored such modern life problems as excessive litigation, urban crime, and generational differences, all through an insect-coloured lens.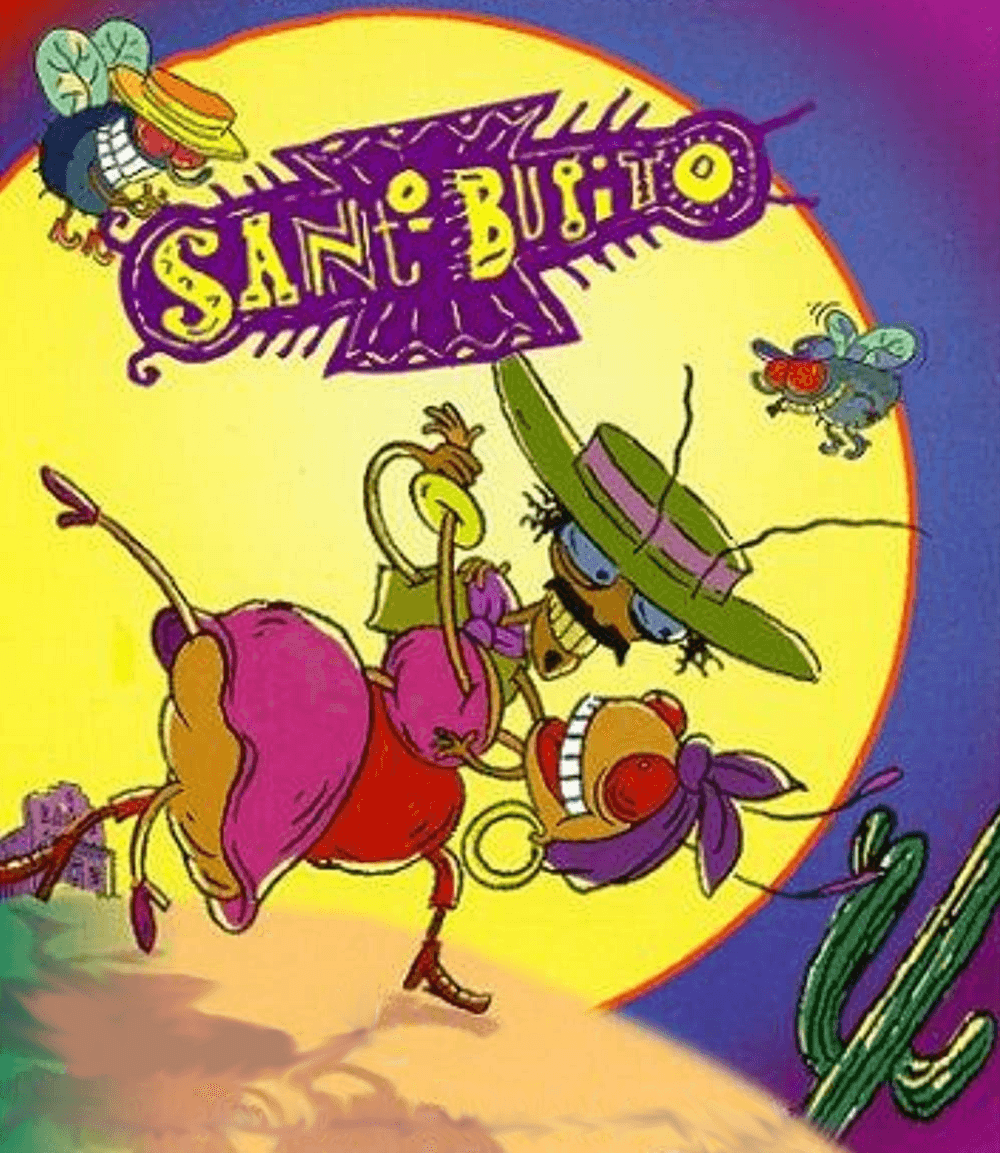 Scored by former Devo musician Mark Mothersbaugh, the show was probably too adult for its captive child audience, and on too early to reach the demographic it was aimed at, and after it debuted on September 16th 1995 in the 10.30am slot, only the show's initial order of thirteen episodes aired.
There was no second season for this entomologist's dream and the show became the studio's first major failure. They soon bounced back with The Wild Thornberrys but the bloom was off the Klasky-Csupo rose. The complete run was released on DVD in 1999 and there are a few episodes on YouTube if you want to check it out.
The Adventures of Hyperman (CBS): Based on an interactive educational computer game, which was released on CD-ROM just before the series aired, The Adventures of Hyperman featured the titular alien superhero – voiced by Steve Mackall – attempting to save Earth from the attentions of his arch-enemy, Entrobe (voice acting god Frank Welker).
Aided by his canine sidekick Studd Puppy, and also by human scientist Emma C Squared, Hyperman foiled Entrobe's schemes across twelve episodes which aired from November 4th 1995 to February 3rd 1996. There was a thirteenth episode, Two's A Crowd/Promotion, but this didn't see the light of day until August 1996, well after the decision had been made to not bring it back for a second season.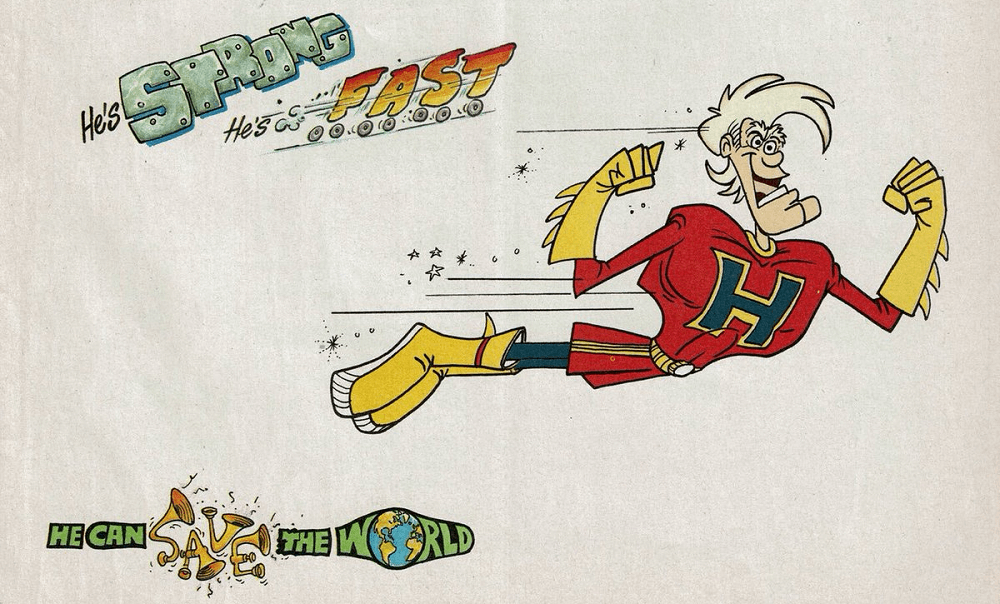 The show's main problem was that it smacked of education, with early risers – it opened CBS's Saturday morning schedule at 8am – unreceptive to such surreptitious schooling, even if it was mostly delivered by Sister Sister's Tamera Mowry as Dr Squared. Tamera's sister Tia turned up late in the run as Emma's evil clone, and there were turns from Mayim Bialik, David Hyde-Pierce, and Bronson Pinchot, but their star power just wasn't enough to save it from the chopping block
The show was never released on DVD but you can see episodes on YouTube which reveal a fun animation style and some great voice work. Unfortunately, it just couldn't avoid the fact that Saturday morning is for slurping cereal and leaving your brain in the off position, not duplicitous tutelage.
The Mask, Ace Ventura: Pet Detective (both CBS) and Dumb and Dumber (ABC): Jim Carrey was massive in the mid-1990s, with each of his films scoring big bucks and big yucks at the box office. With a parade of larger than life characters on his resume, Carrey was perfect for that staple of American popular culture, diversification through amplification, and so no fewer than three animated series starring characters from Carrey's films made their debut on Saturday mornings in the Fall of 1995.
Although the only thing they shared was their lead actor (The Mask was based on a comic book, Dumb and Dumber was a Farrelly brothers creation, and Ace Ventura the result of a blind TV pitch), two of the three shows – The Mask and Ace Ventura – were paired together in a one-hour block on CBS, although the latter was a late start in December 1995. Hanna-Barbera's Dumb and Dumber aired in an earlier time slot, and on ABC, and was the first of the shows to fall, in February 1996, when its thirteen-episode run had been exhausted.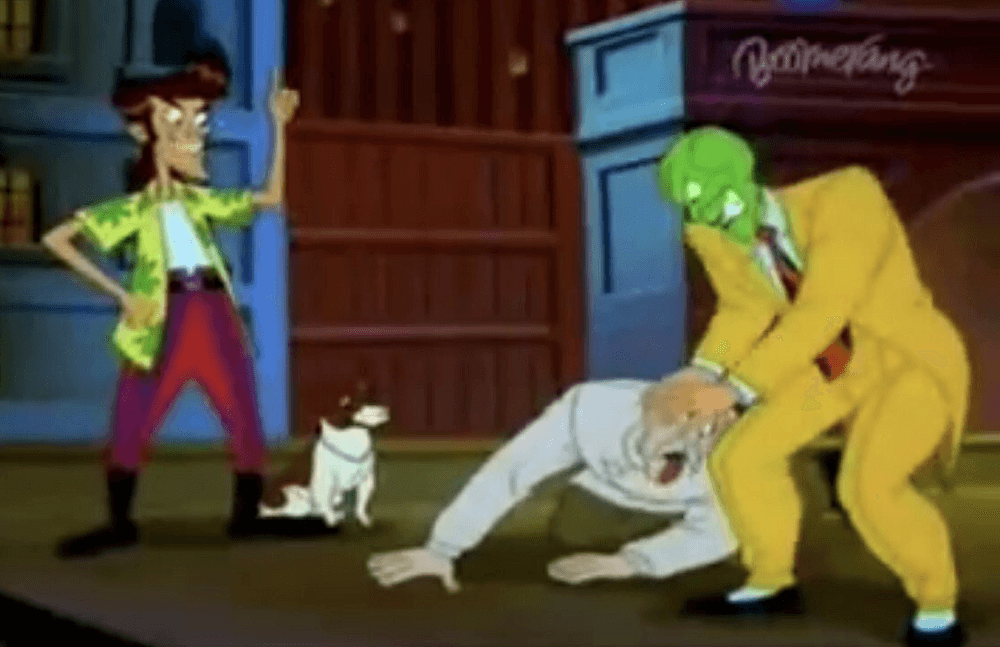 None of the shows featured Carrey – or any of the movies' stars – in their cast but fans of Matt Frewer could hear his unmistakable tones as Lloyd in Dumb and Dumber. The rest of the roles were filled by animation veterans, and there were even crossovers between the two CBS shows throughout their three-season runs, despite being produced by different animation studios.
Dumb and Dumber was released on DVD in 2015, and you can buy all the episodes on YouTube, Amazon Prime, and Google Play. Only three episodes of Ace Ventura have ever been released on DVD, packaged with the movies, but The Mask has its first season available on DVD, and all the episodes can be found alongside Dumb and Dumber in the usual places.
Freakazoid! (Kids WB): In early 1995, Bruce Timm and Paul Dini were riding high after the runaway success of Batman: The Animated Series and pitched their Warner Bros bosses on a new show, one of their own creation. Freakazoid! was intended to be a superhero action cartoon, with comic undertones, animated in the classic style developed by the studio as part of its late-century renaissance.
The central character was the alter-ego of nerdy teenager Dexter Douglas, who gained his powers after being infected by a computer virus and vowed to fight crime. Operating out of the Freakalair, and with mute butler Ingmar as his confidante, Freakazoid uses his various, seemingly random superpowers to thwart the schemes of such villains as The Lobe, Cave Guy, and Longhorn, all aided by his Hall of Nifty Things to Know.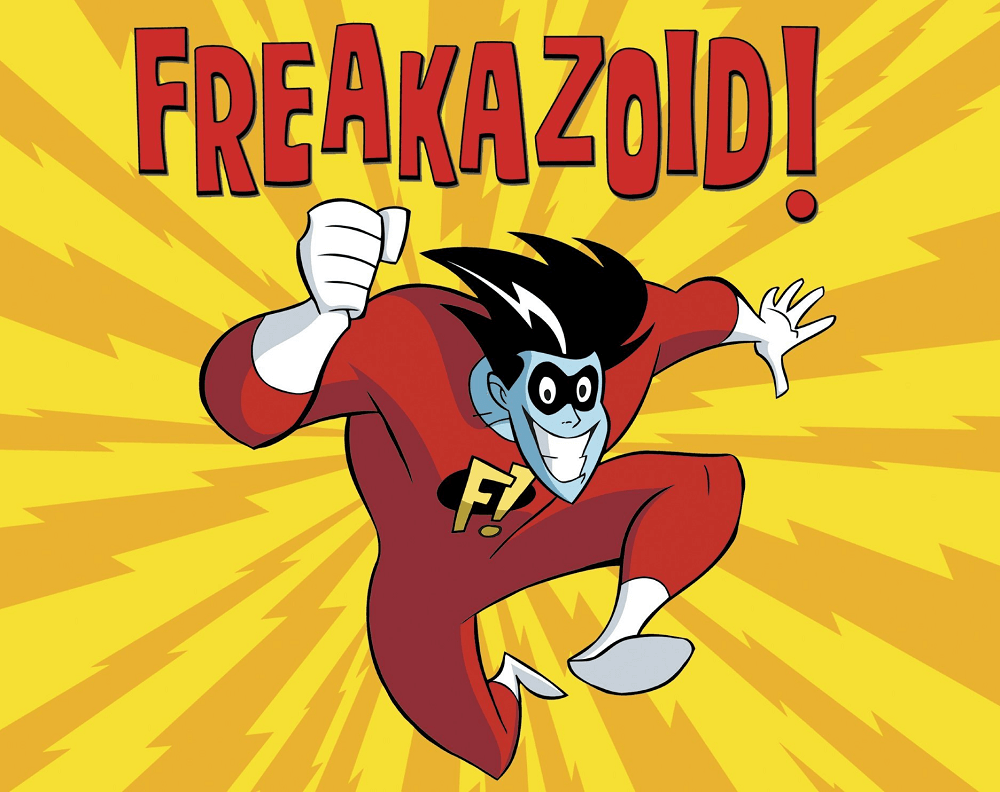 When Timm and Dini's proposal was put before executive producer Steven Spielberg, he felt that the balance was tilted too far away from out and out comedy and got director Tom Ruegger – along with the team responsible for Animaniacs – to tweak the premise. The resulting run fell between two stools, failing in the ratings, and the show was cancelled after just twenty-four episodes, split across one and a half seasons.
Since then, and despite Madman creator Mike Allred claiming the character resembled his wacky superhero too closely for comfort, it has gained a cult following and Freakazoid even popped up in an episode of Teen Titans Go! in 2020. The entire series was released on DVD in 2008 and 2009, and there are enough clips on video sharing sites to get enough of a taste that you'll be adding them to your collection before you can say "Freak Out!"
Next on The Telephemera Years: It's 1980 and time for the Brady girls to get married!
Check out our other Telephemera articles:
The Telephemera Years: 1966 (part 1, 2, 3, 4)
The Telephemera Years: 1968 (part 1, 2, 3, 4)
The Telephemera Years: 1969 (part 1, 2, 3, 4)
The Telephemera Years: 1971 (part 1, 2, 3, 4)
The Telephemera Years: 1973 (part 1, 2, 3, 4)
The Telephemera Years: 1975 (part 1, 2, 3, 4)
The Telephemera Years: 1977 (part 1, 2, 3, 4)
The Telephemera Years: 1980 (part 1, 2, 3, 4)
The Telephemera Years: 1982 (part 1, 2, 3, 4)
The Telephemera Years: 1984 (part 1, 2, 3, 4)
The Telephemera Years: 1986 (part 1, 2, 3, 4)
The Telephemera Years: 1987 (part 1, 2, 3, 4)
The Telephemera Years: 1990 (part 1, 2, 3, 4)
The Telephemera Years: 1992 (part 1, 2, 3, 4)
The Telephemera Years: 1995 (part 1, 2, 3, 4)
The Telephemera Years: 1997 (part 1, 2, 3, 4)
The Telephemera Years: 2000 (part 1, 2, 3, 4)
The Telephemera Years: 2003 (part 1, 2, 3, 4)
The Telephemera Years: 2005 (part 1, 2, 3, 4)
The Telephemera Years: 2008 (part 1, 2, 3, 4)
Titans of Telephemera: Irwin Allen
Titans of Telephemera: Stephen J Cannell (part 1, 2, 3, 4)
Titans of Telephemera: Hanna-Barbera (part 1, 2, 3, 4, 5)

Titans of Telephemera: Kenneth Johnson
Titans of Telephemera: Glen A Larson (part 1, 2, 3, 4)
Titans of Telephemera: Quinn Martin (part 1, 2)