Ah, telephemera… those shows whose stay with us was tantalisingly brief, snatched away before their time, and sometimes with good cause. They hit the schedules alongside established shows, hoping for a long run, but it's not always to be, and for every Street Hawk there's two Manimals. But here at STARBURST we celebrate their existence and mourn their departure, drilling down into the new season's entertainment with equal opportunities square eyes… these are The Telephemera Years!
1995-96
The schedules were packed in 1995, with returns for all the hit sitcoms, teen shows, and crime dramas that had thrilled America during the previous year. Ellen, Grace Under Fire, Cybill, and Roseanne all provided strong female role models of varying types, while Mad About You, ER, and Friends were making Thursdays on NBC a must-see affair. For genre fans, Lois & Clark, The X-Files, Sliders, seaQuest 2032, and Star Trek: Voyager all returned, and there was genre-adjacent stuff to be found in Picket Fences and Walker Texas Ranger, both found on CBS in 1995.
As for new shows, the Earthbound aliens of 3rd Rock from the Sun were taking their first steps on Terra Firma. Nash Bridges was doing whatever it was Nash Bridges did, and The Drew Carey Show's "Cleveland Rocks!" theme song was stuck in everyone's head. But what about those shows that failed to gain a grip on the collective imagination of the American people? This is the story of four more flops from 1995…
Dweebs (CBS): Twelve years before The Big Bang Theory (and eleven before The IT Crowd), Peter Noah – who would later midwife Aaron Sorkin's The West Wing into a beautiful baby show – created Dweebs, the story of four socially inept computer programmers whose lives are upset by the arrival of a comely office manager.
With Farrah Forke in place as Carey, and Corey Feldman leading a gang of nerds that also included future Goldbergs principal Stephen Toblowsky, the cast was completed by Peter Scolari as Warren Mosbey, the genius company owner (and least geeky of the make leads, making a human-dweeb relationship at least somewhat possible).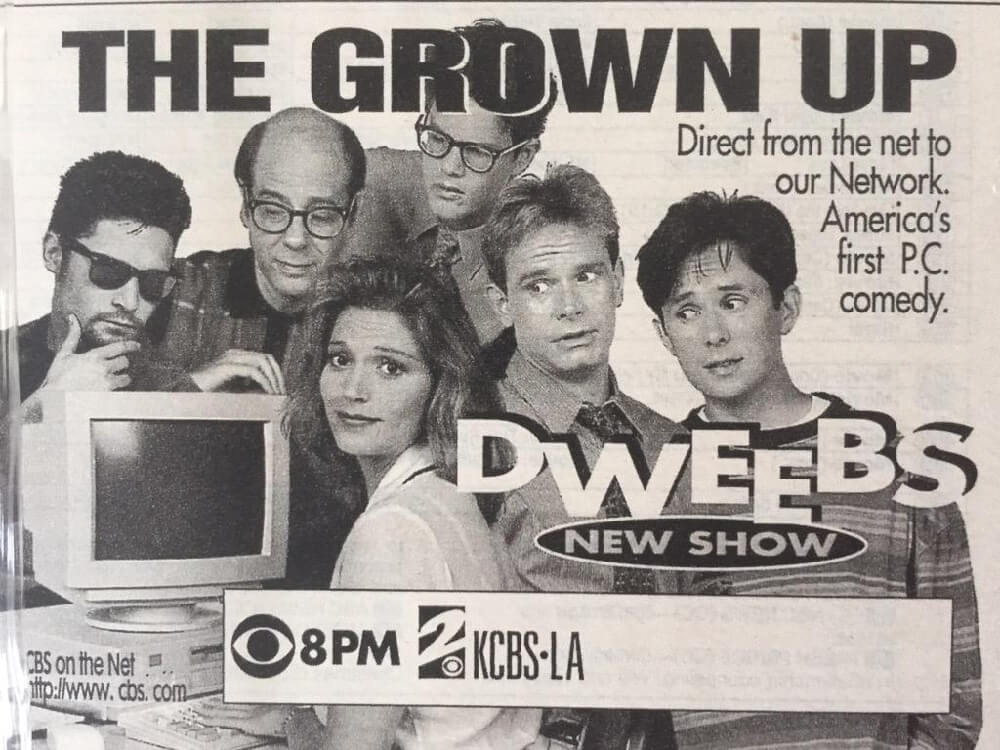 Heading up CBS's Friday night line-up, with The Bonnie Hunt Show and Picket Fences following quickly on its heels, Dweebs was expected to kick things off with a bang but American TV audiences weren't quite ready for the misadventures of a gang of inhaler-wielding misfits and their inability to be around a sexy female (or, indeed, any female).
Just seven of the ten completed episodes aired, although the full run got a 2am outing on ITV in the UK, and it was never released on VHS or DVD. There aren't even many clips available on video-sharing sites and so you'll have to take STARBURST's word that it was really very funny indeed.
Space: Above and Beyond (Fox): With The Simpsons and Married… With Children anchoring their Sunday night line-up, Fox decided to kick things off in 1995 with a new show helmed by Glen Morgan and James Wong, two young writers who had cut their teeth on 21 Jump Street before writing many of The X-Files's best-loved episodes from its first two seasons.
Morgan and Wong created Space: Above and Beyond, envisaging a five-year arc which would take the misfit 58th Wildcards regiment from their initial skirmishes with the alien Chigs, through humanity's complicated relationship with the former slave race Silicates, and involving the machinations of all-powerful corporation Aero-Tech, and built an impressive world book for the show, which was sold internationally in over thirty markets, including the UK where it aired on both Sky One and BBC2.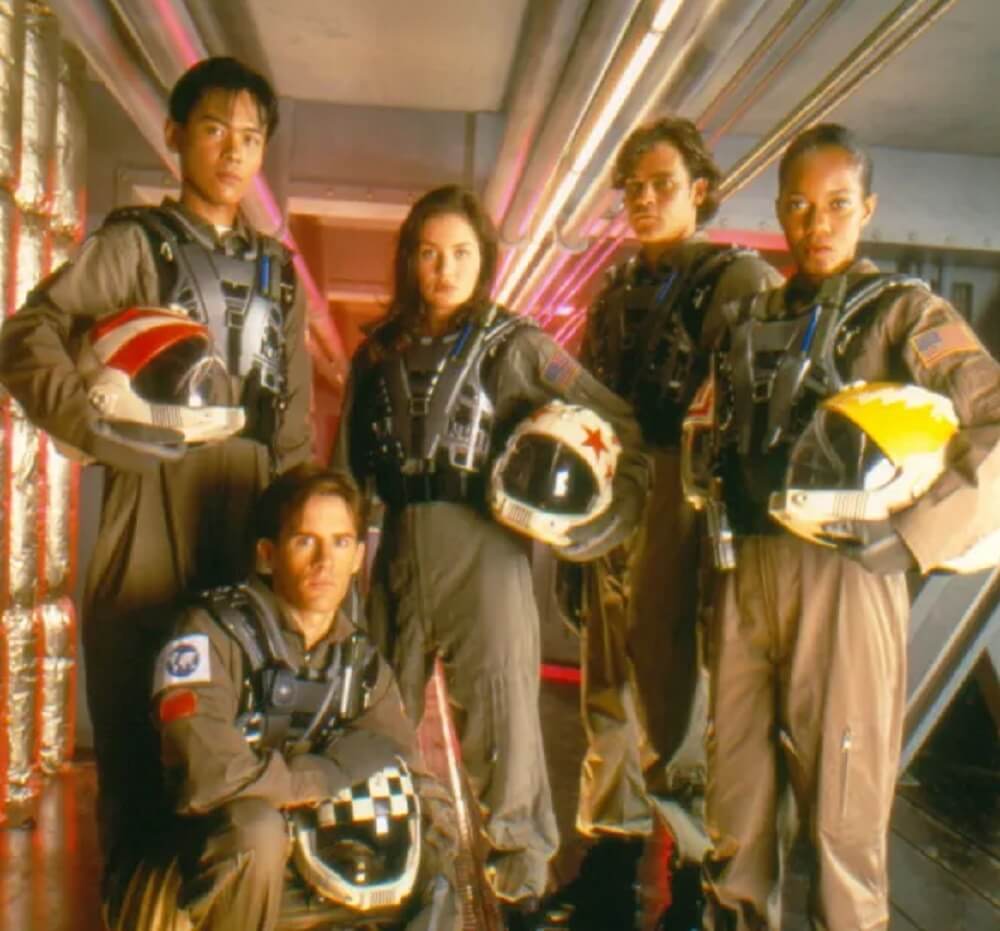 With Kristen Cloke leading a cast that also included former Star Trek: TNG ensemble member Larei Chapman and a whole host of unknowns, Space soon attracted a hardcore following that bought into the intrigue and action laid out on screen by Morgan and Wong, but unfortunately there weren't enough of them to justify the show's considerable budget and the producers were told ahead of time that there would be no second season.
This did at least give them time to wrap things up neatly, and although it's an example of another show with great promise taken well before its time was up, a watch-through on DVD at least gives you a semi-satisfying sense of closure. Sadly, Morgan and Wong would make such shows their stock in trade, despite enjoying success with the Final Destination franchise.
Nowhere Man (UPN): Heralded by TV Guide as "this season's coolest hit," Nowhere Man starred Bruce Greenwood – who'd come to fame in St Elsewhere and Knot's Landing – as Thomas Veil, a journalist who wakes up one day to discover that his whole life has been erased. Not only do his friends and colleagues not recognise him, but his wife also doesn't know who he is and is living with another man.
Believing it to be linked to a photograph he took a year before of US soldiers committing war crimes in South America, Veil goes on the run, trying to prove his existence while being chased by a shadowy organisation. There's a hell of a twist at the end of season one, which would have set up a completely different show going forward, but viewers never got to see it, the show being cancelled after its twenty-fifth episode aired in May 1996.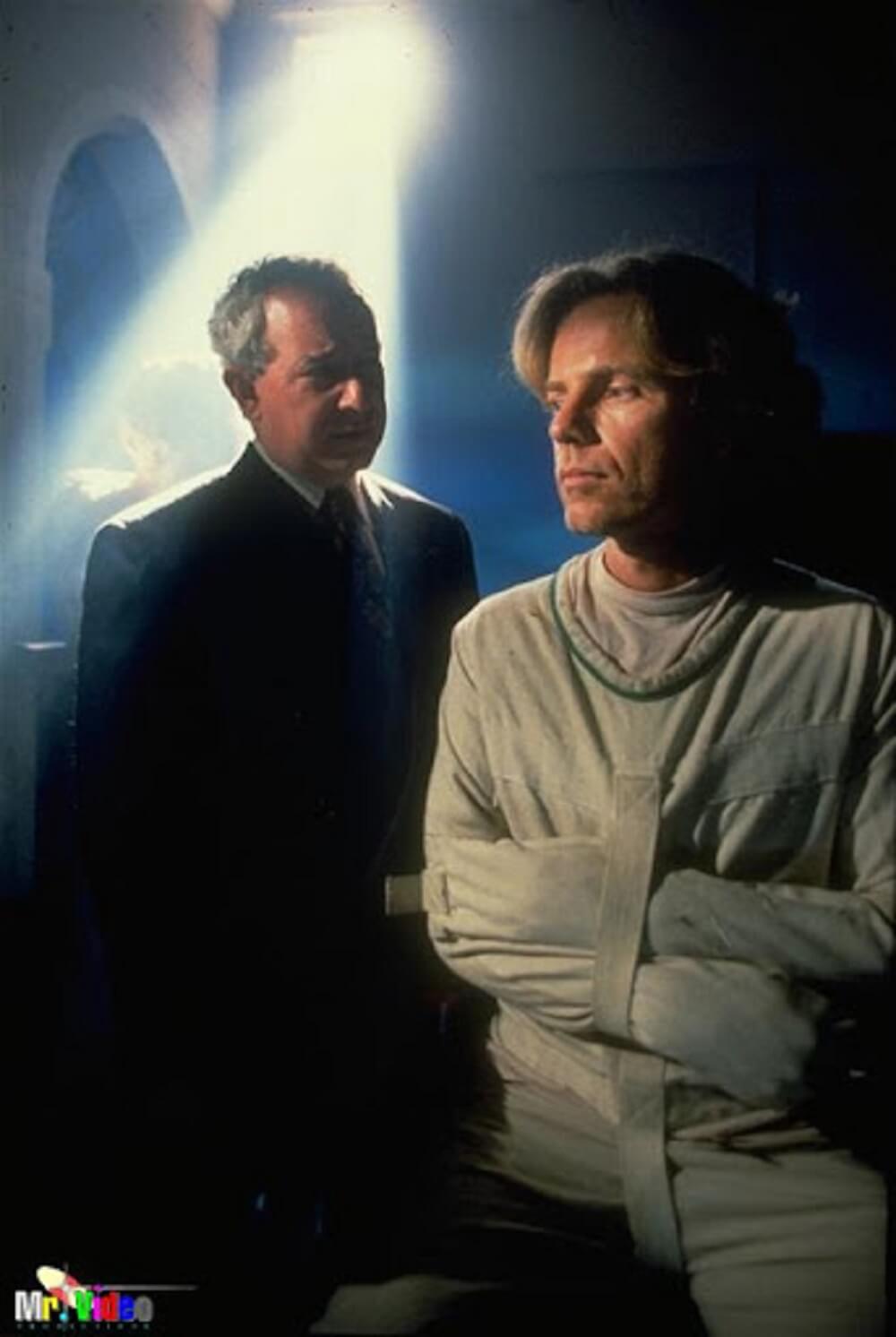 Critics, however, were united in hailing the show, with Entertainment Weekly saying, "it starts with a bang and keeps going from there," while the LA Times wrote, "it's not only suspenseful and mystifying but also challenging and tantalizing, initially offering viewers a single, obtuse clue to the ordeal that is frustrating Veil." Ratings, though, were not good, only earning half the viewers of UPN's top-rated show, Star Trek: Voyager.
The complete series was released on DVD in 2005, and its themes of erasure and being hunted are positively redolent of such shows as The Fugitive and The Prisoner, tied up in a slick conspiracy package. Creator Lawrence Herzog died sadly young, after just one more series – Painkiller Jane – had made it to air.
Strange Luck (Fox): "People say I'm… lucky. It all began in a plane crash thirty years ago. One hundred and six lives ending in a single heartbeat. No one survived… except me." So went the opening narration to Strange Luck, which debuted on Fox on Friday nights from September 1995, telling the tale of a freelance photographer who has a strange habit of being in the wrong place at the right time.
Having made a splash starring in low-budget alien abduction flick Fire in the Sky, DB Sweeney was given his first feature TV role as Chance Harper, his every move seemingly the result of good or bad luck. Harper tries to navigate through a life complicated by such fortunes, searching for his long-lost brother, taken from the family shortly before a plane crash which killed everyone on board – except Chance.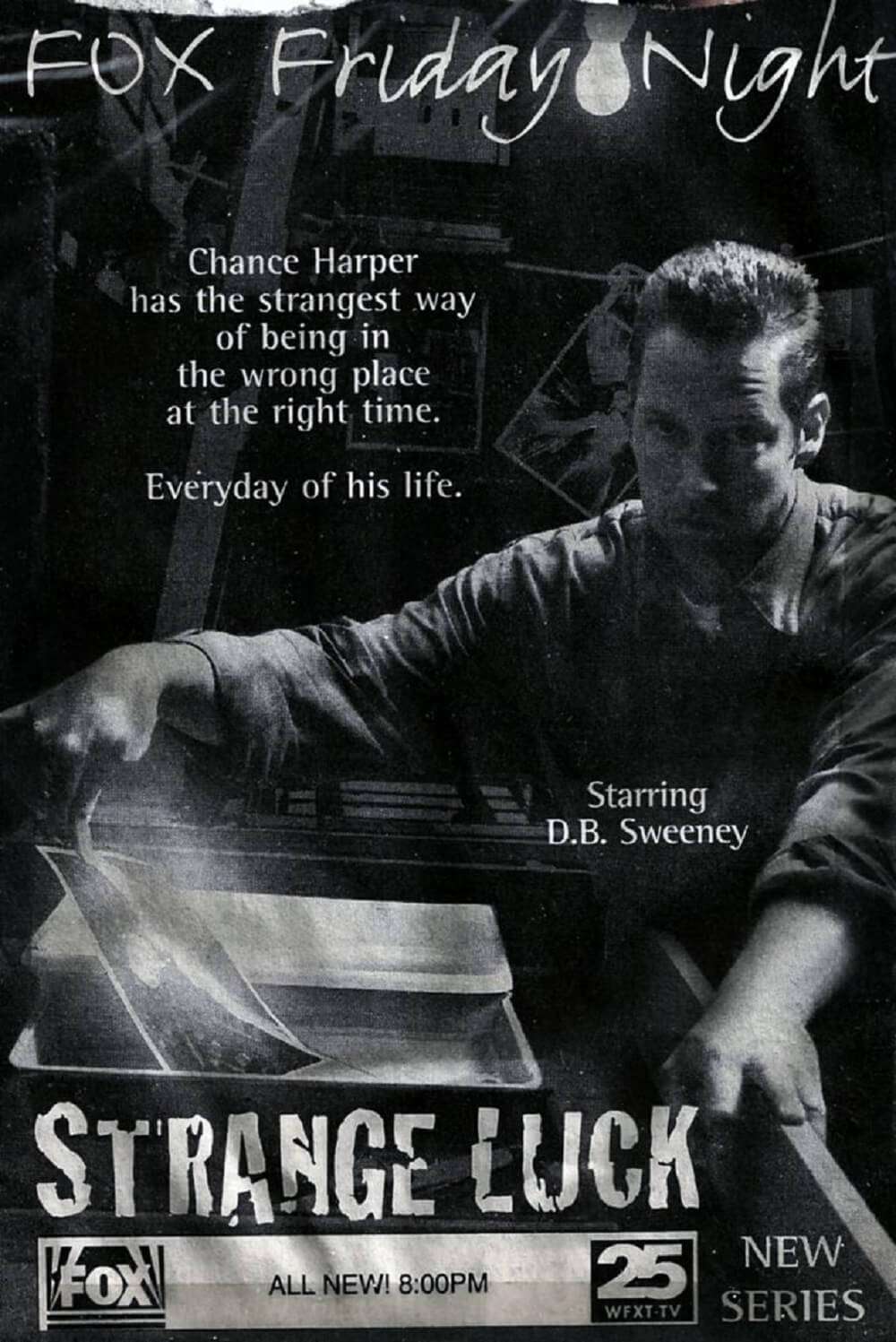 Fans described Strange Luck as an adult companion to Eerie, Indiana, and it's easy to see why, with Harper having to deal with such ridiculous episodes as two men fighting over a potato that looks like Elvis, and warning messages delivered through ATMs, but Sweeney had to deal with far more sinister fare, all murders and conspiracies – a friend even tells him to get in touch with FBI Agent Fox Mulder!
Ratings didn't hold up, however, and Strange Luck was cancelled with just seventeen episodes aired, in February 1996. There was no home video release but the complete series is on YouTube and it ends on a tantalising cliffhanger, setting up a second season which will never, ever arrive…
Next on The Telephemera Years: the unsold pilots of the 1995/96 season, including ghost girlfriends, W.E.I.R.D. agencies, and bent fingers!
Check out our other Telephemera articles:
The Telephemera Years: 1966 (part 1, 2, 3, 4)
The Telephemera Years: 1968 (part 1, 2, 3, 4)
The Telephemera Years: 1969 (part 1, 2, 3, 4)
The Telephemera Years: 1971 (part 1, 2, 3, 4)
The Telephemera Years: 1973 (part 1, 2, 3, 4)
The Telephemera Years: 1975 (part 1, 2, 3, 4)
The Telephemera Years: 1977 (part 1, 2, 3, 4)
The Telephemera Years: 1980 (part 1, 2, 3, 4)
The Telephemera Years: 1982 (part 1, 2, 3, 4)
The Telephemera Years: 1984 (part 1, 2, 3, 4)
The Telephemera Years: 1986 (part 1, 2, 3, 4)
The Telephemera Years: 1987 (part 1, 2, 3, 4)
The Telephemera Years: 1990 (part 1, 2, 3, 4)
The Telephemera Years: 1992 (part 1, 2, 3, 4)
The Telephemera Years: 1995 (part 1, 2, 3, 4)
The Telephemera Years: 1997 (part 1, 2, 3, 4)
The Telephemera Years: 2000 (part 1, 2, 3, 4)
The Telephemera Years: 2003 (part 1, 2, 3, 4)
The Telephemera Years: 2005 (part 1, 2, 3, 4)
The Telephemera Years: 2008 (part 1, 2, 3, 4)
Titans of Telephemera: Irwin Allen
Titans of Telephemera: Stephen J Cannell (part 1, 2, 3, 4)
Titans of Telephemera: Hanna-Barbera (part 1, 2, 3, 4, 5)

Titans of Telephemera: Kenneth Johnson
Titans of Telephemera: Glen A Larson (part 1, 2, 3, 4)