Ah, telephemera… those shows whose stay with us was tantalisingly brief, snatched away before their time, and sometimes with good cause. They hit the schedules alongside established shows, hoping for a long run, but it's not always to be, and for every Knight Rider there's two Street Hawks. But here at STARBURST we celebrate their existence and mourn their departure, drilling down into the new season's entertainment with equal opportunities square eyes… these are The Telephemera Years!
1987-88
The late 1980s were dominated by sitcoms, style, and sitcoms with style, with the rump of Dallas, Dynasty, Moonlighting, and Miami Vice butting up against Who's the Boss?, Cheers, The Cosby Show, and Family Ties. For the genre fans there was such diverse fare as MacGyver, Max Headroom, ALF, and Highway to Heaven, and the new Fox network was making waves with 21 Jump Street, It's Garry Shandling's Show, Married… with Children, and The Tracey Ullman Show, which featured a certain dysfunctional family taking their nascent steps.
The new season brought us The Wonder Years, thirtysomething, and a monster called Full House, while the weird romantic monster story of Beauty and the Beast began its four-year run, descending further and further into fantasy lore. But what new glories were to be found in the Saturday morning kidzone? This is the story of 1987's technicolour cereal accompaniment…
Little Wizards (ABC): On the surface of it, a show with a monster named Winkle would seem very much not aimed at children, but you should wash your filthy mind out and enjoy the, erm, magic of Marvel Productions' Little Wizards like all nice boys and girls.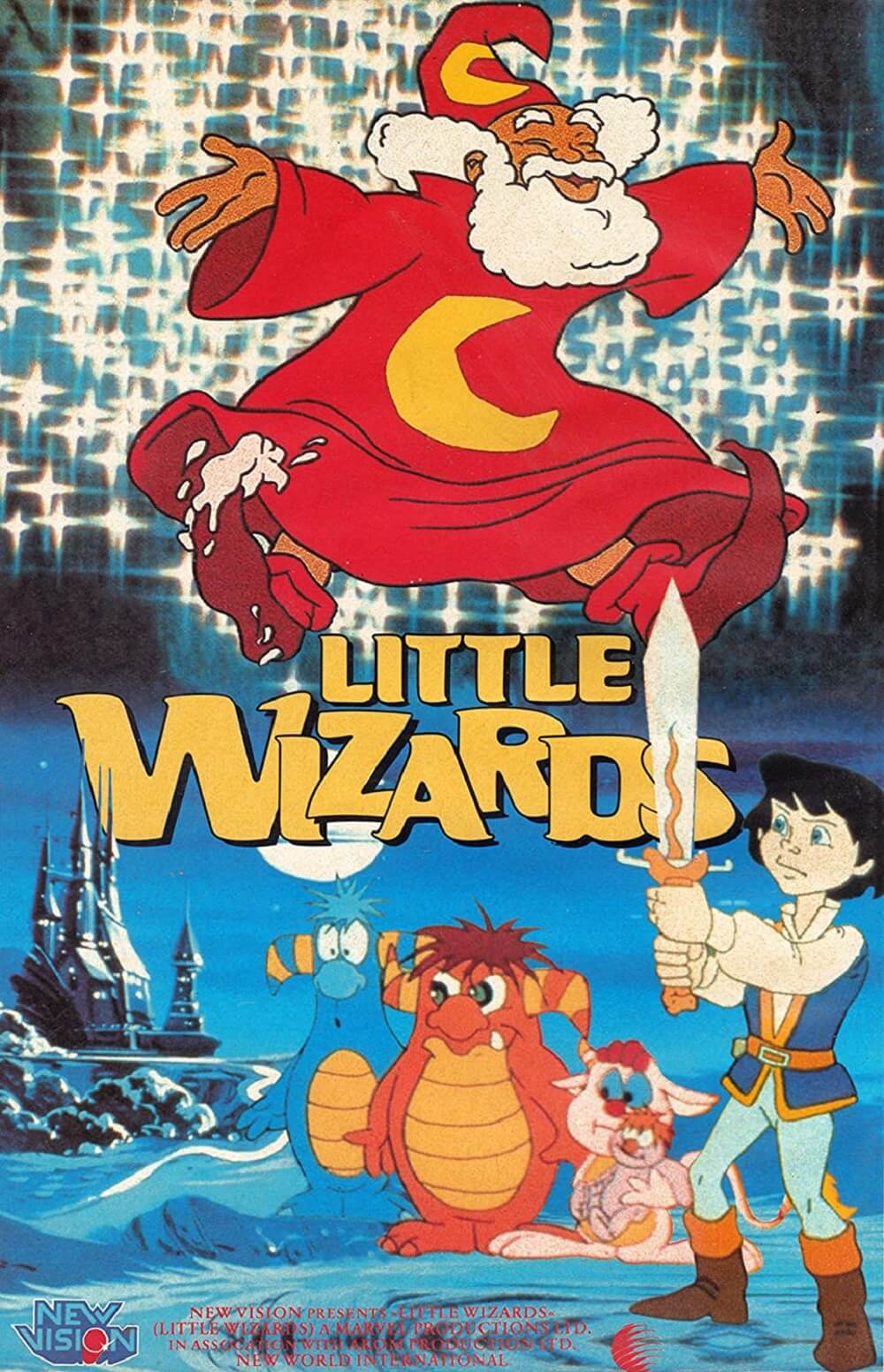 Little Wizards was the brainchild of Len Janson and Chuck Menville, two former Disney animators who had strode out on their own and pitched the concept of a deposed prince learning to become a magician to regain his crown from an evil sorcerer. Taught by the good wizard Phineas, Dexter is joined by Lulu the dragon, and three tame monsters named Boo, Gump, and Winkle, with industry veteran Frank Welker doing sterling work as the non-humans in the show.
Little Wizards appeared on September 26th 1987, in the 10am slot dominated by Pee Wee's Playhouse and also up against Fraggle Rock: The Animated Series (also produced by Marvel), and while the initial order of thirteen episodes finished its run, it wasn't considered for a second season and re-runs were shifted to earlier and earlier time slots.
Little Wizards was never released on home video and has all but disappeared from the internet, one of a handful of Marvel Productions shows never to gain any kind of foothold in popular memory. Janson and Menville went back to the more popular The Real Ghostbusters and led on 1990's Tiny Toon Adventures, their partnership ending with Menville's death in 1992.
Mighty Mouse: The New Adventures (CBS): The simplest of elevator pitches ("what if Superman was a mouse?"), Mighty Mouse first appeared in a TerryToons short in 1942, and later transferred to television for a twelve-year run in 1995, where the theatrical shorts were repurposed with just three new episodes. Another outing on TV in 1979 kept the property in the zeitgeist and by 1987 it was time to try again, this time with ace animator Ralph Bakshi at the helm.
Bakshi had made his name with the original Spider-Man cartoon of the late-1960s, before going on to have very adult hits with Fritz the Cat and Heavy Traffic. After entering semi-retirement in the mid-1980s, Bakshi formed a new studio that included future Ren and Stimpy creator John Kricfalusi, was tempted back for a run at a childhood favourite, despite not owning the rights to the character when he pitched the show to CBS.
Bakshi gave the titular hero a secret identity – Mike Mouse – for the first time, but his Mighty Mouse did not follow the usual formula of such shows, and injected craziness and parody into the traditional superhero fare. He brought back other TerryToons characters, albeit with a modern spin that acknowledged the very different era they now lived in, and occasionally ran into controversy, never more than with the episode "The Littlest Tramp," where the hero took a long sniff from a line of crushed flowers, and some critics cried, "cocaine!"
Kricfalusi didn't return for the second season, and it missed his skewed approach, fizzling into a shadow of its former self and ending after just six more episodes had been produced. Still, for a while, American kids got a taste of what was to come in the anarchic world of children's animation in the 1990s, and you can relive your wild youth on DVD, with a range of assorted features putting things into context.
ALF: The Animated Series (NBC): A prequel to the popular primetime sitcom about a stranded alien who ate cats and talked like an old Jewish man, ALF: The Animated Series spat onto Saturday morning TV screens in September 1987, concurrent with the second season of its live-action parent.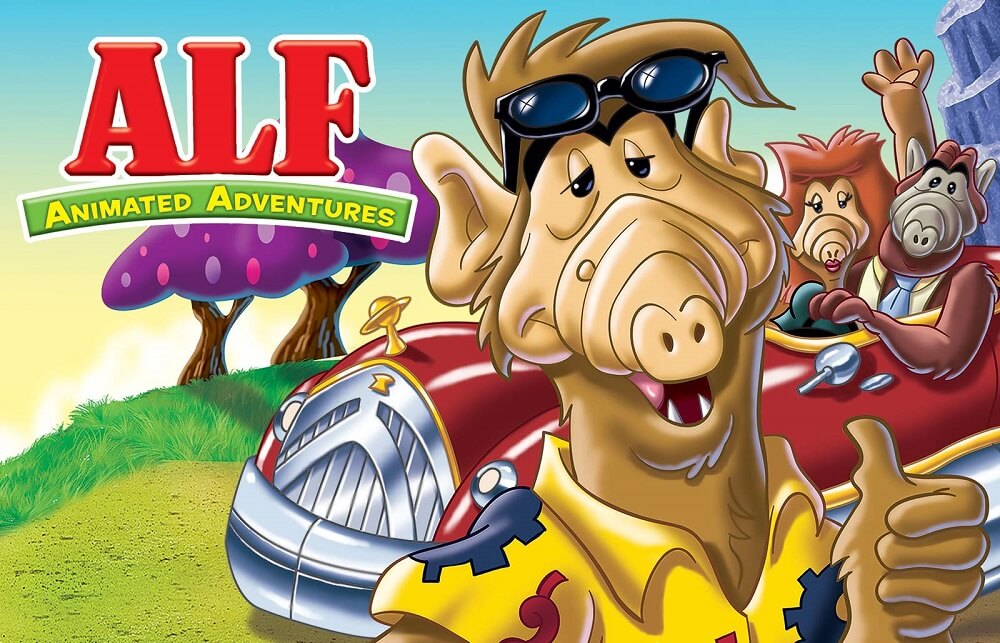 ALF's creator, Paul Fusco, split his time between the two shows, the only member of the regular cast to do so, and the show featured the adventures of Gordon Shumway (ALF stood for Alien Life Form) on his home planet, where he is a normal – for Melmac – teenager surrounded by friends and family.
The show was renewed for a second season in 1988 and was joined by ALF Tales, which featured characters from the animated series playing various roles in twisted versions of Earth fairy tales, and the two shows were often combined for the ALF & ALF Tales Hour. ALF Tales continued through to December 1989, outlasting its animated sibling by almost a year, but ALF fever was beginning to wane, and the parent show quietly went off into the night in March 1990 (although a TV movie later tied up the loose ends).
The series was released on DVD in 2006 and can still be found from second-hand vendors but you're probably better off – as with many of these cartoon shows – watching the Found Footage Festival's Shaturday Morning Cartoons episode on the thing.
Popeye and Son (CBS): The mystifying eternal popularity of a gurning sailor addicted to vitamin supplements reached its apogee in 1987 with this tale of Popeye and his issue, finally having sealed the deal with Olive Oyl after years of being cuckolded by that brute Brutus. Oh, but here's the twist: Popeye's son – called, simply, Junior – hates the taste of spinach!
It's a thin concept but Hanna-Barbera was running on fumes by this point and although it featured some decent animation and a solid voice cast (which included a pre-The Simpsons  Nancy Cartwright but not Jack Mercer, the original voice of Popeye who had died in 1984), modern audiences just weren't thrilled by Popeye's antics in the way they had when he was first created almost sixty years earlier.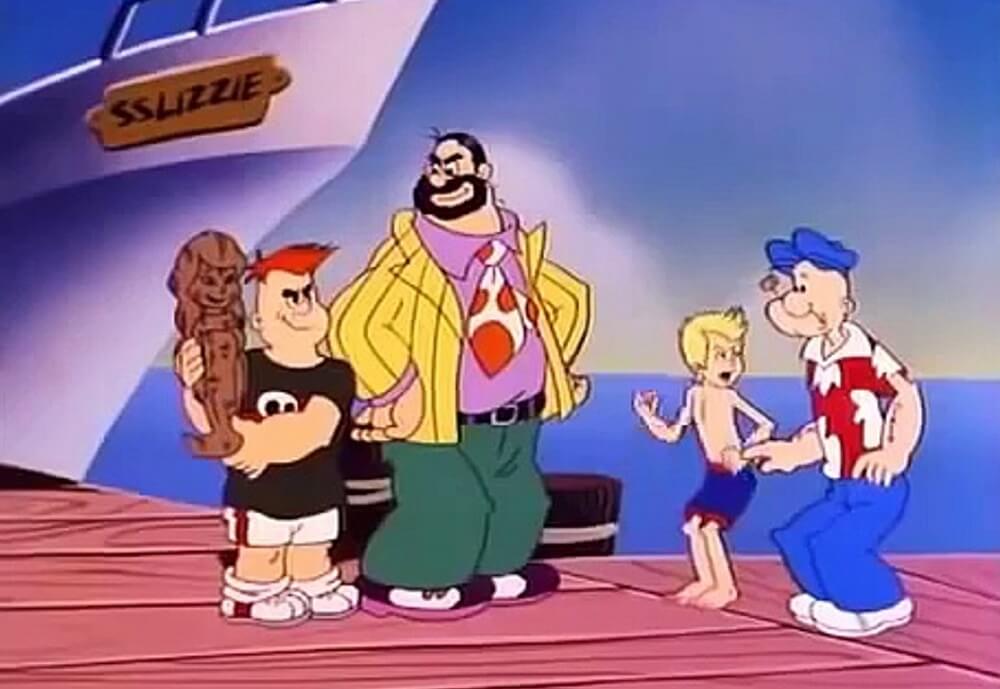 Thirteen episodes were produced but no second season was forthcoming, and a planned release of the full set on DVD has been delayed and delayed into perpetuity. It's probably for the best; anything that needed to be said about Popeye the sailor man was done by the Fleischers in the 1930s and whether you can get on board with the wacky concept or not, those brothers produced some beautiful cartoons…
Little Clowns of Happytown (ABC): A year after Stephen King had given clowns their true form in his 1986 novel It, and a year before their sinister origins would be revealed in Killer Klowns from Outer Space, Marvel Productions brought Little Clowns of Happytown to screens, an attempt from Big Clown to clean up the reputation of those serial child murderers.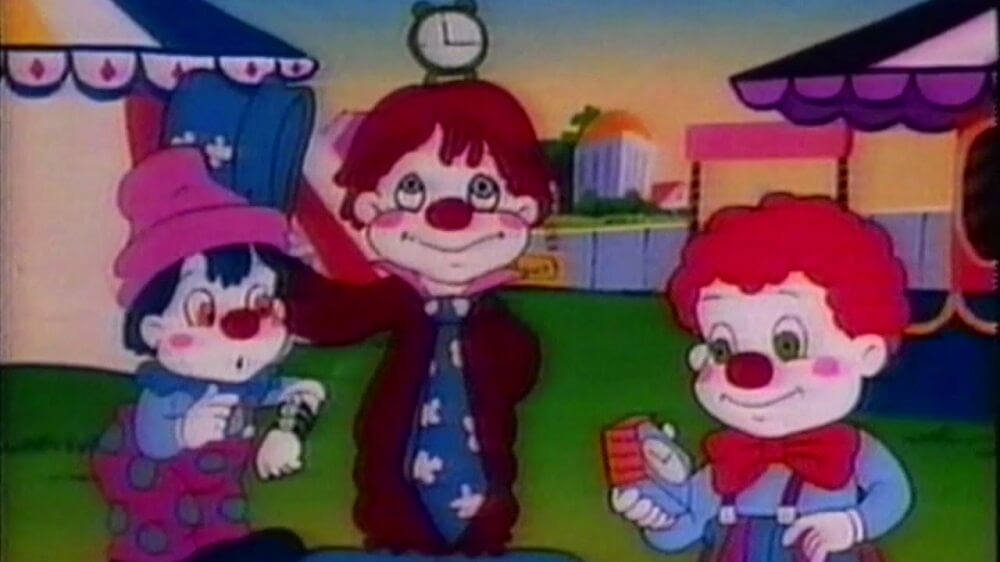 The show was developed by Chuck Lorre – who would later go on to create Dharma & Greg, Two and a Half Men, and The Big Bang Theory – and told the story of six young clowns on a mission to spread happiness throughout the world, aided by their pet Clownimals (who only the speech-limited Badum-Bump can understand) and facing the threat of the depressive Awful B Bad and his redheaded assistant, Geek.
Having The Care Bears as a lead-in can't have hurt the show's saccharine potential and eighteen episodes were aired between September 1987 and July 1988, later released on VHS, with the whole series being given the DVD treatment in 2014. However, as with Little Wizards, there was no sign of a second season and co-producer Murakami Wolf Swenson concentrated on their other show, an adaptation of an independent comic book called Teenage Mutant Ninja Turtles…
Next on The Telephemera years: we jump back into the time machine and set the controls for the heart of 1971's Longstreet and more!
Check out our other Telephemera articles:
The Telephemera Years: 1966 (part 1, 2, 3, 4)
The Telephemera Years: 1968 (part 1, 2, 3, 4)
The Telephemera Years: 1969 (part 1, 2, 3, 4)
The Telephemera Years: 1971 (part 1, 2, 3, 4)
The Telephemera Years: 1973 (part 1, 2, 3, 4)
The Telephemera Years: 1975 (part 1, 2, 3, 4)
The Telephemera Years: 1977 (part 1, 2, 3, 4)
The Telephemera Years: 1980 (part 1, 2, 3, 4)
The Telephemera Years: 1982 (part 1, 2, 3, 4)
The Telephemera Years: 1984 (part 1, 2, 3, 4)
The Telephemera Years: 1986 (part 1, 2, 3, 4)
The Telephemera Years: 1987 (part 1, 2, 3, 4)
The Telephemera Years: 1990 (part 1, 2, 3, 4)
The Telephemera Years: 1992 (part 1, 2, 3, 4)
The Telephemera Years: 1995 (part 1, 2, 3, 4)
The Telephemera Years: 1997 (part 1, 2, 3, 4)
The Telephemera Years: 2000 (part 1, 2, 3, 4)
The Telephemera Years: 2003 (part 1, 2, 3, 4)
The Telephemera Years: 2005 (part 1, 2, 3, 4)
The Telephemera Years: 2008 (part 1, 2, 3, 4)
Titans of Telephemera: Irwin Allen
Titans of Telephemera: Stephen J Cannell (part 1, 2, 3, 4)
Titans of Telephemera: Hanna-Barbera (part 1, 2, 3, 4, 5)

Titans of Telephemera: Kenneth Johnson
Titans of Telephemera: Glen A Larson (part 1, 2, 3, 4)