Ah, telephemera… those shows whose stay with us was tantalisingly brief, snatched away before their time, and sometimes with good cause. They hit the schedules alongside established shows, hoping for a long run, but it's not always to be, and for every Street Hawk there's two Manimals. But here at STARBURST we celebrate their existence and mourn their departure, drilling down into the new season's entertainment with equal opportunities square eyes… these are The Telephemera Years!
1980-81
TV parties in 1980 were chock full of telefantasy, with Charlie's Angels, Fantasy Island, The Dukes of Hazzard, The Incredible Hulk, and Buck Rogers in the 25th Century all riding high in the ratings. Throw in perennially successfully sitcoms like Benson, Diff'rent Strokes, Soap, and the Happy Days extended family – both Mork and Mindy and Laverne and Shirley began their existences on Fonzie's rock 'n' roll show – and you have quite the feast of televisual entertainment.
Period fans were well-catered for by The Waltons and Little House on the Prairie, and Dallas ruled the soap opera waves, even creating enough of a swell for Knots Landing to spin-off in its wake. Competition would soon arrive, though, in the shape of Dynasty, one of a number of new shows for the 1980 Fall TV season which also included future hits Magnum, PI and Hill Street Blues, as well as future glancing blows Bosom Buddies and The Greatest American Hero. But what were kids sitting down to watch on Saturday mornings? This is the story of 1980's cartoon hits…
Thundarr the Barbarian (ABC): Having found the monetary rewards for surrendering his creator's rights to Marvel Comics incompatible with his value system, Howard the Duck creator Steve Gerber decided to try his luck in Hollywood, where former comics writers and artists were making in-roads into the animation business.
Gerber pitched up at Ruby-Spears, the company formed by former Hanna-Barbera staffers Joe Ruby and Ken Spears, where he originated Thundarr the Barbarian, set in a post-apocalyptic wasteland ruled over by competing warlords. With character designs by Jack Kirby, whose Kamandi concept Thundarr closely resembles, the cartoon centred on the titular barbarian, a young sorceress named Ariel, and Ookla the Mok, a lion-man style creature, all fighting the Brotherhood of Night and other supernatural threats found lurking in the dark.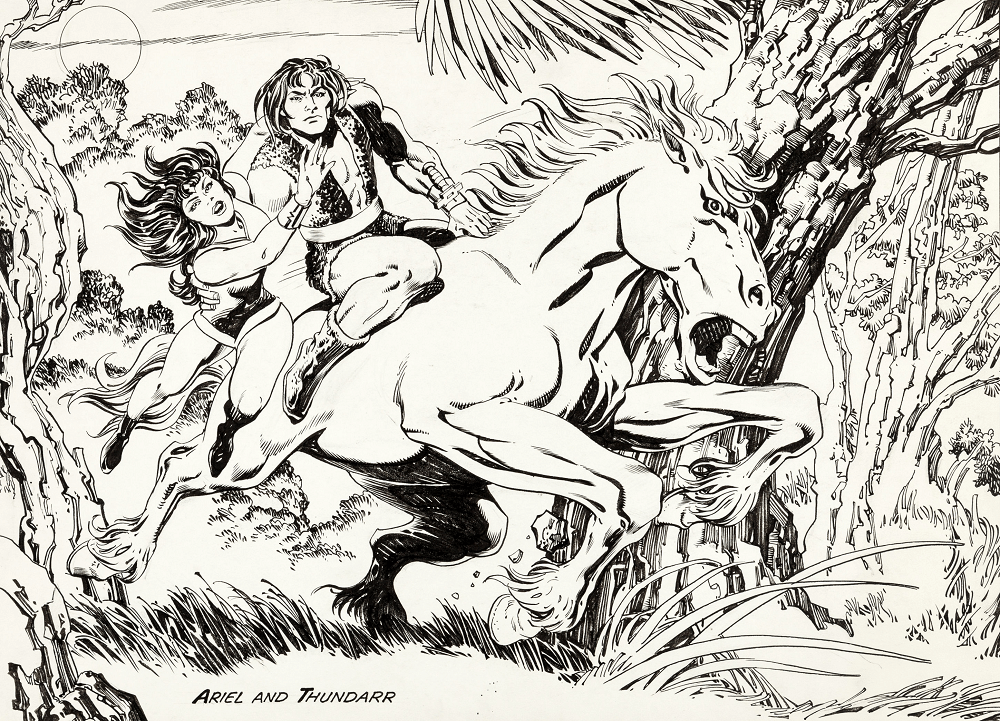 Thundarr debuted on ABC on October 4th 1980, as part of a Saturday morning block that also included Superfriends and Scooby and Scrappy Doo, pitching the heroic trio right into the heat of battle, protecting the inhabitants of "Manhat" (a destroyed future New York) against a two-faced wizard and an army of rat people.
Two seasons of Thundarr were produced, although these numbers just thirteen and eight episodes, respectively, and a planned syndicated comic strip drawn by Kirby was cancelled before it could get off the ground. Gerber continued to work in television for a few years, eventually coming back to comic books in the 1990s and continuing to work there until his death in 2008.
Drak Pack (CBS): Hands up who knew that there was an Australian division of Hanna-Barbera? In 1980, after having had an earlier hit with Dinky Dog in 1978, the drawers down under delivered their latest product to their parent office in Los Angeles, a rebooting of the Universal monsters as teenage superheroes.
Something similar had been done by Dell Comics in the 1960s in an attempt to cash in on the success of TV's Batman but Drak Pack rejected the idea of traditional superhero costumes and instead had the three principals – Drac Jr, Frankie, and Howler – in more familiar garb as they try to atone for the wrongs of their more famous ancestors.
Standing in their way is Dr Dred, head of the evil organisation OGRE (Organization for Generally Rotten Enterprises), and his minions Fly, Mummyman, Toad, and Vampira, but the intrepid young heroes – overseen by Allen Oppenheimer's Dracula Sr – always manage to save the day.
The show debuted on CBS on September 6th 1980, following an hour of Popeye, and its sixteen episodes are a lot of fun, with some decent voice work by industry veterans including Jerry Dexter, William Callaway, and Don Messick. The entire series was released on DVD in 2011 but there are plenty of episodes available for free on YouTube for more miserly monster maniacs.
The Flintstone Comedy Show (NBC): While the Australians were beavering away on Drak Pack, there was no rest for the wicked at the main Hanna-Barbera studio in Los Angeles, where William Hanna and Joseph Barbera had put The Flintstone Comedy Show into production. A ninety-minute extravaganza, the show tied together various elements of the larger Flintstones universe into a neat little package with six separate segments, each capable of being spun off into their own show.
The Flintstone Family Adventures was traditional Flintstones stuff, with Fred and Barney and their extended families getting into all manner of hijinks, a world away from Bedrock Cops, which saw the dynamic duo join the police force, with Shmoo from 1979's Fred and Barney meet the Shmoo as their apprentice.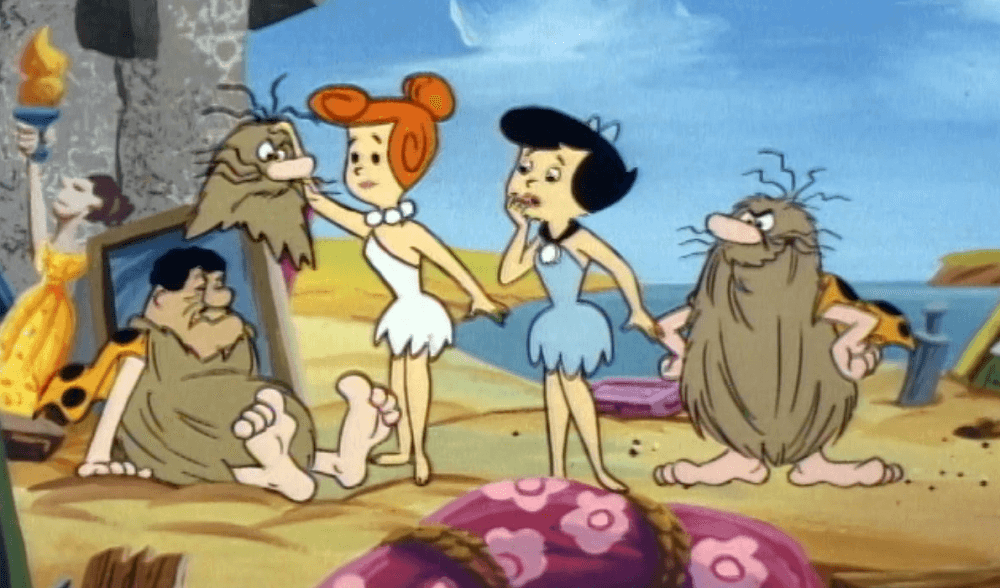 Next up was Pebbles, Dino, and Bamm-Bamm, a Scooby Doo-style teen mystery show, with the children de-aged from their appearance in 1971's The Pebbles and Bamm-Bamm Show but still older than they appeared in the usual Flintstones episodes. This was joined by Captain Caveman, a prequel to the earlier Captain Caveman and the Teen Angels series, and Dino and Cavemouse, a Tom and Jerry-style chase comedy segment.
The show was rounded out by The Frankenstones, who had been introduced in The New Fred & Barney Show a year before, the Flintstones' new neighbours who resembled The Munsters. After an eleven-episode run, the show was brought back in September 1981 for another seven episodes, and thereafter re-run as The Flintstone Funnies, which mixed up segments from various episodes as fitted the syndicated timeslot it had been afforded.
The Fonz and the Happy Days Gang (ABC): After six years as a top rating sitcom and having spun off such delights as Mork and Mindy, Laverne and Shirley, and – erm – Blansky's Beauties, Happy Days still had some life in the old offshoot machine, spitting out a weird mix of The Fonz and the usual gang with time-travel show Doctor Who.
The Fonz and the Happy Days Gang starred the titular cool guy, the oldest swinger in town, who is hanging out with people far too young to be his friends, as usual, when they are visited by a girl from the future with a malfunctioning time machine. Safter using his mechanical nous to fix Cupcake's machine, the Fonz and the gang – Richie, Ralph Malph, and a talking dog named Mr Cool (poor Potsy…) – are whisked off on time-travelling adventures, visiting everywhere from ancient Egypt to King Arthur's Camelot.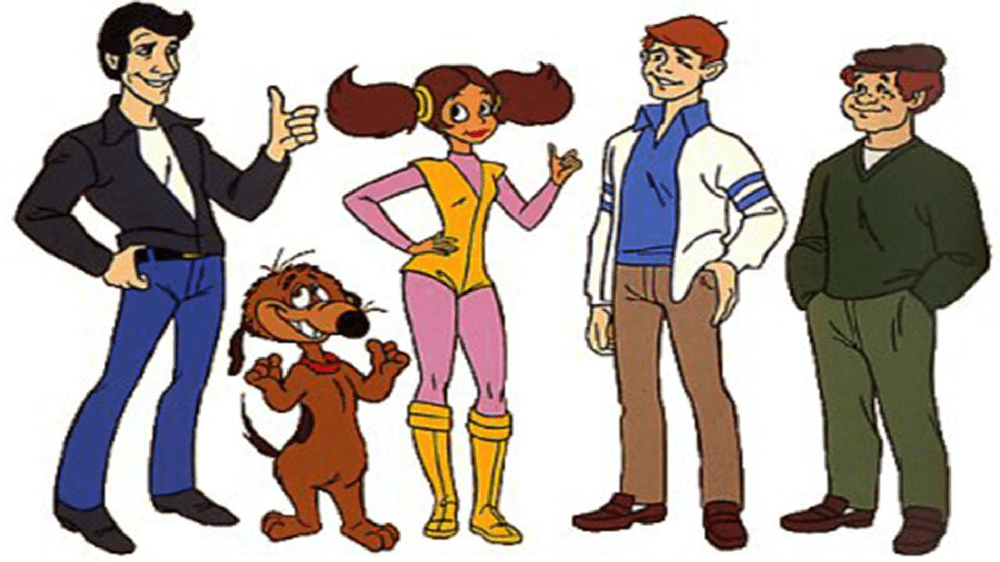 Henry Winkler, Ron Howard, and Donny Most reprised their sitcom roles, with Grease's Frenchy, Didi Conn, as Cupcake and the ubiquitous Frank Welker voicing Mr Cool. Twenty-four episodes were produced by Hanna-Barbera, across two seasons, after which Fonz and Mr Cool joined the cast of Laverne & Shirley in the Army, another animated spin-off from the Happy Days universe.
Happy Days itself outlasted all of its spin-offs, animated or not, finally closing the doors of Arnold's diner in May 1984. Ron Howard, who by then had moved into directing and scored a hit with Splash that Summer, returned for the finale, which officially wrote the Cunninghams' third child Chuck, who had been absent since season two, out of existence. Maybe someone tinkered with the time stream, eh?
Next on The Telephemera Years: we're going back to the 1990s – 1992 to be exact! – for the wildest palms and most dangerous theatres…
Check out our other Telephemera articles:
The Telephemera Years: 1966 (part 1, 2, 3, 4)
The Telephemera Years: 1968 (part 1, 2, 3, 4)
The Telephemera Years: 1969 (part 1, 2, 3, 4)
The Telephemera Years: 1971 (part 1, 2, 3, 4)
The Telephemera Years: 1973 (part 1, 2, 3, 4)
The Telephemera Years: 1975 (part 1, 2, 3, 4)
The Telephemera Years: 1977 (part 1, 2, 3, 4)
The Telephemera Years: 1980 (part 1, 2, 3, 4)
The Telephemera Years: 1982 (part 1, 2, 3, 4)
The Telephemera Years: 1984 (part 1, 2, 3, 4)
The Telephemera Years: 1986 (part 1, 2, 3, 4)
The Telephemera Years: 1987 (part 1, 2, 3, 4)
The Telephemera Years: 1990 (part 1, 2, 3, 4)
The Telephemera Years: 1992 (part 1, 2, 3, 4)
The Telephemera Years: 1995 (part 1, 2, 3, 4)
The Telephemera Years: 1997 (part 1, 2, 3, 4)
The Telephemera Years: 2000 (part 1, 2, 3, 4)
The Telephemera Years: 2003 (part 1, 2, 3, 4)
The Telephemera Years: 2005 (part 1, 2, 3, 4)
The Telephemera Years: 2008 (part 1, 2, 3, 4)
Titans of Telephemera: Irwin Allen
Titans of Telephemera: Stephen J Cannell (part 1, 2, 3, 4)
Titans of Telephemera: Hanna-Barbera (part 1, 2, 3, 4, 5)

Titans of Telephemera: Kenneth Johnson
Titans of Telephemera: Glen A Larson (part 1, 2, 3, 4)