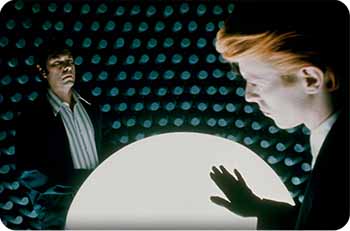 Join us as we take a look back at a seminal sci-fi oddity from the seventies, as we examine THE MAN WHO FELL TO EARTH…
Three years after his stylish and haunting take on the Daphne du Maurier short story Don't Look Now, cinematographer-turned-director Nicolas Roeg followed it up with a sprawling science fiction fable of human excess, avarice and corruption. The Man Who Fell to Earth straddles the netherworld between reverence and obscurity, where its power still holds court with filmmakers, though it remains largely underappreciated and misunderstood.
Based on the 1963 novel of the same name by American author Walter Tevis, TMWFTE (as we'll refer to it from hereon in) told the story of extraterrestrial Thomas Jerome Newton, who's desperately trying to get his parched planet's people to Earth's aqua. This served as the basis for the movie, but it took several narrative dovetails, not least in allegory and exposition. Where the novel provides explanations for Newton's afflictions and strangeness, the film makes no concession and lets its weird locks out, leaving much unsaid and ambiguous. Tevis' novel was far more political in nature than Roeg's dreamily muddled movie (it saw the Republicans and Democrats have it out), but both agree on Newton as a martyred figure. In the film, which eclipsed the success of the novel, Newton patents novel technology in an attempt to fund and build a spacecraft home. This new tech drastically changes the world, with Newton becoming a corporate playboy in the process, almost overtaking American's largest conglomerates. Having built his ship, he's accosted by corporate America and its government and made to endure a series of experiments. Newton is undone, exploited, and his genius and alien standing ultimately controlled, but his fall from grace is due in no small part to his own vices, which by the film's close have become dependencies.
David Bowie won the Saturn Award for Best Actor for his captivating performance as the androgynous and angelic Newton (named after Isaac Newton, being one of many motifs of falling throughout the film), in his first feature film role. The story goes that Roeg was enthralled by the 1975 Bowie profile Cracked Actor and, despite his lack of film experience, he was exactly what the director was looking for in his upcoming project. Indeed, the character of Newton was in command of many of the subtleties and qualities that Bowie himself was portraying in the profile, an enigmatic and cerebral being that, for lack of a better word, seemed alien. At this time, Bowie was touring Diamond Dogs across America, and the narrative drew many parallels with the trajectory of Bowie's career and his feeling of being a foreign body in the US. The similarities were beyond coincidence. It was a match made in heaven, or the cosmos, at least.
A meeting between the filmmaker and rock star was scheduled at Bowie's swanky New York apartment, but Bowie had all but forgotten the meet and greet, remembering only four hours after the agreed time. When he finally turned up, Roeg was still there, a picture of patience, confident that only Bowie was the man for the job. After this clash of creative titans, he signed on for the film without even reading the script. While he had been offered numerous film roles throughout the previous year, they were made up mostly of shoddy exploitation flicks. Then along came Roeg, a serious filmmaker with an avant-garde chiller, a metaphysical adventure and a co-directing credit on the Mick Jagger vehicle Performance in his filmography, and all Bowie would have to do is be himself. He has gone on record and spoken of the chemistry between himself and Roeg, a mutual and jovial understanding. While TMWFTE has plenty going for it, Bowie's sensuous performance is the lynchpin and without, well, it's unlikely we'd be talking about all these decades later.
But it wasn't all about Bowie. Roeg's then girlfriend and American Graffiti actress Candy Clark took on the role of Mary-Lou, chambermaid and all round handy-woman at a slapdash hotel. She's lonely, disadvantaged, naive and captivated by Newton, as the two of them form an intimate relationship and she introduces him to the joys of sex, gin and television. Clark is able to convey need and sensuality with an air of commonality, and her development into Newton's carnal casualty and a woman ravaged by time and alcohol is a remarkable transformation. She's at first overshadowed by Bowie's presence, but props him up with the nuances of her own performance. Rip Torn, likewise, adds to the richness of the acting as the lecherous seducer of his nubile students, and there's even a cameo appearance from Apollo 13 spacecraft commander Jim Lovell.
Roeg is an abstract creator, finding meaning by marrying theme and images in a distinctive style, allowing precise patterns to form onscreen and in the viewer's mind. TMWFTE employs his infamously idiosyncratic editing style, where seemingly random asides that puncture the idea of linear narrative and traditional storytelling flesh out a mesmerising filmic experience. It was an approach that worked beautifully on Don't Look Now as a series of lingering flash forwards and haunting foreshadowing. Roeg takes this a step further on his sci-fi outing, with flourishes of surreal and nonsensical imagery, culminating in a heady film that's difficult to make head or tail of, though it's far from impenetrable or accidental. He revealed in 1999 that his intention with the film was to remove any sense of time, noting how preoccupied with it we are in everyday life. In the pensive slur of images and ideas, it's evident that the events are linked by an abstract otherness rather than the passing of time, with decades passing in seconds and Newton never visibly ageing.
On the subject of time, the film isn't short at two and half hours, but watching it feels more like an experience than simply something to while away the time. But based on a test screening, TMWFTE's American distributor Donald Rugoff trimmed the film by twenty minutes, and even this he felt was pushing it, going so far as to propose a prologue to beg audience indulgence. Needless to say Roeg wasn't happy, and the film has subsequently been released in a variety of formats in its full and uncut iteration. The narrative is enigmatic, but cutting out some of the more surreal turns won't help impatient cinema goers. It requires plenty of work on the viewer's part, and the experience can be a deeply personal one. It's allegorical and philosophical and, more often than not, baffling. Even scriptwriter Paul Mayersberg wasn't much interested in logic or continuity.
Having distributed Don't Look Now, Paramount Pictures agreed to put up $1.5m for TMWFTE, marking Roeg's biggest budget to date. Prolific producer Michael Deeley used this to fully finance the film. Production was scheduled for 11 weeks and began in early July 1975, predominantly in and around New Mexico, with the interiors filmed at Surrey's Shepperton Studios. But the shoot hardly went smoothly. The cameras would often jam for no apparent reason, Hell's Angels interrupted the scene on an Aztec burial ground, and Bowie fell ill after drinking some funky milk (to this day, no one knows what the dodgy substance floating in the lactose was). Bowie was also using cocaine during the production, snorting up to 10 grams a day, to the extent that he had little memory of the shoot. On the plus side, the gaunt and emaciated look worked wonders for his portrayal of the humanoid Newton. He even allegedly had a hankering for ice cream throughout the shoot, so much so he needed to be dissuaded from eating it as he was piling on the pounds. Paramount Pictures' Barry Diller reportedly refused to pay for the film after he saw the finished article, citing differences to what the studio had envisioned. UK distributor British Lion responded by suing Paramount, sparking a small coup and receiving an appropriately small settlement. With the help of a measly US release via Cinema Vin and foreign sales, the film just managed to scrape back its budget.
The soundtrack is often disruptive, and proves to be one of the more dated aspects of the film. Bowie ended up writing several songs for the film, one of which, the ethereal, pointedly spacey Brian Eno collaboration Subterraneans, went on to feature on Low. He began recording bits of both Low and Station to Station during this time. In the end, Roeg went for a score by Japanese composer Stomu Yamashta, overseen by musical coordinator and former Mamas and the Papas leader John Phillips. In 1977, Bowie sent a copy of Low to Roeg, with a note that said this was what he wanted for the film. Even the sleeve is based on the film poster, with Bowie still very much in Newton mode.
TMWFTE is difficult to interpret, or to single out any consecutive, lasting meaning. It's an enigma, like its central character and the rock star portraying him. It satirises the excess and avarice of American culture and, by extension, human beings, seen from the point of view of that most reliable of outsiders, the alien. Whatever your own interpretation, The Man Who Fell to Earth is a lasting melange of impressive imagery, and a master class in editing. It remains distinctly on the periphery of time, sense and fashion, and we'd have it no other way.
You can catch THE MAN WHO FELL TO EARTH on HORROR CHANNEL – available through SKY 319, VIRGIN 149, FREEVIEW 70, FREESAT 138 – on August 9th at 9pm.