Features | Written by Andrew Dex 26/09/2022
Sosie Bacon | SMILE
For her first major lead performance, Sosie Bacon (Mare of Easttown/Scream: The TV Series/13 Reasons Why) is taking on the character of Rose in the psychological horror Smile. STARBURST caught up with Sosie to find out how she approached such an intense and multi-layered role, what it was like to work with its writer/director Parker Finn, and why readers should watch this movie on the big screen…
STARBURST: Can you tell us how you got involved with the world of Smile? 
I was sent the script and the short film Laura Hasn't Slept. Mare of Easttown had come out, and I was trying to figure out what I was going to do next. I always wanted to do a horror movie eventually, I just wanted to be choosy about it because there are so many out there, and I like the genre a lot. I read the script, and I'm really bad at reading scripts, I prefer reading novels where they explain everything that's going on around the person. With scripts, you have to make it up, and try to be visually engaged. It's so hard for me. I read it, and there's this one jump scare that you will see when you see it, but it really shook me, and I was like "Wow! OK, I've never seen that", so that got me. The psychological aspect got me into it, the thriller nature, and the following of this woman. It was really well done, and then I watched Parker's short, and that really solidified it as well. Visually, it was just so interesting, the way he told the story with the camera and the set design. It was clear that he had a unique take on this, so I was stoked.
Can you tell us about the research you did when you found out you were going to be Rose? Obviously, you could look back on Laura Hasn't Slept, but is there anything else you wanted to look into? 
Yeah I mean for sure, when it comes to building a character, I've done that so many times. What I liked about this one, was finding out a lot about mental illness that I wasn't aware of, about childhood trauma, and sort of how it manifests itself in adult life. I'm very schooled in therapy stuff, just because I love it, and find it fascinating, and also, what a person who works in an emergency psychiatric unit does on a daily basis. It's intense, and it's a lot. The education process of getting there is a lot. So that was fun stuff to research.
Was there anything that you really wanted to bring across from Laura Hasn't Slept into Smile? We know the plot isn't exactly the same, but maybe there was something contained within the short that inspired you? 
I think that most of that stuff, was the filmmaker's job, Parker's job. The thing that really caught me was the way that it was done, and I was excited that he had a vision to continue that. It's just really cool when you've seen so many movies, to see how they did something with a camera and what that revealed, what they chose to put in that shot, and the way they used special effects. We used almost all practical SFX in Smile, which he did in the short, and it really adds a creepy element of realism, kind of gross, nasty. It just all feels like the way movies used to be made. I love all of the CGI stuff and everything, but it's cool to see that being attempted and pulled off.
Within the movie, you're obviously dealing with a supernatural threat, but at the same time, what we see feels quite grounded in a sense of realism. What were the challenges behind balancing those two elements, and how did you make it work? 
I can't really act in a non-grounded way, which I don't think is good for my own self, and brain, when it comes to a movie that is this dark. I really can't go to this other level of ridiculous, and be honest with it. The performances have to be grounded and honest, and with this one, I considered it no different. It's just that the circumstances were really dark and really gnarly. What's funny is there are a couple of moments where things do go off the rails in a way that's almost ridiculous, which happens in most horror movies. I know that I was doing that, but it's not because I was trying to do that, it's because I think that it was later in the shoot, and I had bought into the fact that this was my world, so those were my genuine reactions. People will think that I'm doing that, but I'm not. I was just deep in; my brain was in the world.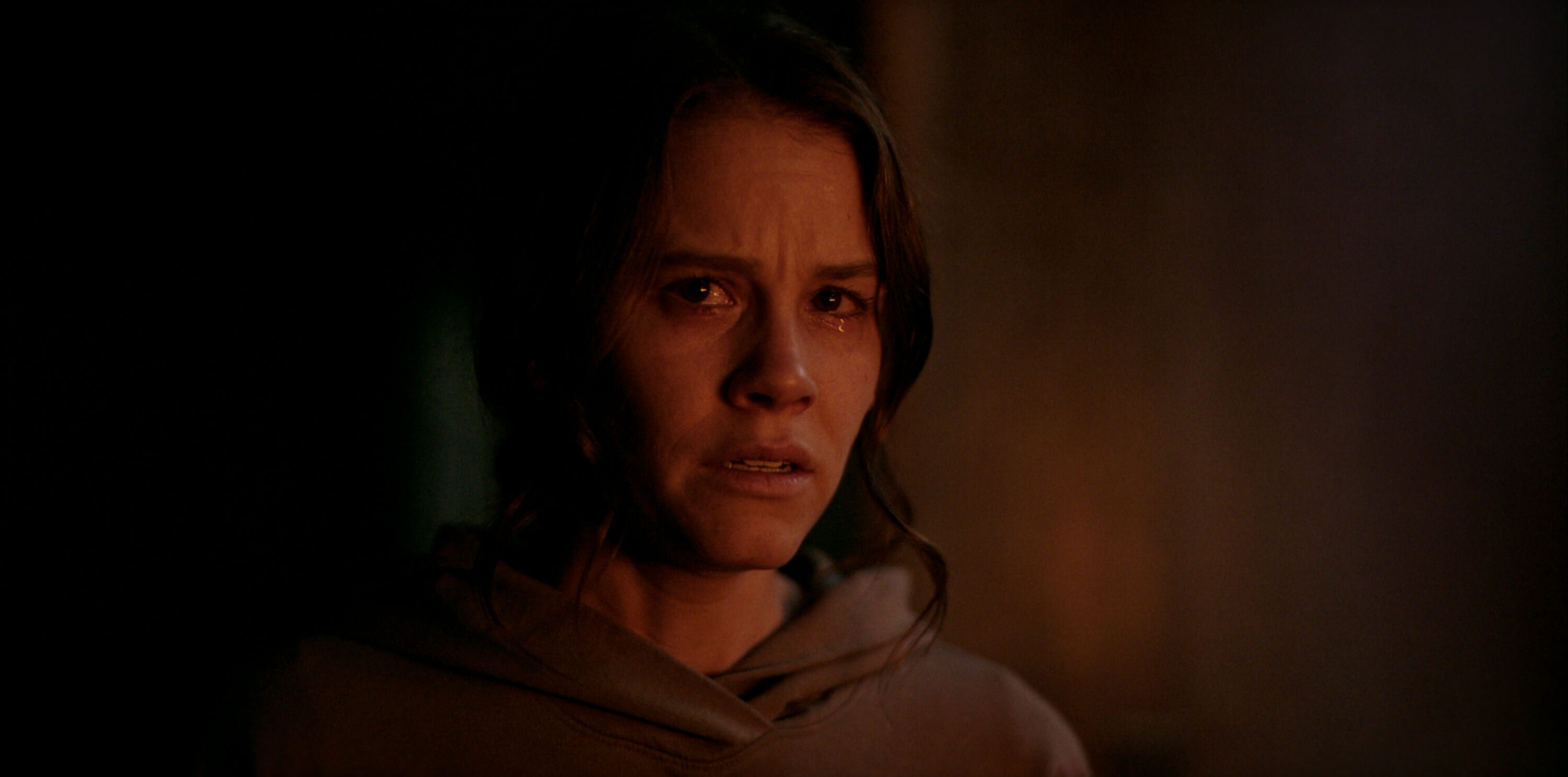 This is your first major lead role, and according to Parker, you're in almost every scene in the movie. What has the filming process been like for you overall, and how do you think it compares to anything else you've worked on so far? It sounds pretty intense to, say the least! 
Yeah, I'm in every single scene, and almost every frame. It's so cool that I got this opportunity, I've been doing this for a really long time, but I did want to get the opportunity to lead a movie, and be the one that is there throughout it. It's hard to get that. I'm grateful for a lot of things, one is that I did so many supporting roles for so many years because I think it really builds you up to the place where you have the ability to take on the leading role. So it couldn't have come at a better time, but people do have a hard time taking those risks. Because it's the person that is going to lead the whole thing, and it's a bigger job than just acting in the scenes, there's a way that you have to carry the whole thing. It's a lot, and I don't think there's anything to prepare you for that kind of experience. I think you just have to kind of do it, it was hard, it was tough, but I'm grateful that I got that opportunity, and hopefully people feel like it works, and then I can do it again, because I would love to do it again! I'd also love to do the supporting role, and just be able to chill for a second!
Can you tell us more about what it was like to work with Parker when it came to bringing Rose to life, and was there something in particular that he really wanted to see from you? 
What was great about working with Parker was that he stayed true to the vision that he had from the beginning. It's rare for someone who hasn't directed a feature before to get the opportunity to direct a studio feature, it's a big deal. So the reason why that happened, is I believe, that he had a very clear, and specific vision. And he really was passionate about seeing that through. Sometimes, when you get to set, and a million things are going on, you don't have time, a lot of first-time directors of features would let things go, this one shot, or this and that. But he stayed very true to his vision, and one of the best things he was passionate about doing was keeping it from Rose's point of view. Taking time with those moments where she was alone, just as much as moments when she was with other people. Her face and her eyes, lead the whole movie, which is a testament to Parker. Those are the things that start to fall by the wayside typically when you lose time.
Since Parker is both the writer and the director, what kind of effect did that have on the collaboration process between you? Did you have a really direct and clear vision from him throughout?
Yeah, he had a very specific, clear vision every step of the way. I do most of my preparation, kind of alone. I build it by myself, I don't think it changes the performance that you get necessarily, in a very obvious way, but a lot of that stuff I do on my own, and then you get there, and then you start working together.
Parker also mentioned that one of the elements he enjoyed bringing to the movie was that idea of "No one around you, trusting you". Would you agree that that's an important factor Rose has to live with, and how interesting was that to work on?
Yeah, that's huge. I mean, it's like everybody's worst nightmare to be so certain of something and nobody believes you. I feel like that is one of the more disturbing feelings, it's a feeling that probably women get very often. It's a tough subject to contend with, and it's terrifying. Watching her go through that, I think – I don't know for a fact – will be anxiety-inducing for audiences.
Caitlin Stasey, who played the lead in Laura Hasn't Slept is in this movie, what was she like to work with, and did she maybe give you any stories/memories from playing Rose herself? 
She's lovely. She came in for a day to do that whole sequence. It's a lot. It was a long, and challenging day, and she killed it. Once you see the movie, you'll notice that the way that was done is cool because a lot of the times we are on one character's face, and then on another character's face. It's very one character, then one character. Which is amazing, and it also makes it so that you do a lot of takes. It was a lot of takes to be so emotional, all that physical stuff, and it was cold! So yeah, she was amazing. We didn't get to talk too much about the short, we were working a lot, and it was very work-focused when we were on set, because we had so much to get through. Hopefully, I'll see her at something coming up, because now I want to chat socially, like "Hey!"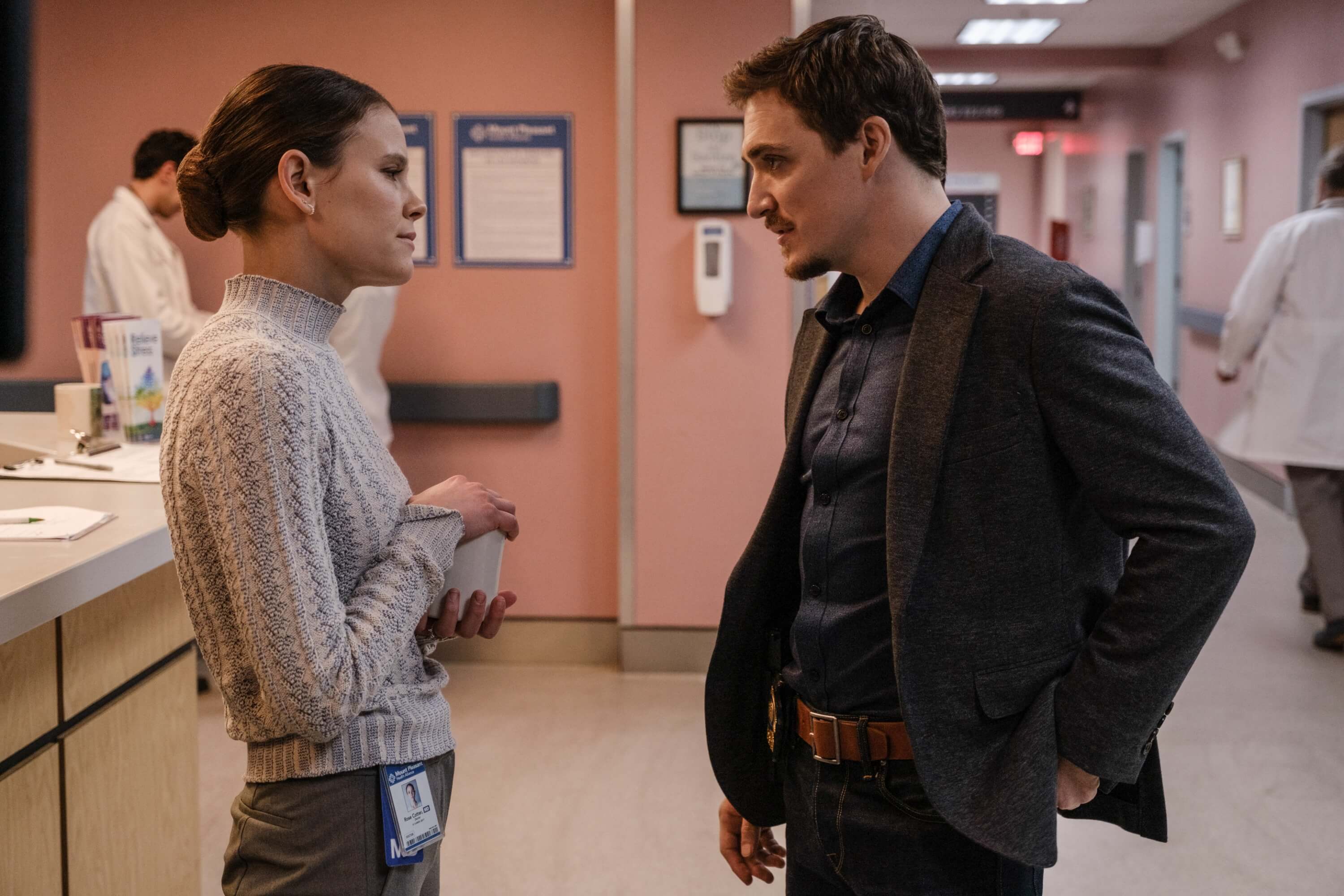 From Kyle Gallner and Jessie T. Usher alone there's just a really great cast in this movie! Could you tell us a bit more about what the main cast were like to work with, and what you think they brought to Smile? 
Everyone brought something different. Like I said, I was spending most of my time acting alone, so when somebody got to come on set and be with me, I was just so grateful. Jessie was so fun, and cool, and had such a grounded, calming energy compared to my crazy anxiety. Robin Weigert has been in theatre in New York forever, and she's lovely, also very calming, and it was also cool to work with such a legend in the New York theatre world. She is prolific in her acting. Kyle and I vibed from the second we met each other. I just think he is amazing. We just had so much fun, and he was a real support for me throughout. Jessie was only in a little bit at the beginning, well, throughout, but he was in this one location, so Kyle kind of saw it all through, and he was in a lot of the moments. He was a real leaning post for me, because it was hard. He is a wonderful actor.
Leading on from that, Parker said that filming in New Jersey went so well, that it ended up becoming a character in the movie. Do you also see it that way, and what did you yourself enjoy the most about working in that location? Well, I'm from Manhattan in New York City, so it was kind of interesting and cool for me to shoot out there. The thing about New Jersey is it's so suburban, if you go to Newark, where the airport is, which is around where we were shooting, first of all, it's so depressing. Then you go a little further and there are all of these fancy, New England towns. I don't know, it just has everything, and it had everything that we were looking for in terms of the locations informing what you see in the movie. I love that, because for me that's a real way to hook into a story, a movie, and a character, by looking around and going "Where am I? What does this mean about who I am, where I grew up?"
Was there a particular location, or set piece that you found particularly rewarding to work on?  
The hospital bed. They built the interior of the hospital on a stage, specifically because Parker wanted a very specific colour palette. It's just really cool, the way that it's painted, the way that it's shot, it's very interesting. I don't know how to explain it without giving it away, but there's something very sinister about that hospital and the way that it's put together. Even though it was on a stage, and people never like the stage portion because it's not a location. Once you see the movie, you'll realise that the hospital is really iconic.
Finally, why should STARBURST readers check out Smile? 
It's just so fun to go and see a horror movie in the theatres. After this whole time that we haven't been going to theatres, the only movies that are in theatres are these big Marvel movies and action movies. So I just think there's something nostalgic and fun about going. I'm not promising you're going to have fun! There's something nostalgic and fun about going with your friends to a horror movie. Making a night of it. Seeing it on the big screen, screaming. If you go with a date, you can hold hands! It's a good way to decide if you like a person. Horror movies are so nostalgic, but it's really scary, so I don't want to lead people astray as if it's going to be so fun. But do it, go see it in the theatre, definitely don't wait for streaming on this one, because it's a theatre movie. It's important that you do.
Smile is in cinemas on September 28th. You can read our interview with writer/director Parker Finn here.