Features | Written by STARBURST 18/12/2018
[ENDED] Signed Posters For New Gangster Ghost Movie POLTERHEIST Up For Grabs
There is an early release DVD version of this ready now or you can wait till the main release early next year. We recommend you get hold of it as soon as you can!
We have five quality signed posters to get your hands on
To be in with a chance of winning one of these, simply answer the below question:
What is the name of the Psychic who the crims kidnap to help them find where the dead mans loot is buried ?
a) Derek Pakora
b) Alice Moon
c) Sally Winderbottom
Email your answer, along with your address details, to comp@starburstmagazine.com labelled POLTERHEIST before midnight on  Wednesday January 2nd .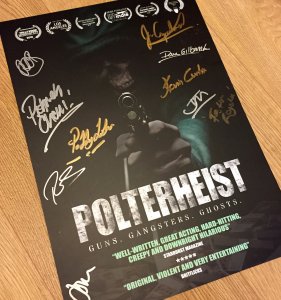 The official word on this new release reads:
In this "creepy and hilarious" British crime tale, two hapless small time criminals kidnap a psychic medium, forcing her to contact the gangster they murdered to find his buried cash.
Racing against the clock with fear of reprisal from a psychotic gang boss, they accidentally unleash a demon hell bent on revenge.
Blending gangsters, supernatural horror and laced with dark humour, Polterheist is already generating rave reviews as one of the most original British movies of the year. The film is co-written and directed by David Gilbank and features a talented up-and-coming cast
including Jamie Cymbal, Sid Akbar Ali, Jo Mousely and Pushpinder Chani.
EXCLUSIVE EARLY DVD EDITION AVAILABLE NOW
Available from:https://www.tribal.film/polterheist/ 
ON GENERAL RELEASE FROM JANUARY 2019
Terms & Conditions:
TRIBAL FILMS and STARBURST do not accept any responsibility for late or lost entries due to the Internet or email problems. Proof of sending is not proof of receipt. Entrants must supply full details as required on the competition page, and comply with all rules to be eligible for the prizes. No responsibility is accepted for ineligible entries or entries made fraudulently. Unless otherwise stated, the Competition is not open to employees of: (a) the Company; and (b) any third party appointed by the Company to organise and/or manage the Competition; and (c) the Competition sponsor(s). This competition is a game promoted STARBURST. STARBURST's decision is final in every situation and no correspondence will be entered into. STARBURST reserves the right to cancel the competition at any stage, if deemed necessary in its opinion, and if circumstances arise outside of its control. Entrants must be UK residents and 18 or over. Entrants will be deemed to have accepted these rules and to agree to be bound by them when entering this competition. The winners will be drawn at random from all the correct entries, and only they will be contacted personally. Prize must be taken as stated and cannot be deferred. There will be no cash alternatives. STARBURST routinely adds the email addresses of competition entrants to the regular newsletter, in order to keep entrants informed of upcoming competition opportunities. Details of how to unsubscribe are contained within each newsletter. All information held by STARBURST will not be disclosed to any third parties