Features | Written by Martin Unsworth 16/11/2020
Short and to the Point – BFI Flipside's SHORT SHARP SHOCKS
Short films have become a popular staple of film festivals but SHORT SHARP SHOCKS, the 41st release from BFI Flipside, shows us that the format has been used for much more commercial means previously…
The new collection, Short Sharp Shocks, released by BFI Flipside - which deals with releasing British movies that have been neglected; the seedier, more sleazy films that tend to interest us more than the populist classics - features seven shorts that have been lovingly restored and transferred in HD. They range from experimental narrative works to straight-faced ghost story recitals. In the latter category, they are practically quaint by today's standards. Lock Your Door and The Reformation of St Jules were both made in 1949 and are perfect examples of fire-side ghost tales. They are told, with no narrative cutaways, by the writer Algernon Blackwood. His stories, particularly The Wendigo, are still be adapted today and at the time he would tell his tales on the radio and television. These two filmed versions would have Blackwood recollecting from his parlour. The effect is like sitting down with a great grandfather. He appears awkward in front of the camera, but this adds to the eeriness. The stories are not those of surprise or horror, but more quiet apprehension with notions of the uncanny. It's hard to imagine a modern audience getting much out of them at the local Odeon, but no doubt at the time they would be enough to send some shivers down the spine.
Another stagey-but-brilliant inclusion is the 1953 version of The Tell-Tale Heart. Edgar Allan Poe's story has been brought to the screen many times and suits the short form. Directed by J.B. Williams, it has the great Stanley Baker asking us: "Why would you say that I am mad?" Poe's prose is presented as a monologue and works perfectly as such here, with Baker showing the promise that his career proved.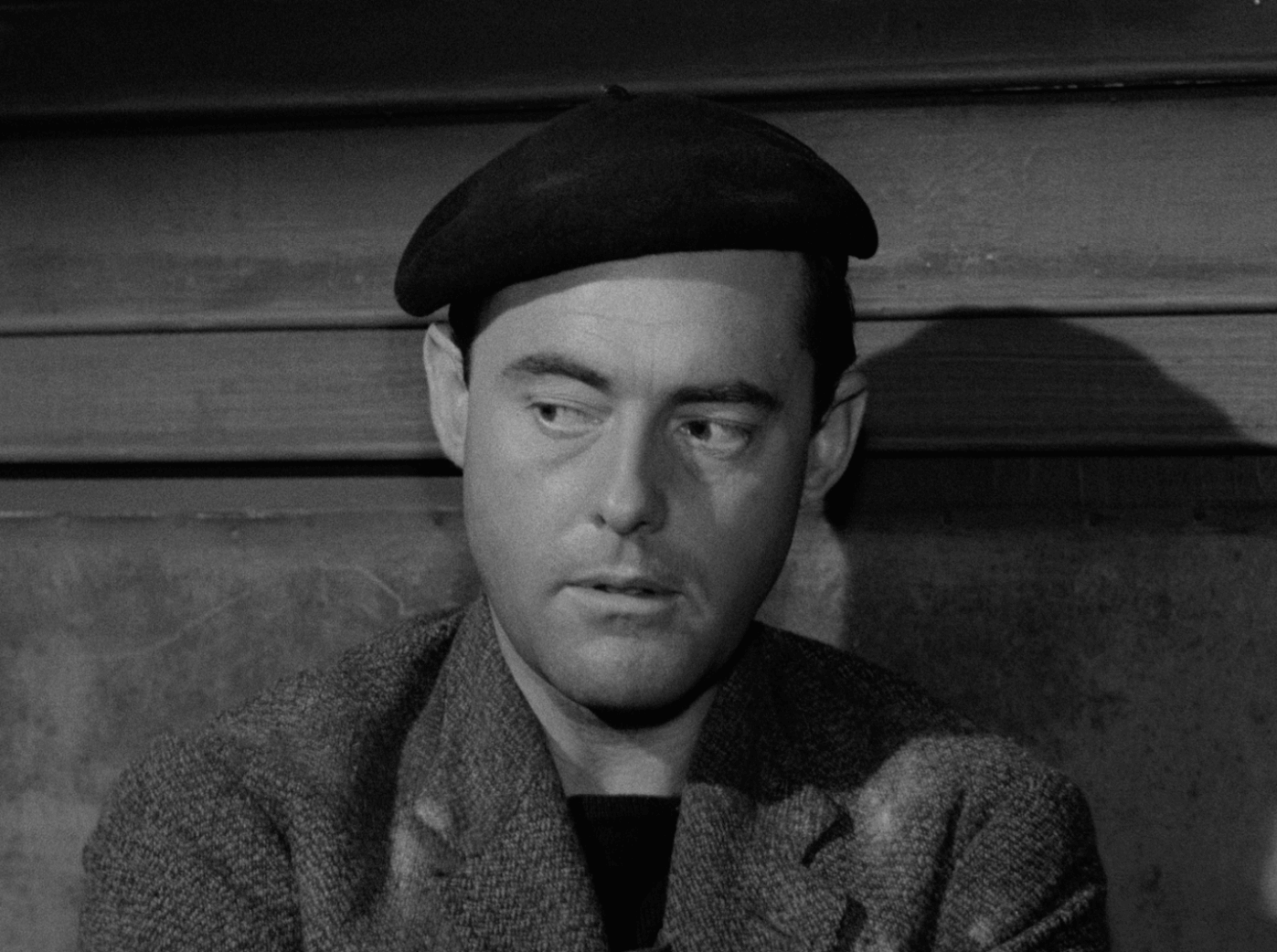 The collection also contains some shorts presented as traditional narrative tales. Death Was a Passenger and Portrait of a Matador (both 1958) are two intriguing stories directed by Theodore Zichy, who was perhaps better known as an actor, appearing in Powell and Pressburger's The Life and Death of Colonel Blimp (1943). The former has 'know-his-face' actor Terrence Alexander recounting a lucky escape he had while trying to escape the Nazis on a train at the start of WWII. The latter is a more genre-friendly affair in which an artist is tormented by the arrival of a portrait he painted a year earlier - that of a bullfighter. The subject hated it and was killed in the ring soon after, and the artist is convinced the canvas bears a curse.
The release features a brace of shorts that are more akin to the ones that we recall seeing in the flea pits. Twenty-Nine (1969) sees a man (Goodbye Gemini's Alexis Kanner) awaken in a strange apartment, unaware of what had occurred the previous night. Trying to put the pieces of his fractured memory together - and keep his wife from finding out whatever it was. Like an episode of Tales of the Unexpected, this has a lovely little twist, and a surprising appearance from George and Mildred's Yootha Joyce, as well as giving us a small glimpse of Soho in the sixties. The Sex Victims (1973) has a modern-day Lady Godiva (Felicity Devonshire) leading a trucker astray only to have him and his friend (Alun Armstrong) come to a sticky end. The Lake (1978) is an atmospheric tale in which a couple (Gene Foad and Julie Peasgood) enjoy a picnic in the grounds of a farmhouse, where previously the owner had killed his family and livestock. It was written and directed by Lindsey C. Vickers, who was an assistant director on several later Hammer movies, and it's a beautifully shot, eerie tale. Finally, there's The Errand (1980), which follows a soldier tasked with retrieving a message and coming off worse for it. This one has significant genre credentials as it was written by David McGillivray, best known for his screenplays directed by Pete Walker and Norman J. Warren. A keen eye might be able to spot FrightFest supremo Alan Jones, too.
The popularity of the feature-length double bill, and then the abandoning of the continuous performances at cinemas spelt the end of the short as a theatrical treat. As mentioned, they now tend to only get festival-only screenings before being released to YouTube and the like. It's becoming increasingly popular to repackage them into anthology features, which at least gives them more exposure.
Acknowledgements and thanks are given to Vic Pratt from BFI Flipside for providing insight when putting this feature together.
BFI Flipside's SHORT SHARP SHOCKS hits Blu-ray on November 23rd and is reviewed here.