Features | Written by STARBURST 25/10/2017
Seven Best Home Movie Set-Ups That Money Can Buy
Everyone likes watching a movie on a big screen and feeling like they're transported into the fantasy world as the lights go out, but not many can afford doing it from the comfort of their own home. Rich and famous, however, don't really feel like waiting in a line to see a movie when they can spend thousands or even millions building elaborate media rooms that bring fantasy world to life.
People who are interested in installing an average home theatre usually have to cash out around $26.000, and even that is a luxury common people can afford only after checking their online lotto results and finding out all their numbers matched. Securing that sum of money is a piece of cake for those who have millions at their disposal – they're ready to go to infinity and beyond and move boundaries with innovative and technically impeccable movie set-ups, which are often inspired by their favourite cinematic universe.
1.   Jeremy Kipnis' record-breaking media room worth $6.000.000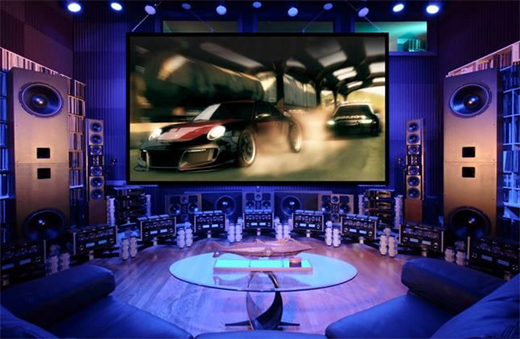 Hailed as "the greatest home cinema on Earth", Jeremy Kipnis' revolutionary creation broke several records for being the biggest, most technically advanced, largest and most immersive home theatre and gaming set-up in the world. The price tag of $6.000.000 makes it the most expensive one as well, but extremely long and unbelievable list of the theatre's components is a good explanation to why it costs this much. Sitting options are limited, though, since it only features three-cushion couch, but whoever gets to occupy it will certainly witness the greatest show on Earth.
2. Movie set-up that makes you feel like sailing the high seas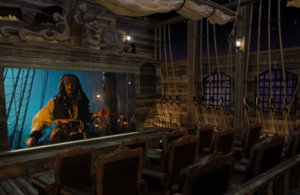 "Pirates of the Caribbean" is one of the most successful movie franchises of all time, so no wonder it inspired one of the most expensive home theatre concepts, too. A mysterious fan from Florida was ready to splash out $2.500.000 in order to create an illusion he's on board of an infamous pirate ship while watching movies at home. In addition to plush theatre chairs, white sails draped overhead, and entrance stairs leading to the deck with the big wheel, this theatre also features the social area, which was remodelled into an authentic tavern for the most wanted of the high seas.
3. Home theatre every Trekkie dreams of owning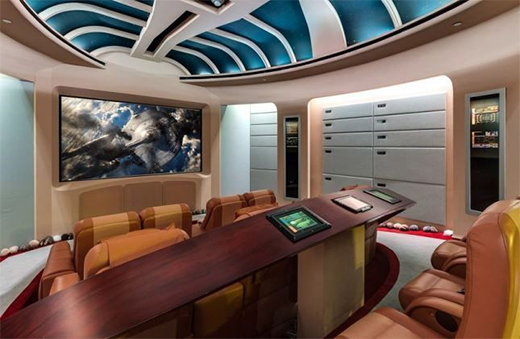 There are dozens of home theatres inspired by Star Trek, but none of them is as elaborate (and as expensive) as the one built by Marc Bell. This Florida-based financier invested $1.500.000 to turn his media room into the USS Enterprise, the spaceship featured on "Star Trek: The Next Generation". The designers of this movie set-up spent a lot of time studying pictures of the show, so everything would look completely authentic. A wrap-around control centre is surrounded by
11 custom leather chairs, eight of which can recline into beds. The room also features the exact replicas of the Turbolift doors seen on the TV show and Bell's collection of Star Trek memorabilia worth $1.000.000.
4. America's most expensive house is the home of the best James Bond theatre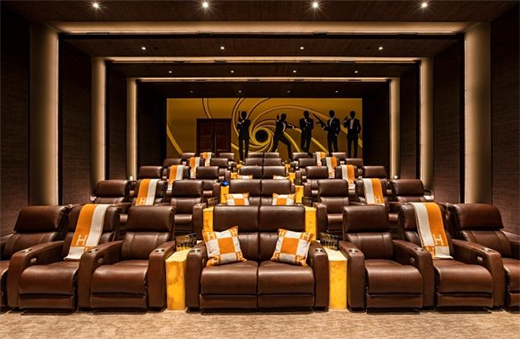 When Bel Air mansion built by Bruce Makowsky hit the market with a $250.000.000 price tag, the media named it the most expensive house in America. Film buffs, however, were impressed by something else entirely – its movie set-up inspired by Agent 007, worth $2.000.000. This James Bond-themed screening room features 40 hand-crafted Italian leather recliners, and the 4K projector pre-loaded with a lot of games and 7.000 movies that you can enjoy watching on a 22-foot screen. The space is also equipped with the first-rate sound system featuring 57 speakers and 16 subwoofers.
5.  The Dark Knight fan transforms his media room into a Batcave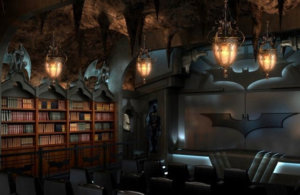 What do you do when you have millions at your disposal and adore Batman? Create a home cinema replica of his cave, of course. Or at least that's what one super-fan from Connecticut did, with a little bit of help from Canadian-based company Elite Home Theater Seating. It cost him $2.000.000, but the result is so magnificent even Bruce Wayne himself could be fooled! It features a Batmobile, batsuits, 180-degree film screen, winged gargoyles, private cylindrical stainless steel elevator with glowing bat symbol, mock secret tunnel exit, bat computers, race-car inspired home theatre chairs – and even a separate study which serves as the entrance to the hidden cinema!
6. Movie theatre that takes you to a galaxy far, far away
Star Wars inspired more movie set-ups than anyone can name, but the most luxurious one we came across is owned by one family from Honolulu. More of a tribute than an exact replica, this home theatre was designed by the Custom Home Systems from San Diego, who hid all the wires from the plain sight giving it transcendent, clean look. In addition to the 107-inch screen, it has life-size replicas of R2D2 and C3PO that can talk!
7. Elegant set-up worthy of Captain Nemo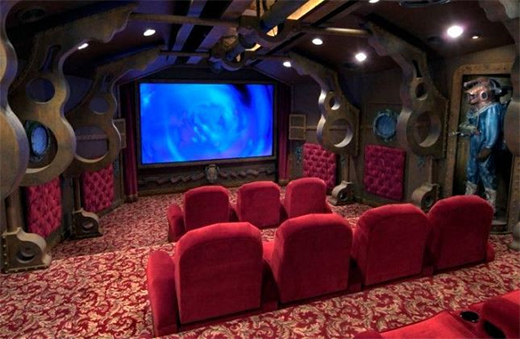 Jules Verne is often considered a visionary author ahead of his time – and if he had a chance to witness the birth of cinema and have a theatre of his own, it would probably look something like this. Inspired by his most famous novel "Twenty Thousand Leagues Under the Sea", this replica of the Nautilus submarine was designed by Dillon Works Inc. for Dallas-based dentist Randy Moran and his wife.