Features | Written by Paul Mount 10/04/2018
Save Your Last Breath: Revisiting DeepStar Six
There was clearly something in the water in Hollywood in the late 1980s. Having apparently exhausted the potential of the spaceborne sci-fi saga in the dozen or so years since Star Wars changed the movie game forever, Tinseltown's movers and shakers - the great and the good (and, as it probably turned out, the not-so-good) - decided to look a little closer to home for the next big thing in blockbuster cinema. News that wunderkind director James Cameron, who had caused a stir with The Terminator in 1984 - a film whose reputation was growing exponentially in relation to its modest box office - was working on a science fiction spectacular set underwater sent studios scurrying to greenlight their own aquatic adventures in the hope of stealing a march on Cameron's somewhat more ambitious and, as it turned out, cerebral salty sci-fi saga.
DeepStar Six was actually in development in 1987 and went into production almost concurrently with Cameron's The Abyss. The film was directed on a modest eight-million-dollar budget by Sean (Friday the 13th) Cunningham, stepping into the breach when original director Robert (The Hitcher) Harmon dropped out, from a script by Geof Miller and Lewis Abernathy who at the time was a close friend of Cameron. Not surprisingly, Cameron was concerned at the prospect of two similarly-themed SF movies arriving in theatres at the same time and when Cameron's request to Abernathy that the two films should not compete with one another was ignored, the two men fell out, their friendship only resuming nearly a decade later when Cameron was deep into the production of a little-known real-life disaster movie called Titanic. As it turned out though, Cunningham's DeepStar Six arrived in cinemas with almost indecent haste in January 1989 and, perhaps unsurprisingly but certainly disappointingly, it sank without trace, barely covering its production budget in ticket sales. Cameron's The Abyss, a troubled and complex production, was released in October the same year and while it also performed fairly poorly at the box office, it established itself as the 'go-to' movie in a run of waterlogged washouts which also included Leviathan, The Rift, and Lords of the Deep.
DeepStar Six introduces us briskly to the eleven-strong crew of the titular deep sea US naval facility as their six-month tour of duty six miles below the surface - conducting research into the potential for underwater colonisation alongside a slightly more covert operation to install a nuclear weapons launch platform - starts to wind down. The crew's geologist discovers a hitherto undetected cavern system under the ocean bed but, with time now at a premium, project leader John Van Gelder (Marius Weyers) orders the destruction of the cave system with depth charges, much to the disgust of the team's marine biologist Dr Scarpelli (Nia Peeples), denied the opportunity to study a fascinating and possibly primordial long-lost ecosystem. Oh well, them's the breaks…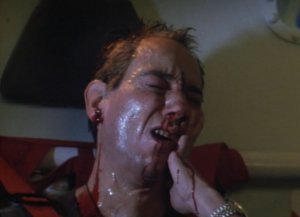 Inevitably, things go to hell in an undersea handcart fairly quickly. The depth charge explosions cause a massive collapse in the seabed itself and when a remote probe sent into the subsequent fissure goes silent, two DeepStar submarine pilots voyage into the crevice to investigate. Bad move, guys. They find the probe but also pick up a large and inexplicable sonar trace… cue lots of screaming, followed moments later by an ominous permanent radio silence. DeepStar's observation pod quickly comes under attack by something fairly monstrous that is lurking in the murk; the pod becomes suspended over the edge of a ravine leaving one of its crew, Burciaga (Elya Baskin) mortally injured and the other, Joyce Collins (Nancy Everhard) trapped inside the compromised vessel. DeepStar Six's Captain Laidlaw (Taurean Blacque) and hunky hero pilot - also Joyce's squeeze - McBride (the semi-legendary Greg Evigan) mount a rescue mission. Burciaga doesn't make it out alive but then neither does Laidlaw who gets trapped by a rapidly closing hatch door before sacrificing himself for the sake of the other two.
With the base now in danger from something very nasty, the remaining crew decide to abandon DeepStar but an attempt by technician Snyder (a scene-stealing turn from the late Miguel Ferrer, best known from his roles as OCP Vice President Bob Morton in 1987's RoboCop and FBI Agent Albert Rosenfield in Twin Peaks) to secure the nuclear missile platform backfires when he misunderstands the computer protocol. The nuclear warheads detonate and the shockwave from the resulting explosions further damage the DeepStar. With their life support failing, the survivors race against time to repair the systems necessary to facilitate the decompression procedure before they can return to the surface. Engineer Richardson (Matt McCoy) ventures out in an atmospheric diving suit to effect repairs but he too is attacked by the creature, which forces its way into the airlock and bites him in half (sadly off-screen) - and that's your money shot poster image right there. The handful of remaining DeepStar crew now face a fight to stay alive, desperate to finish their repairs but with a voracious, ravenous prehistoric creature - the film identifies it as possibly a giant eurypterid (yes, we'll wait while you Google it) - hiding somewhere in the rapidly flooding base.
It's inarguable that DeepStar Six is very much a generic monster movie that plays unashamedly - and fairly unimaginatively - with the long-established tropes of genre movies that trap a handful of characters in an isolated location, throws something monstrous and murderous into the mix, gets them to behave irrationally and entirely illogically considering their situation and then sits back and waits for the inevitable bloody fireworks. But the film - horribly underappreciated and given bad reviews back in 1989 (The New York Times described it as "a film that makes the exotic undersea world not much more interesting than the average bedroom closet" and Time Out declared that it "simply rehashes the phony trappings of countless TV shows") - has dated rather better than most of its contemporaries. Less pretentious and ponderous than Cameron's late-to-the-party The Abyss, Deepstar Six has a lot of fun playing with its clichés and although it's not for one moment smart enough to subvert them, it's certainly a more attractive and enjoyable experience than it's throwaway reputation might suggest.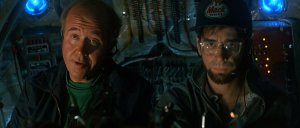 What's fairly undeniable is that DeepStar Six's cause isn't particularly helped by its moderately parsimonious production values, which actually aren't, in truth, as cheap and cheerless as its critics were keen to suggest. We're in a cramped, stifling, technological undersea facility so we're treated to the usual mundane banks of light-blinking computer panels and associated clunky hardware, a fairly stark and bland visual aesthetic that does the job of reminding us that we're in a sterile and rather unearthly and uncomfortable environment. T Dow Albon's miniature effects - mainly the base itself and the crippled observation pod - aren't exactly Gerry Anderson standard but they're more than adequate and certainly not "laughably unconvincing" as The New York Times patronisingly declared. Where the film does take a bit of a stumble and where it genuinely deserves much of the mud thrown its way, unfortunately, is perhaps where it really needed to be at its strongest. Traditionally, the big 'reveal' of the monster is the moment the audience, if it's inclined to stick with a creature feature, is waiting for; the big pay-off for a gradual escalation of tension and terror. In DeepStar Six, the audience is kept patiently waiting for the better part of an hour for its first proper look of the eurypterid and when we finally see it in its glory, moments after it's snapped engineer McBride in half, we can't help feeling just a little disappointed by the rather random collection of tentacles, slavering jaws and rubbery bits and pieces that heaves itself out of the water to turn its attention on the rest of the crew. But then again, we need to remind ourselves that this is a low budget film made in 1989; in another Hollywood studio, James Cameron was testing the boundaries of special effects in The Abyss but widescale affordable CGI was still years away at this point. Today's FX wizards would undoubtedly be able to rustle up something truly terrifying, but Deepstar Six's effort, designed by Chris (The Fly, Gremlins) Walas and realised by Mark (X Files, Buffy the Vampire Slayer) Shostrom does tend to deflate the drama despite Cunningham keeping his camera at a distance as much as possible so we're rarely subjected to bruising close-ups of a costume, which, as  Variety observed "never seems real… more like a goof on a 1950s horror movie monster than a true threat."
Fortunately, the monster's shortcomings are largely mitigated by a nippy and well-observed script that clearly takes its lead from Dan O'Bannon's work on Ridley Scott's Alien. We join the DeepStar base at the end of its crew's tour; they're tired, a bit jaded, keen to go home. Tensions have grown and relationships have developed, people are on edge. Some of the dialogue is perfunctory, some of it is fairly dull and meaningless technobabble, but it generally serves to create characters out of stereotypes to the extent that the crew feel like real people rather than cyphers or redshirts. Evigan and Everhard (a firm of solicitors in waiting if ever there was) are the film's love interest, a couple thrown together by their circumstances; but he's the strapping alpha male who doesn't think he'll ever settle down until the crew are slowly whittled away and - spoiler alert - it's just him and Joyce battling to make their way to an escape pod when everyone else has been dissected, electrocuted, or exploded. Which brings us neatly to Miguel Ferrer's Snyder, the inevitable snarky, wise-cracking comic relief who carries the film's strongest character arc as he inadvertently detonates the nuclear warheads and accidentally harpoons a fellow crew-member, which causes him to become consumed with stress and guilt. This leads to his most ill-advised decision of all when he requisitions an escape pod in a desperate attempt to flee the DeepStar without undergoing the decompression procedure first. Hurtling up towards the surface he pops like a burst balloon and it's probably the film's ickiest and most satisfyingly horrifying moment. Joyce and McBride, meanwhile, make their way to the surface where Cunningham pulls an agreeable if slightly cheesy post-climax 'jump scare' stunt that may be familiar to fans of the director's Friday the 13th and, in fairness, innumerable other genre movies that like to fool their audiences into believing that it's all over and our heroes are safe and sound at last.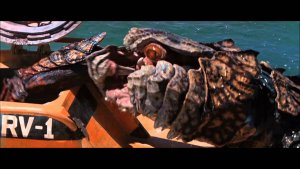 DeepStar Six can't hold a candle to The Abyss in terms of scale, ambition, or tone, but its simple mission statement and its sheer lack of pretension makes it a better bet for an audience in search of some lively, action-packed monster mayhem from the days before CGI made almost anything possible and took a lot of the heart and much of the sheer unadulterated homespun fun out of the genre. DeepStar Six and its bedfellows failed to find favour with their contemporary audiences but they paved the way for later waterlogged potboilers such as Deep Rising (1989), Deep Blue Sea (1999), The Rig (2010), and Ji-hoon Kim's Sector 7 (2011), a line that continues later this year with The Meg, in which Jason Statham probably punches out a seventy-foot shark as he attempts to rescue the crew of a sunken submarine. It seems it's still not safe to go back into the water…
DeepStar Six is unapologetically a schlocky, disposable and often rather silly B-movie and yet it's obviously not really designed to be anything else. Intended purely to capitalise on the anticipated success of a bigger, bolder film that, in the end, it predated by several months, it joins a lineage of unpretentious popcorn monsters movies and has nothing else on its mind other than to entertain its audience and provide a few cheapjack thrills. To that end alone, DeepStar Six is something of a 'guilty pleasure' success and it's heartening to note that, in the years since it was stillborn at the box office, it's been somewhat rehabilitated and re-evaluated and whilst no-one's ever likely to suggest that it's a genre classic or destined to be anything other than a footnote in the history of sci-fi cinema, it's now being reassessed as a frothy, breezy, occasionally silly and frequently narratively-ludicrous but competently realised monster romp - and sometimes that's exactly what we all need.
Dive to the depths of terror with DEEPSTAR SIX when it screens on Horror Channel. Sky 319, Virgin 149, Freeview 70, Freesat 138.