Features | Written by STARBURST 12/03/2019
[ENDED] Win Two Weekend Tickets to MCM COMIC CON BIRMINGHAM with Screening of REPLICAS
Be among the first people in the UK to see Keanu Reeves (The Matrix, The John Wick Franchise) in the fresh new sci-fi thriller Replicas, at this very special one-off preview screening at MCM Comic Con Birmingham on March 24th 2019 at 10am. Plus you'll receive weekend tickets for the entire event for yourself and a friend, so you can enjoy MCM Birmingham Comic Con all day on 23 and 24 March 2019.
http://www.mcmcomiccon.com/birmingham/
So here is the question you need to answer to be in with a chance of winning this fab competition...
Who did Keanu Reeves play in '90s classic 'The Matrix'
a) Neo
b) Johnny Mnemonic
c) Jack Traven
Email your answer, along with your address details, to comp@starburstmagazine.com labelled REPLICAS before midnight on  MARCH 17TH
SYNOPSIS:
At a medical research facility in Puerto Rico, daring neuroscientist Will Foster (Keanu Reeves) is on the verge of successfully transferring human consciousness into a robot when his family is tragically killed in a car crash. Not wanting to say goodbye to his wife (Alice Eve) and three children, Will recruits his colleague Ed (Thomas Middleditch) on an audacious mission to preserve their minds and transfer them into secretly-grown clone bodies...
Soon discovering that playing God has its downsides, Will battles against the clock and the physical laws of science themselves to resurrect his loving family. When success appears to be within reach, Will finds himself pitted against a sinister government-controlled laboratory and a shady police task force who will stop at nothing to find the key to the incredible scientific breakthrough...
Offering a fresh take on the Frankenstein myth, Replicas is a taut and action-packed sci-fi thriller about family, loss and the dangerous questions surrounding emerging technologies.
Replicas screens at Birmingham Comic Con on the Main Stage at 10am on Sunday 24 March
Lionsgate UK presents Replicas on Digital Download from 22 April and Blu-ray & DVD from 29 April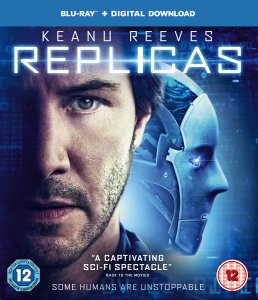 Terms & Conditions:
Lionsgate UK/STARBURST do not accept any responsibility for late or lost entries due to the Internet or email problems. Proof of sending is not proof of receipt. Entrants must supply full details as required on the competition page, and comply with all rules to be eligible for the prizes. No responsibility is accepted for ineligible entries or entries made fraudulently. Unless otherwise stated, the Competition is not open to employees of: (a) the Company; and (b) any third party appointed by the Company to organise and/or manage the Competition; and (c) the Competition sponsor(s). This competition is a game promoted STARBURST. STARBURST's decision is final in every situation and no correspondence will be entered into. STARBURST reserves the right to cancel the competition at any stage, if deemed necessary in its opinion, and if circumstances arise outside of its control. Entrants must be UK residents and 18 or over. Entrants will be deemed to have accepted these rules and to agree to be bound by them when entering this competition. The winners will be drawn at random from all the correct entries, and only they will be contacted personally. Prize must be taken as stated and cannot be deferred. There will be no cash alternatives. STARBURST routinely adds the email addresses of competition entrants to the regular newsletter, in order to keep entrants informed of upcoming competition opportunities. Details of how to unsubscribe are contained within each newsletter. All information held by STARBURST will not be disclosed to any third parties