Features | Written by Laura Potier 17/09/2019
Radio Silence | READY OR NOT
STARBURST spoke with co-directors MATT BETTINELLI-OLPIN & TYLER GILLETT and producer CHAD VILLELLA (otherwise known as the filmmaking collective RADIO SILENCE) about their latest movie, the critically acclaimed comedy-horror READY OR NOT...
STARBURST: We found Ready or Not hard to describe or classify genre-wise. What would be your elevator pitch of the film?
Matt Bettinelli-Olpin: You know, that difficulty is one of the things we really talked about. That tonally it's a bit of a dance, and that it's a mash-up of so many genres that we love. Typically, what we say is that this film is about a young woman who is marrying into this very wealthy and eccentric family. And on her wedding night, she realises that to be truly accepted into the family, she has to sit down with them and play a family game. And she happens to draw Hide and Seek, and Hide and Seek is the one game that you can't win. And she spends the rest of her wedding night fighting for her life!
And despite the film defying pigeonholing, would you say that your film belongs to 'social issue horror' genre that's been making noise recently?
Chad Villella: I definitely think there's elements of that in all genre movies, and this one's no exception. We love the way that Grace [Samara Weaving] came from a very underprivileged background, and now she's married into this wealthy family, and how she sees the lengths the rich will go to in order to keep what they have. So yeah, I would say it fits into that category.
And what do you think makes horror the ideal vehicle for this kind of social commentary?
Matt Bettinelli-Olpin: I think it works well because it gives you context to talk about something you might not otherwise want to talk about. You have to create the language to talk about it. When things are uncomfortable, it might be hard to have a straightforward conversation, but a horror context gives you the jumping-off point. And all of a sudden, we're having a discussion as a society! Horror's always done that, but it's especially true right now. It's exciting to see people tap into it who aren't strictly genre fans, and to see that hit the mainstream.
Yeah, it's definitely a genre that's previously been relegated to the fringes, or lacked the respect afforded to dramas and the like.
Matt Bettinelli-Olpin: Yeah, exactly. Like all of a sudden, it's cool.
Oh, it's cool. It's getting Oscars! And would you say that your tendency to blend comedy and horror, something that's prevalent in your filmography, is also to ease those conversations?
Tyler Gillett: That's certainly part of it. And it's also about letting the audience in and allowing them to relate to something that feels more emotionally grounded. The stories we love to tell are about normal characters that you see yourself in, walking into a heightened situation that they're totally unprepared to deal with. It's often that people think that comedy and horror are very separate, but that isn't how real life is. They're really compatible genres.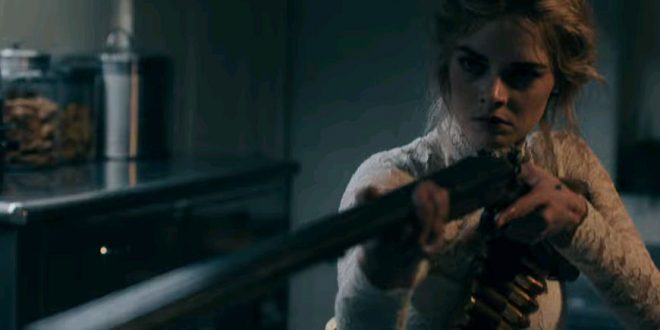 I think Samara Weaving's portrayal of Grace does a huge amount to ground the film. What was it that sold you on her as the lead?
Chad Villella: She just got it right from the beginning. We knew that we needed to find a very strong Grace and base everything off her, and after our very first meeting with Samara, she was like, "I don't want you to be scared the entire time, I want you to receive a little bit of lightness through me." We knew that Grace had to have this punk rock image to show that rebellion, and Samara got it right from the start. She's fantastic, and we can't imagine having made the movie without her.
To be honest, the whole cast is amazing. How did that ensemble come together?
Matt Bettinelli-Olpin:  I don't think we ever envisioned the cast we ended up getting, and we also can't imagine what the movie would have been without them. We feel so lucky to have gotten everyone, especially since it was such a rush process. I think we got Adam Brody maybe two weeks before shooting, maybe a week and a half? We were really lucky that everybody vibed, and everybody understood the tone and their character – which goes back to your last question about grounding it. Samara is our 'in' for us, the audience, but then you also need each family member to have their unique point of view. It can't be a nebulous body of bad people. And I think everybody brought their best and went beyond anything we'd hoped for.
Did the cast have any input in creating their characters?
Matt Bettinelli-Olpin: The characters were incredibly well drawn on the page, and a big part of what we loved about the script. But at the same time, as we got to know the actors, we had to give them room to create their own version of it. We wanted it to have dynamism, and everybody really brought something that I think we weren't expecting.
It's interesting that you resist making the family uniformly bad, to the point that you start sympathising with some of them.
Chad Villella: Yeah, that's something we talked about very early on with Guy [Busick] and Ryan [Christopher Murphy], the writers. Their approach to it was that by giving the audience an inside look at those 'bad' characters, you get an insight into the effects of wealth and family tradition on people. And just talking about how privilege and wealth make people complacent in where they are in life, and ask what they're willing to do to maintain that life. And you kind of feel for them because you see that they're doing it for their family; Andie McDowell in particular really brought a maternal instinct that inspires sympathy.
This movie is obviously a satire on wealth and privilege, was there an element of catharsis to making this film, considering the current socio-political climate?
Tyler Gillett: Yeah, that was part of what interested us from the start creatively, and to have something fanatically dense to continue to draw from throughout the process was very, very valuable. And honestly, it gave us something to keep returning. It's a well that never runs dry! And our first meeting with the studio [Fox] was the day after Trump got elected. That certainly did light a different fire under the project, because that theme became more of a megaphone to explore something that felt very urgent and vital. We really want it to resonate with people, but we also want the movie to be, first and foremost, a fun and exciting thrill ride. But that's what the genre does, this great magic trick of entertaining you whilst also pushing you to think more deeply and to find the commentary.
As we finish, for the horror fans reading this, what would you recommend they go watch after they've seen Ready or Not?
Matt Bettinelli-Olpin: We talked about so many different movies, everything from like, Gosford Park to Seven, Alien, to inspire different elements, from the tone to the look. We also talked a lot about those movies where you just have to make it through the night. Like After Hours, The Most Dangerous Game, Adventures in Babysitting, Into the Night. Those keep the action going. Then there's fun ones, like The People Under the Stairs, Clue. And ones that have a sense of humour without being comedies, like The Lost Boys, Nightmare on Elm Street, the Ghostbusters films. Also Joyride! A very underrated movie from 2001, and it's one we go to all the time. It got written off because it came out right after 9/11 so it wasn't really the tone, but it's a really good, thrilling type of movie that's also very funny. So quite a list!
UK audiences can seek out READY OR NOT when it sneaks into cinemas on September 25th. You can also read our review HERE.