Features | Written by STARBURST 13/04/2019
How Playtech Breathed New Life Into Classic Superman Movies
Playtech is one of the world's foremost developers of casino games. It's a huge company, listed on the London Stock Exchange and provider of games and software to some of the biggest gaming brands on the planet.
If we were to ask experienced casino players to describe Playtech's gaming arm, they would arguably point to the fact that the company has lots of notable tie-ups with movies and tv shows. In a sense, it is a creator of branded casino games, officially-licenced titles that use movie clips and real imagery from their source material.
Indeed, Playtech's most notable licensing agreement was signed with Warner Bros a couple of years ago, which has yielded around 15 games based on the entire spectrum of DC Comic movies. All of the main DC characters are there, so there is something for fans of Wonder Woman, Superman, Batman etc. – and there is even room for modern movies like Suicide Squad. You can see for yourself at Mansion Casino, which has one of the biggest selections of DC Super Heroes games.
Big-budget graphics and gameplay
The games are hugely expansive, laden with special effects and graphics, almost unrecognisable from traditional casino games. For example, if you play the heads or tails online arcade game at MansionCasino.com, which is arguably the simplest and oldest casino game around, and compare it to the big budget DC Comics games on the site, there is a vast difference.  While there is always room for simple, classic games, these pop culture-based slots offer something entirely unique.
As it so happens, two of the vey best games in the series are Superman: The Movie and Superman II, which are faithfully based on the Christopher Reeve classics released in 1978 and 1980 respectively. Both games are connected to the intertwined jackpot network of all DC Super Heroes games, but even as standalone titles, Superman: The Movie and Superman II slots are impressive.
The original, Superman: The Movie has 100 paylines, and two main bonus games. The Free Games Bonus has a cool feature where, just like the movie, Superman turns back time to repeat the feature for a second time. There is also a Crystal Bonus, which recalls scenes from Superman's Fortress of Solitude, which the eagle-eyed among you will have spotted that is actually from the second film. Regardless, it's an innovative and fun bonus game, one which could award you with 100s of times your stake.
Games recall Richard Donner's classic movies
As for Superman II slot, it's a little more ambitious than its predecessor. This one features 25 paylines, but there are five different bonus games on offer. The pick of the bunch is arguably the Skyline Fight Free Games, which features a titanic battle between Superman and General Zod across the reels. When Superman strikes, the free spins are limitless, when Zod appears, the countdown begins. Again, it's a feature that is entertaining and potentially very lucrative.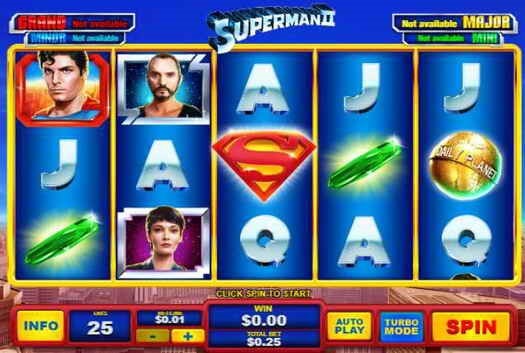 There are other superman games released by Playtech in partnership with Warner Bros, including Man of Steel and Batman vs Superman: Dawn of Justice. Of course, he also appears as a main character in the Justice League slot. But like the original movies, there is arguably more charm in the Superman and Superman II slots. They are completely faithful to the style of Richard Donner and Richard Lester's movies. In fact, they will probably make you want to watch them again.