Features | Written by Andy Kleek 29/11/2019
PETER WELLER
The award-winning actor PETER WELLER has appeared in more than seventy films and television series including STAR TREK: ENTERPRISE episodes 'Demons' and 'Terra Prime'. He is also well known for the cult 1984 science fiction film THE ADVENTURES OF BUCKAROO BANZAI ACROSS THE 8TH DIMENSION, and for starring in Manny Coto's 2002 cable television series, ODYSSEY 5. More recently he played Admiral Alexander Marcus in 2013's STAR TREK INTO DARKNESS, but he is arguably best known for his iconic role as the title character in the 1987 classic ROBOCOP and its 1990 sequel, ROBOCOP 2. We caught up with the veteran actor ahead of his appearance at December's FOR THE LOVE OF SCI-FI fan convention to talk about his ROBOCOP recollections, his varied career, art, and more…
STARBURST: Is it correct that you turned down a higher paid role in Dino De Laurentiis' 1986 film King Kong Lives to play the RoboCop character?
Peter Weller: Yes. I had not received the Robo offer, but my dear friend and agent, Rick Nicita, were hoping it was going to come in that day; thus we took the meeting with 'The Great Dino'; for whom I later did Leviathan, along with his brother Luigi and nephew, Aurelio who was the hands-on producer and who, along with his family, are still friends. Dino had the most entertaining and mesmerising energy. He stood up, came around his desk and immediately demanded, as Rick and I were barely in the door "how much money, you want, not to do this 'robot' movie?" I was instantly thinking of Ferraris and such. We got the Robo offer that afternoon, from the great Mike Medavoy for much less loot. Who cares. Money isn't everything.
The film was highly prescient: despite being set in 1991, it correctly visualised a future of runaway consumerism, movies recorded onto disc, 'data strips' - which were basically USBs - and the concept of a privatized police force whose central agenda was profit. Did you think such things were plausible when you read the script?
As a child of the '60s, meaning the most influential music, protest, social revolution of the century; by 1986, I was buried into the fallout of the 'me decade' '70s, thus politically asleep, more or less. Although the script was a powerful and funny read, and the entire adventure was endemic to my life on more plateaus than I could begin to iterate, I did not see the prescient sociology in the script; inclusive of 'privatisation, trickle-down eco justifying post-modern greed, identity theft, 3rd world exclusionism; crime-cops ownership, media mind-swamp; death by atomic bomb made commercial.' On and on. I do now, but did not then. I prefer to call my lack of awareness of how profound this film would be… 'movie-guy myopia'.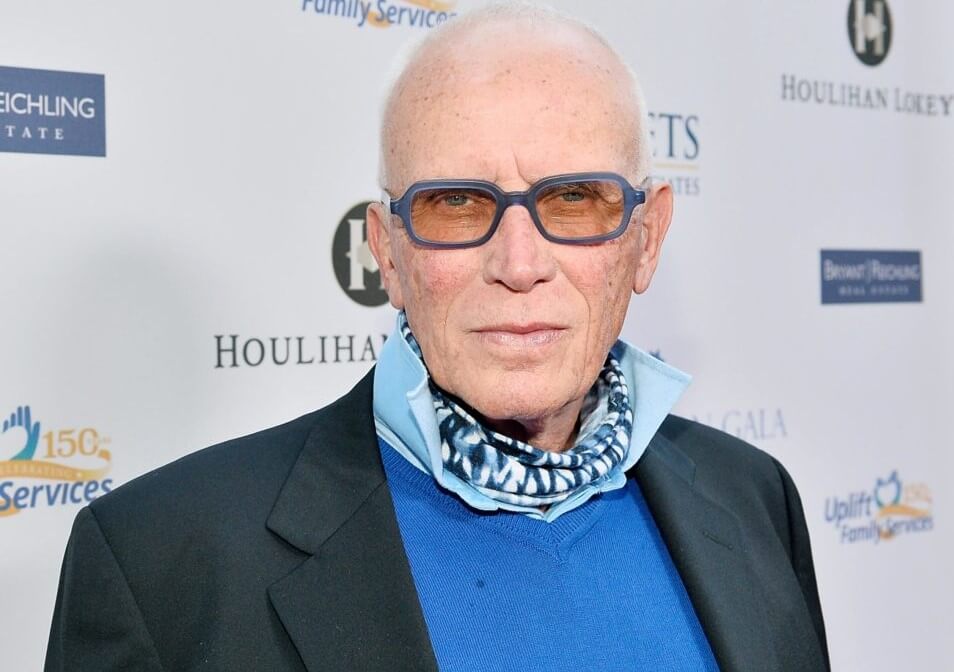 Moni Yakim, the mime you'd engaged, originally envisaged a more fluid, Tai Chi-style of movement for the character. How did you both cope with the restrictive weight of the suit and develop RoboCop's unique physicality?
For years I had practiced - and was still practicing - Iaido or Iai-Jitsu, which is the art of katana fighting or, simply put, the live blade, or to dumb it down, 'samurai fighting,' from which Aikido, Jodo, and Karate derive. Living in New York, after interviewing several mimes for coaching - I had taken mime and years of dance - I interviewed with now dear friend Moni and he started moving in a fluid, legato idea with heavy staccato accents at the end of movements, just like Iaido. I loved it. And him. The framework of the movement remained, but the tempo changed when Rob Boutin's genius suit arrived. The suit transformed previous ideas or concepts about the physicalisation of Robo. The entire physicality was slowed into a 'largo' power that bridged humanity and beast. Moni worked with me over a weekend and had me watch Nicolai Cherkasov in Sergei Eisenstein's Ivan the Terrible; wherein I saw the same thing; huge legato-largo movement with big staccato punctuation. Brilliant. He looks phony and operatic… for about 5 minutes… after which one becomes mesmerised.
Were you comfortable with the third draft of the script, which incorporated Paul Verhoeven's suggestion that Murphy should have an affair with Nancy Allen's Lewis?
Never read it. So do not care now, nor ever did.
Whenever production halted during filming, is it correct that you passed the time playing the trumpet? Were you already performing with Jeff Goldblum at Le Petit Four at this point?
Production never halted. There were no stalled moments. The shooting went like a tornado thanks to Paul, Jost Vacano, the script and crew and especially the Robo make-up/costume team. Yes, I played the trumpet; but I was up every morning at 3:00 AM running four to six miles a day, prepping for the New York Marathon. Jeff and I started at Le Petite Four in 1993 I believe.
You were very focused on set and reportedly stayed separate from the actors playing the villains. Did you workshop any scenes with them? And did you ever get the impression that Kurtwood Smith's character Clarence Boddicker knew that RoboCop was one of his own murder victims?
I was never kept separate. I stayed separate on set because the character was alone in a bubble called 'machine.' Thus I rarely spoke to anyone except Paul or the Robo team on set; they referred to me as 'Robo' on set if they needed to address me. Understand that I warmed up vocal cords to drop intonation, and was also saving my voice. However, off the set, I would hang with Kurtwood and Joan Smith; Ray Wise, Calvin Jung, Jesse Goins. The bad guys were my buds; Kurtwood and Paul McCrane still are. I never considered if Kurtwood knew Robo was Murphy. I assumed he knew; as we were both set up.
You produce some horrific screams during the film, most notably when Murphy is executed, and again when RoboCop's chest is pierced during the finale. Which painful experiences did you return to hit those notes?
Any of a thousand pains, emotional and physical, since infancy.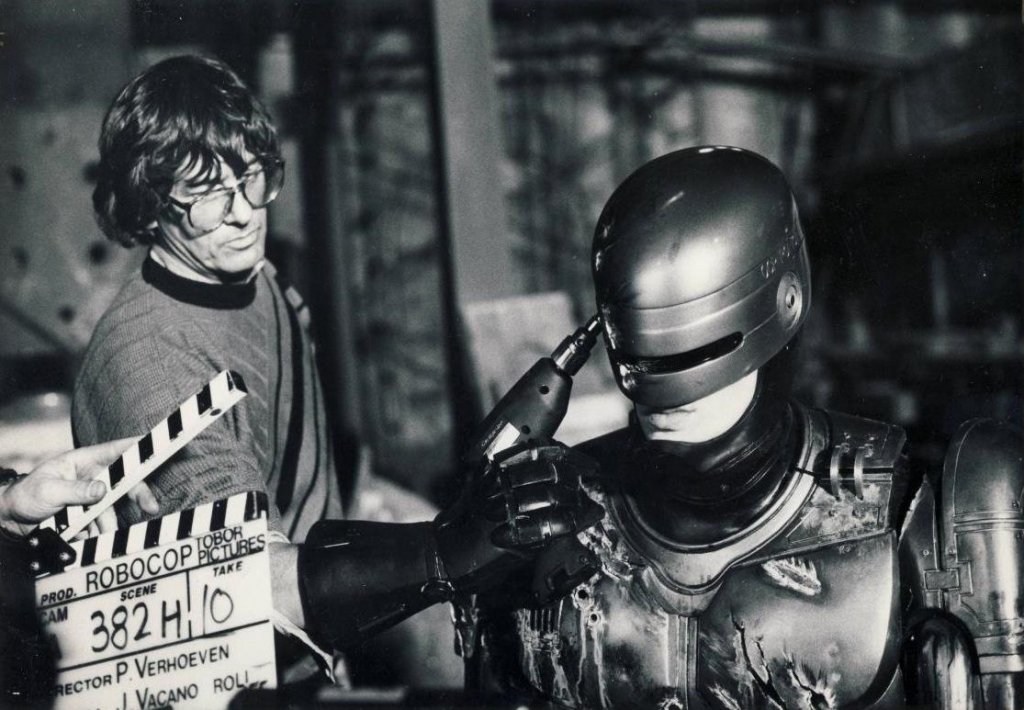 Peter Weller on the set of RoboCop (1987)
Did you think RoboCop would go on to become such a prominent part of your acting career?
I knew a) that Paul Verhoeven was gifted; and I had worked with Mike Nichols, Sydney Lumet, Richard Lester; been inducted into the Actor's Studio by Elia Kazan with whom I had only done improvisation, but that was enough to reveal his genius; studied with the great Uta Hagen, etc and had seen all of Paul's films. RoboCop, as brilliant as it was penned by Michael Miner and Ed Neumeier - who wrote it, by the way, right next door to where I now live - would have never been that film without Paul's infusion of loss, identity, myth, empirical value. I knew it would be terrific, but there is no guarantee of success or classic legacy until the audience sits in front of it. My career? I never think of 'my career'. I only move from one gig to the next… by choice. 
You've said before that Paul Verhoeven's involvement in the project is what led you to lobby for the part of Murphy. Were you happy to commit to the sequel despite his absence?
The sequel lacked a third act. I said this going in. Had a ball making it. Loved Irv Kirshner and Frank Miller. No third act, alas.
Were you proud to support the 2011 Kickstarter campaign for a statue of RoboCop to be erected in Detroit?
I did not support nor denigrate it. I only supported Martha Reeves move when she was, I believe, on the city council, to line the Detroit greats from music and sports along the waterfront by the arm of Joe Louis, the bronze icon by renowned figurative sculptor, Robert Graham, who is a great friend and influence. The statue of Robocop is on its own.
Are you happy that the film is now part of the Criterion Collection, alongside such classics as Seven Samurai and Naked Lunch?
…and Sweet Smell of Success, possibly one of the three most poignant and brilliant American movies about America ever made. Yes.
How did you transition from directing and starring in movies/TV to qualifying as a Renaissance art scholar?
A long series of events, beginning with the wonderful, beautiful, mind-blowing intelligent Ali Macgraw taking me by the hand through five floors of the largest ever Picasso retrospective at MoMA before sending me to Italy, where I now live part-time. And then seminal director of photography, Vittorio Storaro, sending me to see Giotto's Capella Scrovegni [Arena Chapel] possibly the single most influential piece of western art in the early modern era. It is all visual information and entertainment, one way or another, n'est pas?
The impact of RoboCop has not dimmed in 32 years. Does it feel strange to have been part of art history, as well as studying and teaching it today?
Strange? No. Immensely satisfying, yes. I just, in October of this year, while directing Magnum P.I. for CBS, took a Friday-night flight from Honolulu to Salt Lake City to connect to St. Louis, just to give a 25 minute paper and answer an hour's worth of questions at the Sixteenth Century Society of 2019, one of the larger and important academic yearly events on the Renaissance. The panel of papers addressed 'Why the Renaissance Matters'. My paper was 'Giotto, Caravaggio, and Storaro: Renaissance Narrative Art to Modern Film'. This paper journeyed from that very Giotto fresco cycle, to which Storaro sent me, through futurism, modernism, post-modernism - Carrà, Rothko, Mondrian - to Storaro's cinematography. Then I had a steak with some scholars; and jumped a 6 AM flight back, 15 hours, to Honolulu to continue shooting. Most people I know didn't consider that 'strange'. They voiced it as down-right lunacy! But I have been blessed with my father's gift of tenacity. And my mother's gift of passion. As she would say: "do it all. All of it… and do not quit." 
PETER WELLER will be appearing at the world's biggest Sci-Fi fan convention FOR THE LOVE OF SCI-FI, December 7th and 8th at Bowlers Exhibition Centre Manchester alongside the legendary WARWICK DAVIS, THE BOYS and DREDD star KARL URBAN, THE PUNISHER's Jon Bernthal, UNIVERSAL SOLDIER's Dolph Lundgren, LETHAL WEAPON's Danny Glover, STRANGER THINGS' Charlie Heaton, FLASH GORDON's Sam Jones and Brian Blessed, STAR WARS' RAY PARK, SPENCER WILDING, and UK exclusive MARK DODSON, and martial arts legend AL LEONG. For more information and tickets visit www.fortheloveofsci-fi.com