Features | Written by Hayden Mears 27/04/2020
Patrick Seitz | MORTAL KOMBAT LEGENDS: SCORPION'S REVENGE
Voice actor PATRICK SEITZ enjoys a villain who gets shit done. From name-dropping Iago from Othello to positing that good antagonists are often protagonists, Seitz displays a knowledge of villainy running the gamut from Shakespearean scoundrels to vendetta-driven video game characters. And given his resume, it makes sense. Among his most prominent roles are Jiren from DRAGON BALL SUPER, Endeavor from MY HERO ACADEMIA, and now Scorpion in the brand-new animated feature MORTAL KOMBAT LEGENDS: SCORPION'S REVENGE. But talking with Seitz is a different experience entirely. Kind, knowledgeable, and pre-installed with in-depth answers to every question we asked, he is an absolute blast. And he was willing to spill the details on what Scorpion is up to in SCORPION'S REVENGE…
STARBURST: What kinds of things can Mortal Kombat fans expect from Scorpion's Revenge that may be new or fresh to the franchise? 
Patrick Seitz: You've got a franchise - this story - that's long-lasting and the question is, "What can be done? Where do you go from the games?" One nice thing about it is that while video games have gone more towards photorealism, photorealism, photorealism, the animation in the movie is stylized. And it just hits the ground running. I remember when I first watched it. Without giving any spoilers, I went, "Damn! Well, there we go!" But I looked and it was only five minutes into the movie. And it was like, "Oh! Ok. We're not wasting any time." It looks really good. 
That sounds like a tough balance to strike - keeping fans happy but also taking things in fun new directions. 
Yeah, I don't know how anyone actually pulls it off, ever. 
Changing gears slightly here: You've played a lot of roles but we're particularly fascinated by how you play villains and antagonists and, for lack of a better term, heroes who are aggressively themselves. You've played Endeavor from My Hero Academia, Jiren from Dragon Ball Super, Dio Brando from Jojo's Bizarre Adventure, and now Scorpion. You've obviously played him before in the games so what appeals to you about these kinds of characters? 
[Laughs] In a dollars and cents kind of way, it seems to fall to the tenor of my voice. I play these aggressive, badass characters. Many of them are villains and in real life I'm like "Oh my God! There's this video of a kitten!" It couldn't be a further cry from who I am in my day-to-day life. I love how big and broad they are. I love how single-minded they are with pursuit of what they're doing. Jiren's a good example. He's not a bad guy but he is a "I'm gonna get stuff done" kinda guy. To the detriment of maybe best practices or common sense at a certain point. This is how my voice has sounded since I was 16, 17 years old. I've always just sounded like an evil person. [Laughs] Or someone with darkness in them. It's great though. But I think a character like Iago from Othello has just got this singularity of purpose. Yeah, he's not a good guy. But you look back and you're like, "Wow. This dude had a goal, however sort of petty it was, and just committed to it." And when he was done, he was like, "Yeah, you can torture me but I'm not saying anything. I'll let my record stand for itself." I think that's part what appeals to me with those kinds of characters. For better or worse, they're like, "This is what I want to do and I'm going to do it." I think, personally, that appeals to me because that's sort of how I've lived my life. Like, "Oh, I wanna be an actor! I wanna do this thing. I wanna turn my back on the security of regular jobs and do what I wanna do!" I see that parallel of "I'm gonna do my thing, logic be damned." 
And Scorpion falls right into that because he's on this quest for revenge and he's very driven to accomplish his goal. And with Jiren, I agree that he's not a bad individual. But he's gonna protect his universe - in the Tournament of Power, if you lose, everything you know gets erased. So that kinda puts him more into antagonist territory because there is a difference between antagonists and villains. 
And you've got this moment when Jiren attacks the crowd. I remember reading the script and being like, "Whoa! That's not how we play this." When the stakes are that high, that's what you have to do to beat this universe. Break some eggs to make an omelette, as it were. 
It kinda blurs that line between antagonist and villain. Antagonists are literally just people who oppose the protagonist. 
Yeah, there's this thing where people think the protagonist moves the action. A lot of times I feel like the good guys, or the protagonists, are just kind of reactive to whatever the antagonist is doing. I think you could argue that characters like that are, in a sense, the protagonists because they're moving stuff forward by their actions.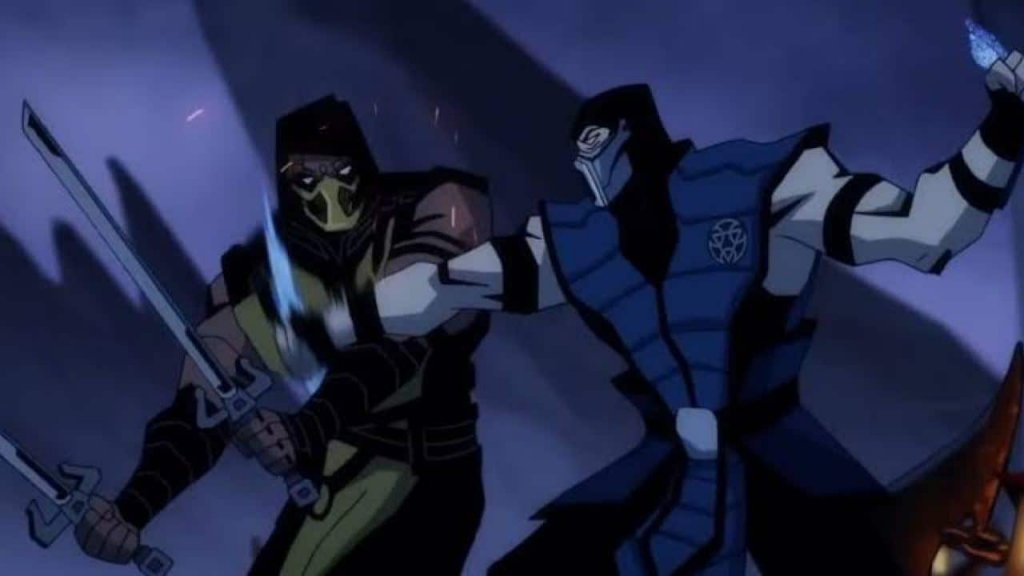 Tell me a bit about what Scorpion is up to this time around as cryptically or as candidly as you want. You obviously can't give a whole lot away, but do you think the murders of his loved ones changed him, or awakened something that was innate? 
I think a little of both. I think where he goes personality-wise after those murders may seem like, "Oh, it changed him!" The distinction might just be academic but the seeds of that are probably already there in people faced with those circumstances. It's something that really isn't going to get triggered unless something truly horrific happens to them or the people they love. But it might be that it wasn't in them somewhere already. 
If we're talking Dungeons and Dragons terms, lawful good is personally my least favourite alignment. It's so by-the-book and stiff and it doesn't leave a ton of room for playing or tinkering with a character like that. So it's nice that there's so many depths in these revenge-driven characters. 
Oh, yeah. It's so cathartic. I go and put my time and energy into these archetypes and then leave work and get misty-eyed over cat videos. 
Is the Mortal Kombat franchise something you've always been a fan of or is it something you came to love after being so involved with it? 
Definitely both. I grew up around it. So many people - my age and older - did. I wasn't great at it. I was not great at any of the fighting games. But it was still fun. It was still amazing. The magic of playing a video game and being like, "Oh my God, that's my voice," it gets to the point where it doesn't freak you out as much. 
MORTAL KOMBAT LEGENDS: SCORPION'S REVENGE is out now on Digital HD Download, 4K UHD, Blu-ray, and DVD. For our review, head HERE.