Features | Written by Nick Spacek 12/05/2020
Neville Kidd | AMAZING STORIES
Neville Kidd might not be a name with which you're familiar, but you certainly know his work. The Edinburgh-born cinematographer and camera operator has served as director of photography on such instant-classic genre fare as Netflix's Umbrella Academy, the first two seasons of Starz's Outlander, the Day of the Doctor episode of Doctor Who, and the His Last Vow episode of Sherlock, which won him a Primetime Emmy in 2014.
Kidd's work is some of the most fascinating, mesmerizing shots in recent genre history, so it was a real treat to speak with him about his career, as well as his latest work, the recent reboot of Amazing Stories for Apple TV+.
STARBURST: Could you, for the benefit of our readers, briefly explain the difference between a director of photography and a cinematographer?
Neville Kidd: Basically the two have married. It used to be that the director of photography was more television and then cinematographers were more for film and cinema. What's happened, as streaming services popped up in the last five years - where you're making high-end television at the same quality - the television DPs and your cinematographers are now both working in the streaming industry, so there's a little bit of a merging of the two.
That makes a lot of sense because series on which you've worked recently are definitely more than just your typical drama.
They're big budget, you know? It's funny, because when you're on a Netflix show, you're not making a television show. You're basically making a product that people are expecting the same high production value as cinema and I think that's what people are getting. Game of Thrones started that ball rolling, where you're getting a kind of binge television drama that's basically a film that never stops.
It is a very interesting thing to think, but the idea that with streaming, you have television or episodic hour-long programs sitting cheek-by-jowl with Hollywood big-budget movies.
Yep, and the VFX is the same standard, and what's happening is, again, the crews are crossing over, so when you're working on series like Altered Carbon the quality of the crew are the guys that shoot the Star Trek movies, Mission: Impossible - all that kind of stuff. To get the standard of that kind of streaming service, you need to bring in the high standard crew, so I think it's been fantastic to kind of come up through TV ranks. You're used to working a fast pace, where the big thing about television is you've got to complete your date. I know you've got to make it on budget, on time.
The majority of your catalog involves so much documentary work before you started to really come to the things I think most of the folks reading this will know like Doctor Who, Outlander, and Sherlock, but it seems that your work in documentaries like would really lend itself especially well to the period piece work that you've done. Did you find that that was the case?
I think, living in Scotland, we DPs can cross discipline, you know? Because it's such a small cottage industry in Scotland, if you were just doing drama, you would starve. We would do drama. We do commercials between documentaries. We would have a foot in each camp to just basically be able to make money, and so I spent a lot of time doing documentaries and always trying to feed the drama side. That's what I wanted to say in my career, but there just wasn't enough work in Scotland.
Then, I managed to get on an indie film called Solid Air that was like a show reel for the TV drama directors. After that, I started to get on BBC dramas and that managed to get me into Doctor Who, which then opened the gates to Sherlock.
All of those programs have very distinct visual styles, many of which are very different from one another. Doctor Who is different from Outlander is different from Sherlock is different from the Umbrella Academy. That last one, especially, is almost another thing entirely. How do you like coming into a program that already has a distinct visual style; how do you adapt how you work for these various programs?
Well, I think Doctor Who was quite good because it was almost like an anthology. It was like they were little movies within their own rights so you could put your own style on it, obviously with collaboration with the director and Steven Moffat. It was always going to different times. It was going to different places, different planets, or whatever, so you could go pretty out there with your style and lighting. I think that's one thing I've always tried to do, is try and be different.
The same with Sherlock, which was, at that time, the best looking show in the UK, so really, you've been given the prize of British television and you've got to keep standards going up. I think that's always a challenge. And that's what was fantastic about working on Umbrella Academy. From a DP's point view, you're in heaven when your own style is at the beginning of a show and it ties on to the whole season.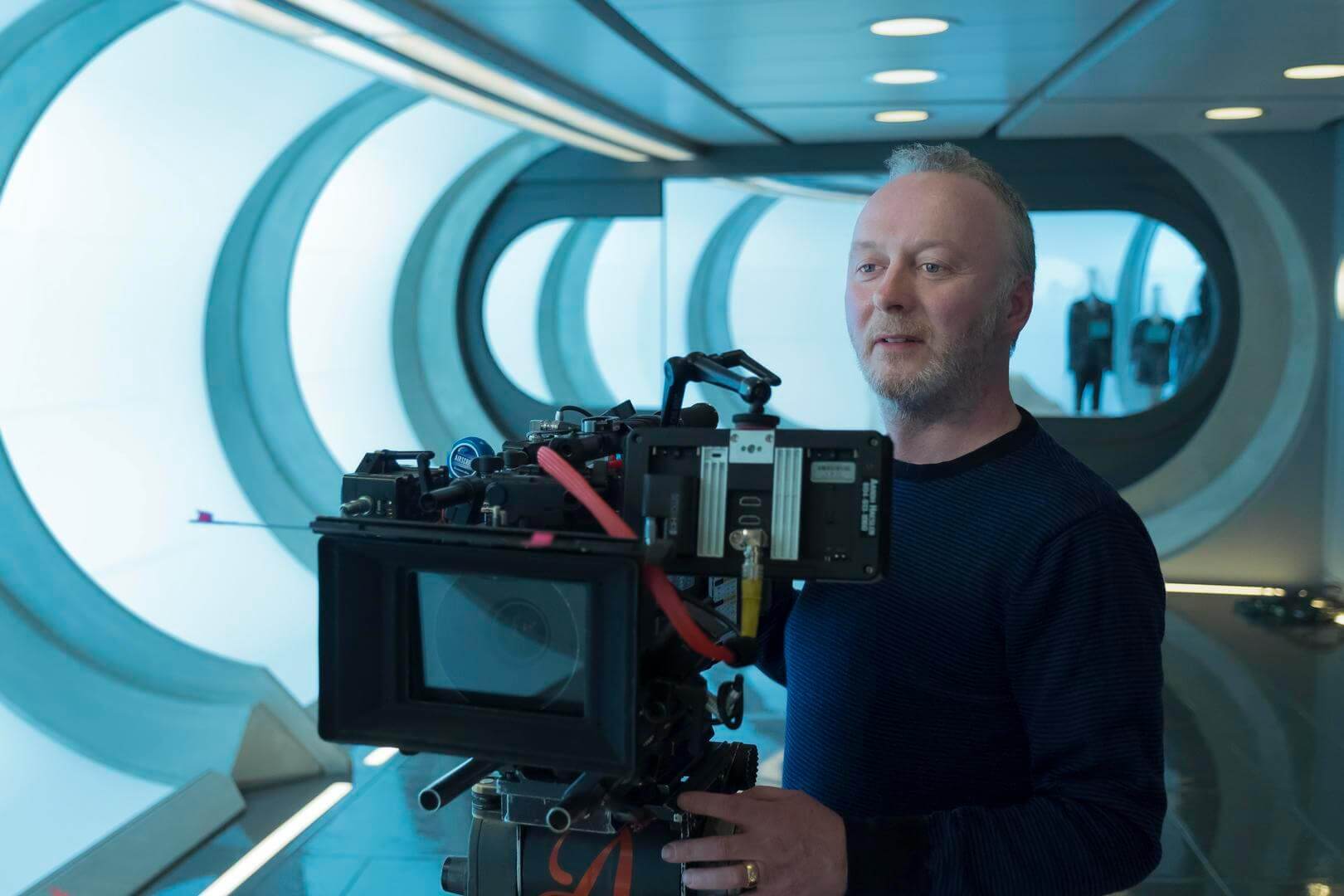 The thing that we were most intrigued about with Umbrella Academy is because you're taking not just storyboards or director's vision. There is already a pre-existing visual style with Gabriel Ba's artwork from the graphic novel. What is that like for you?
You're taking something that's so weird, and that world where one of the characters is a gorilla with a human head. You have these crazy, fantastic characters and you have to make that believable and that's the challenge I love. I think we kind of - hopefully - we got it right. The success we had is the second biggest drama show on Netflix, but I think we just managed to get something that people believed could be possible. For the hour that they sat and watched an episode, they bought it and they went inside the world that we created and they stuck with it.
As a DP, you've got to try and grab people's attention and keep it for that hour or however long they binge on the show. They never have to leave your world.
We feel everything you just said is almost equally applicable to Amazing Stories. Were you familiar with the original series when you began working on it and the pedigree that it had?
Because we didn't have that in the UK, I did my homework and I watched all the older episodes and really enjoyed it, but I think we were kind of slightly reinventing Amazing Stories. We were kind of updating it into the world which exists now. I think that was one of the challenges for each director and DP: to tell a new amazing story in 2020.
Do you find yourself attracted to genre work or is that just how it has happened for you?
I think I'm always attracted to the challenge and I think I've probably slipped into that kind of genre of work because I like to kind of do something different. I think if you look back on my work - from Doctor Who to Sherlock to Outlander to Umbrella Academy to Altered Carbon - you know these are wildly different styles.
Very true. We imagine something of the appeal of Outlander is that you're getting to do essentially a period drama but it has these little sprinklings of 'other' in there.
It's two degrees to the left. Umbrella Academy's a world that we're kind of familiar with, but it's not quite right, in the same way that Doctor Who was always a world that didn't exist or on a non-planet. Sherlock was a world where the main character was so clever, the camerawork had to kind of match it. That was the great challenge of Sherlock: you had to make the camera match the genius of Sherlock. I think with Amazing Stories, my job is to give the vision of the director, the writer, and the showrunner and put that into visual form. I always love to be intimate with my storytelling; to make it feel as natural and real in the environment as the story setting.
AMAZING STORIES is available now on Apple+.