Features | Written by JAMES "MAGIC" PERKINS 23/06/2020
Movie Preview: OVER THE MOON
Last week, STARBURST was invited to attend a special virtual conference with the filmmakers and acting talent behind the upcoming Netflix animated film, Over The Moon, directed by legendary animator Glen Keane.
Scheduled to launch on the streaming platform later this year and penned by the late Audrey Wells, the film follows the story of Fei Fei (newcomer Cathy Ang) who wants to build a rocket to the moon in order to prove the existence of the legendary Moon Goddess, Chang'e. There, she embarks on a quest in a land full of whimsical creatures in a film that is described as "an exhilarating musical adventure about moving forward, embracing the unexpected, and the power of imagination."
The digital conference we attended was not with only Glen Keane but also included producers Gennie Rim and Peilin Chou, and stars Cathy Ang (Fei Fei), Sandra Oh (Mrs. Zhong), John Cho (Father), Ruthie Ann Miles (Mother) and Phillipa Soo (Chang'e). Before the presentation began, we had a world exclusive first look at the debut trailer (which you can find over in our trailer park by clicking here).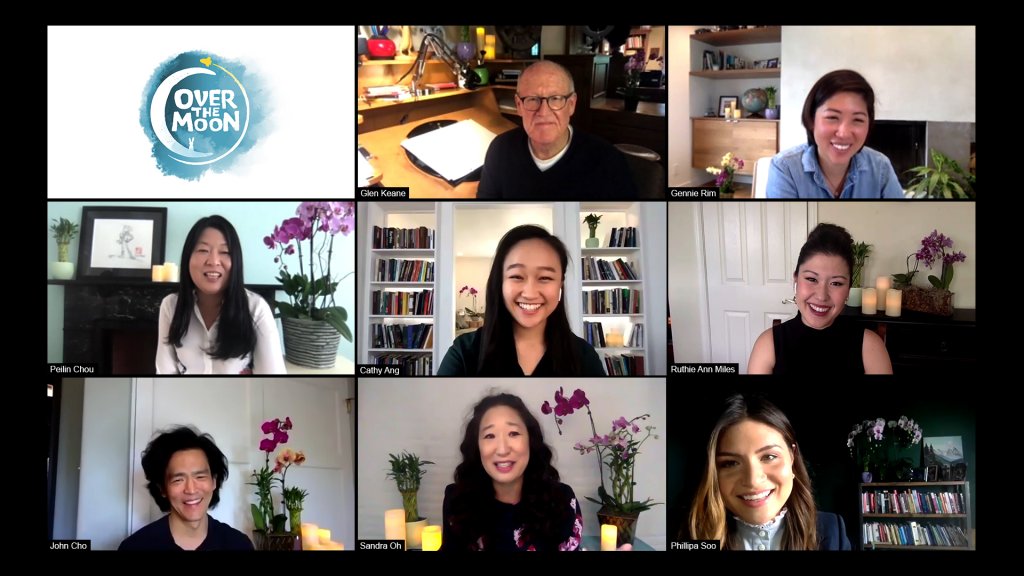 During the presentation, the cast and crew answered questions submitted by the press and talked about how this wonderful little film came about.
When asked about his research trip to China, director Glen Keane had the following to say;
At the very beginning, Peilin took Gennie and myself, our production designer, and our head of story to China to visit this little wonderful water town. It's a little mini Venice, and it's where the story really takes place. We walked around the town. At one point, I was saying, "Oh, man, I wish we could go inside of one of their houses and just see what it's like because this is so much part of their story."

Lulu, who was our guide, goes up to a house, knocks on the door. "And I was like, what are you doing?" And she knocks on the door, the door opens and she says, "We have some visitors here from Hollywood. Would you mind if they came into the house and just took a look?"

Door opens, and there's a whole group of elderly folk playing Mahjong in there. And we all walk in. I got my sketchbook, and I'm drawing. And they were so open and free. And we discovered how life was all about the dinner table.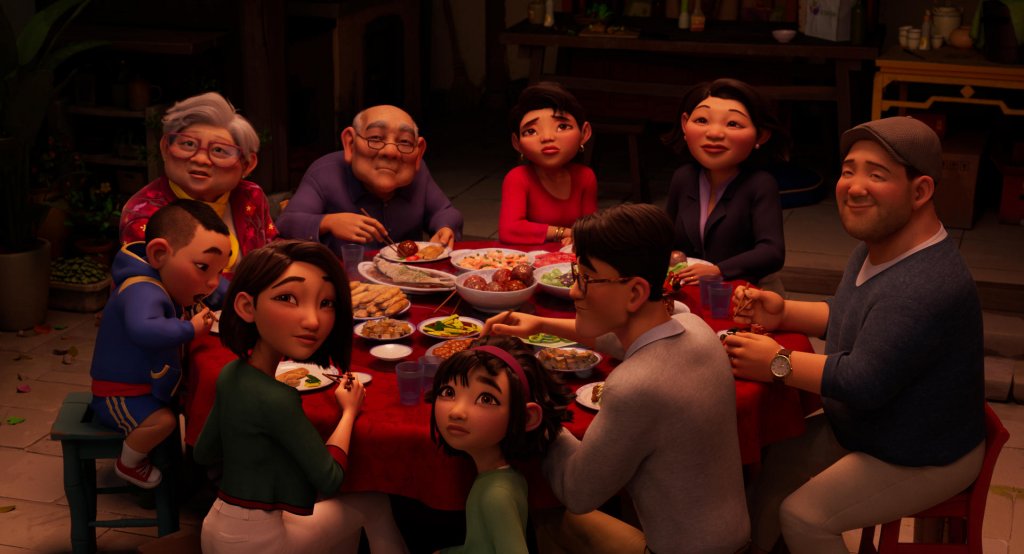 Fei Fei herself, Cathy Ang was then quizzed on how she got the part in the film with her rendition of the stunning song "Rocket to the Moon" (which also features in the trailer).
That was a very nerve wracking day. We were trying to record the whole movie that day, and we were running a little bit behind - my song was last to record.

All day I was just getting more nervous and waiting to get in there. I was really excited, but when it came time to go in, I couldn't look at anyone. I was sweating and shaking. And they liked it.

It was a dream.
Sandra Oh and John Cho were asked about what it meant to them to star in a film that centres around Asian culture and has an Asian cast of characters.
Sandra Oh: It's going to make me feel good. It's important.

Yes, of course it's significant and wonderful in a very kind of broad way. But what I'd like to point out right now is that this Zoom screen and what everyone is seeing right now is predominantly all Asian faces. And that's what's exciting to me.

And the conversation and for me to be able to reach out and even talk to other actors that were all actually in a film together, which I would say, definitely for me and maybe John, we've only been the only ones everywhere we go.

John Cho: Well, one thing I'll note about this particular film and what attracted me to it is obviously I'm always going to be interested in something that is rooted in Asian culture.

This story is about an Asian family that is rooted in love. And that to me that's what differentiates it. That's what gives it its heart. And I love that about this film.
John Cho was also asked about drawing on his real-life experiences as a father when playing the role of Fei Fei's dad;
I guess everyone knows there's just a line of when you become a parent, your heart operates in a completely different way and you are completely altered and transformed for the rest of your life whether you like it or not.

And so everything is through that filter, really. So yes, when I hear in the cans a little girl talking to me and calling me Daddy, I have a reaction.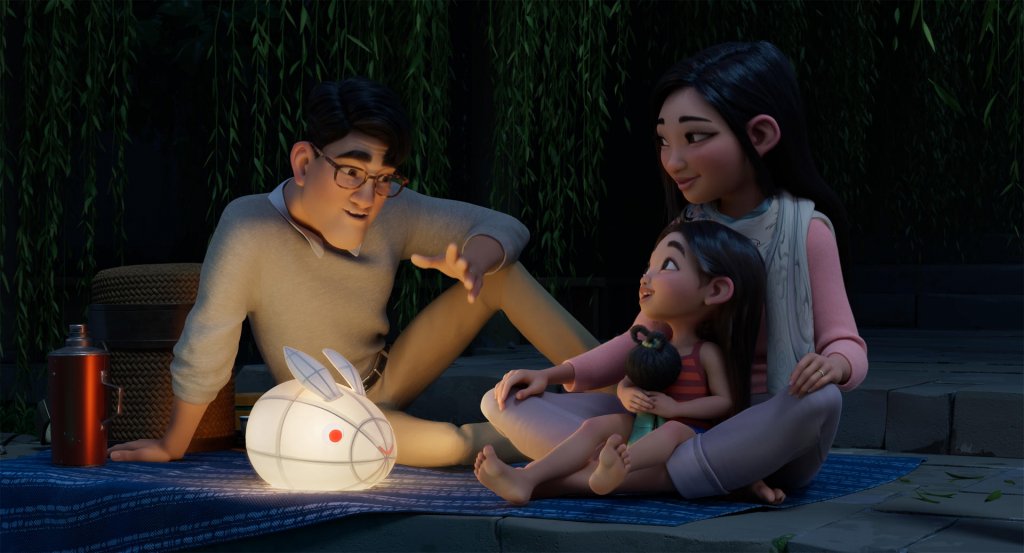 The legend of Chang'e is a well-known tale in Asian culture and actress Phillipa Soo who plays the Moon Goddess briefly talked about her experience with the story growing up;
I knew her from a beautifully illustrated children's book by Amy Tan called "The Moon Lady". And that was my first exposure to her and to that story.

When I first read the script, I was so excited to first be asked to approach material coming from my own experience as an Asian woman, as a Chinese woman and also to bring a little bit of a modern twist to this very traditional story.
The Writer of Over The Moon, the late, great Audrey Wells was a close friend of not only actress Sandra Oh, but also producers Peilin Chou and Gennie Rim who spoke about the importance of getting this film made in memory of Audrey and getting Sandra involved in the project;
Peilin Chou: Audrey is really the heart and soul of this film and the script. We developed the material with her at Pearl Studio for about a year before sharing it with Glen and Gennie.

And she just had such a strong connection from the first moment with the character of Fei Fei, this really strong girl that loves science and wanted to build her own rocket to go to the moon and believe she could do that.

At about a year in she shared with me that she was sick and she didn't know how much time she had left, but that she had written this script as a love letter to her daughter and her husband and with a very wonderful message about what happens when you lose someone that the love that you share lasts forever.

She told me it was the most important script she had ever written. It was so important to her that the story got made.

And we were so fortunate to have her with us through the time of the first screening. So she got to see a version of the film and she was so thrilled. She really, really loved it. It was a wonderful, wonderful day.

Gennie Rim: [about getting Sandra to play a role in the film] We were trying to get you to become part of this group and I know that schedule was not working and I knew you were there. And I heard that you had left the [writer's guild] building and I ran after you into the parking lot and I stopped your car.

I felt a wave of Audrey pulling me to come find you to be part of this. I think it was so important to have you and your legacy with Audrey be part of this journey.

We are grateful. Audrey is grateful. I think it was meant to be.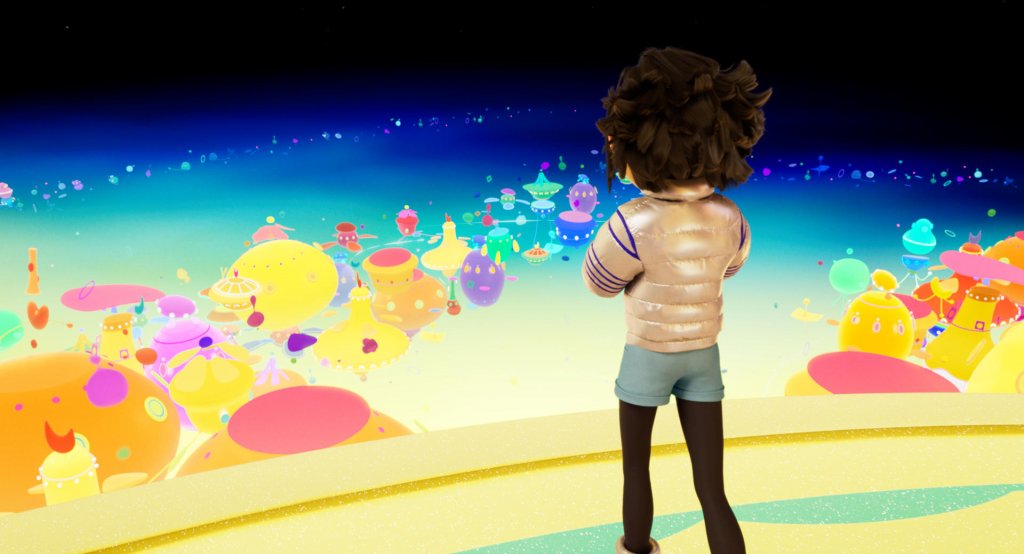 The presentation wrapped with a live drawing of Fei Fei by Glen Keane and then a beautiful performance of "Rocket to the Moon" by Cathy Ang.
It was such a wonderful experience to see these talented and passionate filmmakers and actors come together to talk about a project that is so special to each and every one of them for multiple different reasons and, after viewing the trailer and seeing these behind the scenes, we can honestly say that this is shaping up to be a remarkably powerful film that exudes the best of titles such as Coco and Kubo and the Two Strings.
Over The Moon, directed by Glen Keane, comes to Netflix later this year.