Features | Written by JAMES "MAGIC" PERKINS 04/10/2019
Michael Dougherty | GODZILLA: KING OF THE MONSTERS
Fresh off the tail of one of the biggest movies of this Summer, we here at STARBURST had the honour of sitting down with Director Michael Dougherty to talk about the big-screen return of the King of the Monsters, his life-long love of the character and the challenge of building upon the foundations of the Monsterverse.
STARBURST: Firstly, congratulations on the film, it's an absolute roaring success.
MICHAEL DOUGHERTY: Thank you so much, it's been an incredible experience.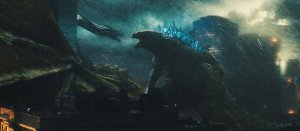 Could you please talk us through your reaction, as a life-long Godzilla fan when Warner Bros. and Legendary approached you to direct the film?
When that happened, it was an absolute dream come true. It was like that birthday wish you made all those years ago finally manifesting, you know?
How was the challenge of balancing your own unique take on the character and world whilst also having to stay within and develop the boundaries of the Monsterverse set up by Gareth Edwards' 2014 film?
That was less of a challenge and more something that I embraced and loved. I loved what Gareth had established – even since I was a kid watching Godzilla movies with my toys, I always wanted a modern-day Godzilla film with today's up to date visual effects and cinematography – and I truly felt that's what Gareth's film delivered.
It felt like something you would see if you looked outside your window and I often love really great sequels especially those that continue to build out the world and the mythology, so it was kind of second nature. It was obviously a challenge to accomplish but it was a joy to roll up my sleeves and get into it and explore all the "what if" scenarios.
What I wanted to do was follow the path of the original Godzilla. The 1954 film, much like Gareth's, is very serious and at times grim, and I also really like that his film almost feels black and white at times – he kept the colour pallet very muted. What I wanted to do is follow the path of the Japanese sequels that got more colourful and vibrant and they got more fantastical by bringing in other creatures from mythology for Godzilla to face – so the moment you decide you're going to bring in a three-headed-dragon and a giant moth, you have to be willing to embrace a more fantastical approach, so that was a challenge but a lot of fun.
Out of three classic Toho monsters that you had the rights to (Mothra, Rodan and King Ghidorah), which was the most testing and/or enjoyable to modernise?
Mothra was definitely the most challenging on a conceptual level – I have to admit at the very beginning of the process, I wasn't quite sure if or how to do her. Of the Toho creatures, she's sort of, and I use this in a very endearing way, she's the most ludicrous. It's a giant moth! (laughs) A giant moth that's worshipped by two tiny little women and I was racking my brains thinking "how do you apply that realistic brush to something like this?". But then I realised that there has been a long history of giant insect movies – Tarantula, Starship Troopers, etc – so there is a way to make her cool. So, she was definitely the hardest in that aspect. Rodan and King Ghidorah were easier because they're natural cooler in terms of their presence. But I love them all, that's the thing, even talking about them now I get super excited! (laughs)
If given the opportunity to officially add one more classic Toho Kaiju into the film, which one would it be and why?
It probably would be Biollante because she is a tragic figure in that she is a Frankenstein creature. She's not a traditional titan that has existed for thousands of years – she's genetically created. And it's an amalgamation of a load of different elements – I love the fact that she's a combination of Godzilla DNA, Human DNA and a plant. We don't see a lot of plant-based creatures these days. And she also kind of reminds me of the creature from The Thing which is one of my all-time favourites. I just love that she is so unique and at the same she carries that very potent message about man messing with nature.
From the behind-the-scenes footage, you had a wonderful working relationship with the supremely talented Millie Bobby Brown. Was she always your first choice for the role even before pre-vis as I know you used a model of her for that?
Yeah, absolutely (laughs) that's exactly how it panned out. Legendary have a cool way of the way they want you to work – they let me do visual development while we were writing the script – so we were doing concept art, pre-vis and we had to have some kind of model for Madison and this is when Stranger Things Season 1 had just dropped. On a whim, I said, "that girl from Stranger Things is kind of the perfect archetype for Madison so why don't we base her model on her?" before we were considering her, we just needed a face. And then as we did more and more pre-vis with her face the idea naturally evolved and I turned to the executives and I said "why don't we just made the offer to Millie" and we sat down and had lunch and really connected especially over our love of animals.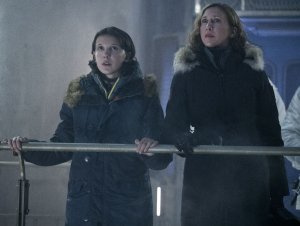 When deciding on the music for the film, just how important was it to get not only the rights to Akira Ifukube's legendary score but to also have Bear McCreary, who is easily one of the top composers working in film today, join in on the Godzilla journey?
Both were hugely important to me. I've been listening to Bear's music regularly since I first heard it in the Battlestar Galactica reboot. There was a very particular piece called "The Shape of Things to Come" which jumped out at me so strongly when I first heard it because I'd never heard music like that before in a traditional space opera, a lot of space music tends to mimic John Williams or Jerry Goldsmith and Bear's scores were completely different and fresh. There was something kind of mystical and ancient about them. And I never forgot that, so I stalked him until we sat down and had dinner in LA about a decade ago and I was obsessed with the idea of working with him.
It's kind of fitting that the track that drew me to him was called "The Shape of Things to Come" as I knew we were going to work together. As soon as Legendary came to me then I knew he was the guy for the job – he loved the idea of using classic music and modernising it. As Godzilla fans know, the music is an essential part of the DNA of a really great Godzilla film. There are certain titles that you can't separate from their scenes – for example, James Bond or Jaws – and Godzilla is right in there with them. So thankfully Toho agreed, and they were really behind bringing this music back to the Godzilla franchise.
GODZILLA: KING OF THE MONSTERS is available on Digital Download now and on DVD, Blu-ray™, 3D Blu-ray™ and 4K Ultra HD October 14th 2019.